Each month, the Indie Spotlight highlights a new game that exemplifies the creativity, cleverness, and beauty of today's independent games market.
This month's Indie Spotlight is:
MIND MGMT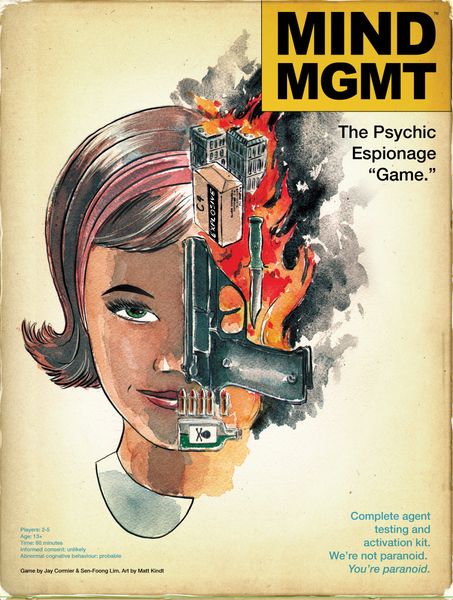 Throughout human history people have sought to explain why things transpire the way they do. Regardless of the time, location, or civilization, trying to bring a sense of order and justification from the seemingly incoherent to the seemingly way too convenient. And that pursuit of understanding has led us down many different roads to many different conclusions.
To understand the natural world, we formulated scientific ideas and empirical data gathering.
To better process expressing our thoughts and emotions to others, we developed a host of art forms.
In many cases, whether out of a desire to bring meaning to life's loftier, more intangible questions, or simply because we did not have a better answer at the time, countless people concluded the only logical answer was the result of a deity or deities.
Yet there is also another longstanding and quite pervasive thought that also transcends time and culture. A thought that there is power not just behind the throne but beyond it. That helps connect some otherwise unconnected dots and makes sense at just the right angle. That various incidents or mistakes aren't based on complete chance or a supernatural guiding hand…and instead are those of other humans from the shadows.
A cabal. A cult. A secret society with clout and influence to pull the strings as they see fit.
Secret societies have existed for centuries, but due to their, well, secrecy, so too have ideas that such groups could in fact be manipulating matters behind the scenes. And so the conspiracy theories go. Whether cases of a group being wildly misunderstood or ascribed with way more power than they actually had, such as the Freemasons, Illuminati, or the Knights Templar, or that entire shadowy organizations exist so secret they don't have names, such speculation just another instance of trying to bring order to an often crazy and confusing world.
It's not like belief in such things are relics of the past either – recent political upheaval in the US were themselves largely driven by belief in such groups.
But…what if a shadowy worldwide group did exist that manipulated and guided world events? And that group had psychic powers to do so?
That's the premise behind MIND MGMT, a new hidden movement game by the consummate design duo Sen-Foong Lim and Jay Cormier. In this independently published title, Sen and Jay ply their estimable expertise at creating an entirely new take on the classic One Vs Many genre. Set in an alternative, slightly retro-themed modern day, a powerful, mysterious group seeks to recruit people with psychic abilities and use those abilities to shape world events. Once, their mission was a noble one of maintaining peace, but now it has turned more towards unbridled control. Throughout the game, one player acts as a Recruiter, moving secretly about the board trying to recruit new members. Standing against them are the remaining players as rogue agents with powers of their own. Their sole goal is to stop the syndicate before it's too late.
While the basics to this cat-and-mouse style system are well-established, what makes MIND MGMT particularly noteworthy is the way it evolves the idea along several fronts, including elements of board tracking, set collecting, and even mild board control. It also introduces an entire adaptable – but non-legacy – rules system, such that the losing side gains additional benefits the next time around. The result is a highly dynamic, tension-filled, brain burning exercise for everyone involved that doesn't overstay its welcome.
So, if you think you have what it takes to stop MIND MGMT, then let's get moving!
That is, unless you've been convinced they don't actually exist…
Need more information about any of our previous Spotlight selections? Check out the list below or contact us at: info@cardboardrepublic.com!
Previous Indie Game Spotlights:
May 2021: Lawyer Up | Review | Q&A | Developer's Site
April 2021: Tentacle Town | Review | Q&A | Developer's Site
March 2021: SHASN | Review | Q&A | Developer's Site
February 2021: Capone | Review | Q&A | Developer's Site
January 2021: Canvas | Review | Q&A | Developer's Site