Each month, the Indie Spotlight highlights a new game that exemplifies the creativity, cleverness, and beauty of today's independent games market.
This month's Indie Spotlight is:
Tentacle Town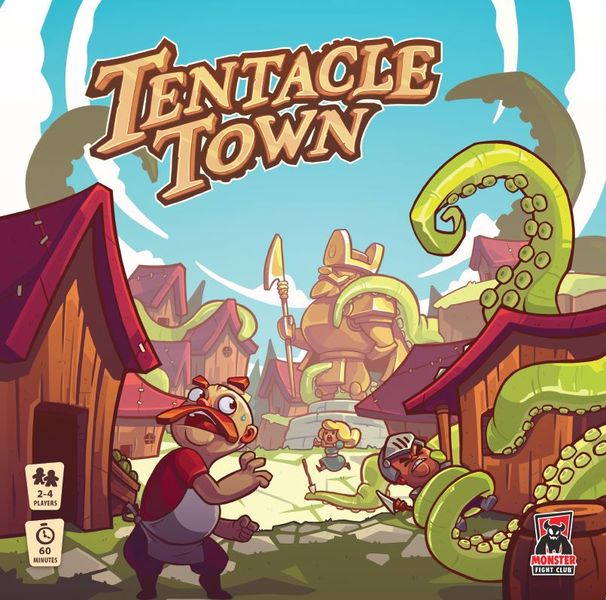 Ahhh springtime.
April is here, bringing with it a sense of annual renewal after the many long months of winter. Signs of new life appear at every turn, and it's hard not to feel that sense of invigoration. The days are getting longer. The birds are chirping. The kraken in the lake has returned.
Spring, yes, a wonderful time. It brings with it a true sentiment of rejuvenation and rekindled interest in outdoors activities. It's a time to finally clean out that closet full of miscellaneous junk. It's a time to don your green thumb and prep the garden for this year's flowers or vegetables. It's a time for the community to finally finish the new storehouse on the waterfront. Just watch out for the giant tentacles.
Some say that the coming of the vernal equinox is a magical moment, as if an invisible switch flips and nature kicks into an entirely different gear seemingly overnight. The skies go from grey to blue, the grass from brown to green, the water from eerily still to buoyantly active with all the giant appendages splashing about.
Sure, there are some minor inconveniences to springtime with allergies and yardwork abound and the need to carry a harpoon whenever you go near the shore. But, really, it's still better than snow…
Personally, spring may be our fav—wait, what was that about giant tentacles?
Sorry young pioneers, but this is precisely the scenario you find yourself in with Tentacle Town, the inaugural title by former Gale Force 9 designer alums Aaron Dill and John Kovaleski under their new banner, Monster Fight Club. Though Tentacle Town may not be their first collaborative title together, Monster Fight Club represents a marked departure – a reset button of sorts – in attempting a game design lighter in both tone and complexity, let alone in a wholly unique setting. In more than one way they're going out on a limb. That limb just happens to be 15 feet long and full of giant suckers.
In this hour-ish long escapade of trying to not become seafood, each player is a citizen in unsettled land trying to not only build up a new town but build up your own reputation in the process in order to become its first mayor. Using a mix of worker placement and area control elements, players take turns recruiting other citizens to a handful of different board regions to construct buildings and complete various tasks. The more citizens at a particular location, the more potent that location's effect.
In the first of a pair of twists, however, unlike most worker placement games, you do not own the workers you recruit, which means any workers at a location have the potential to benefit any player – you will need to be careful in your timing and strategy to accomplish your goals without unduly making things even more lucrative for your competition.
The other twist, and leaning into its more irreverent nature, is that either by poor luck or poor planning, your new town is on a peninsula with waters positively teeming with giant tentacles. These tentacles have a penchant to destroy those building and eat those citizens unless they're beaten back with harpoons, and that too takes some of your efforts – with success partially controlled by a spinner (yes, a spinner). And we hope you like calamari.
If this meaningful yet lightweight monster-hunting & city building exerercise sounds interesting to you then strap on some boots and sharpen your harpoon, because it's springtime in Tentacle Town and it's time to get to work!
Need more information about any of our previous Spotlight selections? Check out the list below or contact us at: info@cardboardrepublic.com!
Previous Indie Game Spotlights:
March 2021: SHASN | Review | Q&A | Developer's Site
February 2021: Capone | Review | Q&A | Developer's Site
January 2021: Canvas | Review | Q&A | Developer's Site