Each month, the Indie Spotlight highlights a new game that exemplifies the creativity, cleverness, and beauty of today's independent games market.
This month's Indie Spotlight is:
Canvas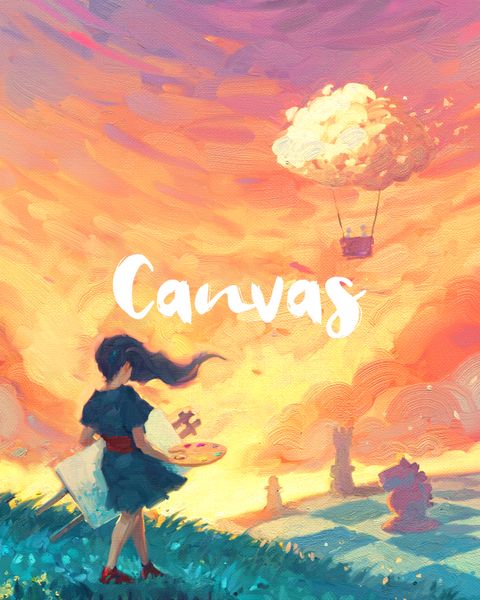 To many artists, the blank slate is one of the most profound parts of creation. Whether it's an empty page, or a brand new piece of canvas, the very beginning of creation is nothing but unbridled potential. They are gateways to the infinite. With nothing before you, the possibilities of where your creative impulses can take you is limitless, fueled by fervent passion, flashes of inspiration, and boundless imagination. Once those first steps are taken, a journey to something unique and special begins, and often not even the creator knows there that journey will end up.
We all have a certain adoration for imaginative endeavors because it speaks to us on a near instinctual level. Whether it's a riveting whodunnit novel, an emotional theatrical aria, or a museum-worthy masterpiece, we all have an appreciation for taking nothing and turning it into something, purely for the purpose of being appreciated and entertained by others. The mediums in which those endeavors are expressed and the preferences of its audiences are as varied as it comes, but the beauty that art provides to the world and the skill required to bring it forth – however it may manifest – is something that resonates with us on a visceral level.
This is, as you may expect, one of the reasons there are so many games about as painting. But just as not all paintings are the same style, so too is the case with the games.
Fortunately, this variety allows us all to appreciate the aptly named Canvas, the latest title by Road To Infamy Games – both in the fact that the central tenet of the game is about crafting a wonderful Dixit-style picture and that it seems more than apropos to start off 2021 with a game about taking a blank slate and building something positive up from there.
In this lightweight and laid back set collection game, players are all painters in an art competition. Over a half hour or so, your goal is to take turns to assemble paintings that best meet the abstracted criteria set forth each game. Each turn you may claim an Art card using a using a familiar conveyor-style selection method or combine a handful of those cards together and submit them for scoring.
The creative twist to Canvas, however, is that the Art cards are transparent, allowing you to layer them in various ways that not only create different landscapes with each permutation but will score differently depending on how they are assembled. All of which is done using eye-catching illustrations.
Canvas is quick, casual, aesthetically pleasing, and yet still finds a way to add its own twist to the painting game theme. All of which seems like the ideal way for us to ease into a new year, no?
If this sounds like something that may appeal to your palate, then grab an easel and let the inspiration flow!
Need more information about any of our previous Spotlight selections? Check out the list below or contact us at: info@cardboardrepublic.com!
Previous Indie Game Spotlights:
December 2020: Ducks in Tow | Review | Q&A | Developer's Site
November 2020: Nunami | Review | Q&A | Developer's Site
October 2020: FAZA | Review | Q&A | Developer's Site
September 2020: Camp Pinetop | Review | Q&A | Developer's Site
August 2020: STRIKE! The Game of Worker Rebellion | Review | Q&A | Developer's Site
July 2020: Shaolia | Review | Q&A | Developer's Site
June 2020: The Search for Planet X | Review | Q&A | Developer's Site
Note: Due to COVID-19, there was no May 2020 Indie Spotlight
April 2020: Far Away | Review | Q&A | Developer's Site
March 2020: Chai | Review | Q&A | Developer's Site
February 2020: Dungeon Drop | Review | Q&A | Developer's Site
January 2020: The TOKYO Series | Review | Q&A | Interview | Developer's Site