Episode 104
Length: 54:03
Show Links: RSS | iTunes | Stitcher | Download Episode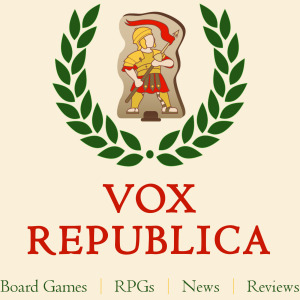 Welcome back to Vox Republica, the Cardboard Republic Podcast!
We post new episodes every Thursday, with each episode being about 25 – 35 minutes long.
DESCRIPTION: This week, Ryan and Erin discuss the nature of episodic game content release models before having on the talkative folks of Cardboard Fortress and their little game called Resistor.
GUEST: Anthony Amato and Nicole Kline
RECENTLY PLAYED GAMES:
QUICK TOPICS:
The recent week saw a wide array of responses after word that T.I.M.E Stories planned on releases quarterly episodic scenario content while only having one within the base game. We debate what it means for the hobby.
FEATURED TOPIC:
It's Resistor time! We have on the designers of the October Spotlight game and get a little carried away discussing topics including:

The early days of Resistor and the changes that went into it
How it caught the attention of Level 99 Games
What lies next for Cardboard Fortress
Their reflections on Resistor's campaign to this point
And more!
PLUGS:
Our 100th episode celebration ends on Halloween! for a chance at a copy of Sushi Go!, Harbour, or Travel Catan, all you have to do is visit one of the gameplay threads on Facebook, BGG, or Google+ or find us on Twitter. Then leave a comment for us telling us either:

Something you like about the podcast and / or
Something you'd like to see us do (or do more of) on it going forward.

If that's not enough, we're also running a giveaway for Resistor, our October Indie Spotlight game, ending on 10/30!
As always, Cardboard Republic YouTube videos and the BGG Guild are still ongoing. Subscribe to either, or both if you really love us. You do really love us, right?
We'd love to hear from you! You can send questions or feedback via email at podcast@cardboardrepublic.com. You can also reach us social media, including Twitter and BoardGameGeek.
Audio Credits: Intro music track is "Swing!" by Bargo!, used under Creative Commons license.