The Indie Cavalcade returns for Gen Con 2016! As one of the largest and most sprawling game conventions in the world, Gen Con has no shortage of gaming-related activities to check out. At the center of this four day convention is its Expo Hall with a massive list of over 500 vendor, retailer and publisher booths. So if you've heard of a publisher, they'll be listed, right?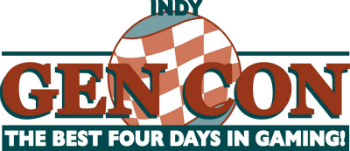 Well, not necessarily. For one, Gen Con booths aren't cheap, and not everyone is able to (or willing) to spend the money to get their name on a booth directly. This leads to booth sharing or publishers who aren't even located in the Expo Floor.
And then there are upcoming indie games.
Hidden beyond the the Expo Floor map lies a loose network of dozens of indie game designers at the convention whose game hasn't even been published yet but who would love to show their game off all the same. From organized demo times at places like First Exposure Hall to guerilla-style demos upon request, these games exist. Finding them, on the other hand, is tricky.
To help with that, we have posted the information below of various indie designers or studios, such where you can find them, info on the games, and how you can contact them about demos.
We've also provided a publisher Lost & Found, a handy reference list for where unlisted publishers can be found on the Expo floor.
With what little time and resources we had, we present a decent list of many of the games we were able to find that were reported to us. We hope you find this useful.
Note 1: Unfortunately, the complete First Exposure Hall List did not make it to us in time to be added to the Cavalcade properly. However, you may see the entire list of games in the First Exposure Hall by looking at this PDF. Enjoy!
Note 2: The live filter appears to be malfunctioning. We're working on it.

Gen Con Indie Cavalcade



[tt_timetable columns='thursday,friday,saturday,sunday' hour_category='Expo Floor,First Exposure Hall,Free Play Halls, By Request, ICC Green, ICC Red, ICC Yellow, ICC Black, ICC White, ICC Purple, ICC Blue' measure='0.5′ filter_kind='event_category' time_format='g:i A' hide_hours_column='1′ event_layout='3′ filter_color='820009′ custom_css='.tt_timetable th, .tt_timetable td { color: #ffffff; }' box_bg_color='ffffff' box_hover_bg_color='ffffff']

Publisher Lost & Found
| Publisher / Design House | Located At | Booth # |
| --- | --- | --- |
| Alea | Ravensburger | 2658 |
| Argentum Verlag | Passport Game Studios | 2533 |
| Black Oak Games | Indie Game Alliance | 2563 |
| Bombyx | Asmodee Editions | 1629 |
| Breaking Games | Ad Magic | 1749 |
| Chara Games | Indie Game Alliance | 2563 |
| Cheapass Games | Lone Shark Games | 2847 |
| Competo / Marektoy | Ad Magic | 1749 |
| Cross Cut Games | Indie Game Alliance | 2563 |
| Czech Games Edition | Convention Center Rooms | Room 121 |
| Daily Magic Games | Indie Game Alliance | 2563 |
| Days of Wonder | Asmodee Editions | 1629 |
| Dice Hate Me Games | Greater Than Games | 2123 |
| eggertspiele | Stronghold Games | 2323 |
| Everything Epic Games | Indie Game Alliance | 2563 |
| Fabled Nexus | Greater Than Games | 2123 |
| Foxtrot Games | Renegade Games | 2304 |
| Funforge Games | Passport Game Studios | 2533 |
| Gameworthy Labs | Ad Magic | 1749 |
| Hurrican | Asmodee Editions | 1629 |
| Libellud | Asmodee Editions | 1629 |
| Lookout Games | Mayfair Games | 129 |
| Ludically | Asmodee Editions | 1629 |
| LudiCreations | Passport Game Studios | 2533 |
| Lui-même | Asmodee Editions | 1629 |
| Matagot | Asmodee Editions | 1629 |
| Mindclash Games | APE Games | 1739 |
| Nevermore Games | Indie Game Alliance | 2563 |
| Ninja Star Games | Indie Game Alliance | 2563 |
| NSKN Games | Passport Game Studios | 2533 |
| Pandasaurus Games | IDW Games | 158 |
| Pretzel Games | Z-Man Games | 1429 |
| Rebel.pl | Asmodee Editions | 1629 |
| Repos Production | Asmodee Editions | 1629 |
| Rio Grande Games | Convention Center Rooms | Rooms 233-236 |
| Rock Manor Games | Indie Game Alliance | 2563 |
| Rogue Asylum | Ad Magic | 1749 |
| Rule & Make | APE Games | 1739 |
| Shoot Again Games | Indie Game Alliance | 2563 |
| Space Cowboys | Asmodee Editions | 1629 |
| Squirmy Beast | Ad Magic | 1749 |
| Stonemaier Games | Downtown Marriott | Denver Conference Room |
| Windrider Studios | Asmodee Editions | 1629 |
| Wonder Forge | Ravensburger | 2658 |
| Ystari Games | Asmodee Editions | 1629 |