Episode 084
There are so many small gaming publishers in existence that it can be difficult keeping track of them all. Luckily, in this week's episode, we're only focusing on one – Terra Nova Games. Coincidentally, they just happen to be the folks publishing Ophir, our May Indie Spotlight game!
Length: 29:33
Show Links: RSS | iTunes | Download Episode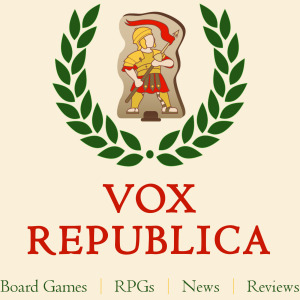 Welcome back to Vox Republica, the Cardboard Republic Podcast!
We post new episodes every Thursday, with each episode being about 20 – 30 minutes long.
DESCRIPTION: Ryan and Erin talk briefly about bringing our legacy-style review of Tuscany online and more about Ophir, then they launch into an in-depth chat about the past, present, and future of Terra Nova Games with co-founder Justin Schaffer.
GUEST: Justin Schaffer
RECENTLY PLAYED GAMES:
Ophir
Witness
Sherlock Holmes: Consulting Detective
Mysterium
QUICK TOPICS:
LENGTHY TOPIC:
Learning all about Terra Nova Games

Justin's gaming background and interests
What led to the creation of the company?
How Terra Nova got founded

co-founders in separate states

Kickstarter experiences
Ophir's effect on Terra Nova
What's next?
We'd love to hear from you! You can send questions or feedback via email at podcast@cardboardrepublic.com. You can also reach us social media, including Twitter and BoardGameGeek.
Audio Credits: Intro music track is "Swing!" by Bargo!, used under Creative Commons license.