The pyramids. They are one of the most iconic and ancient structures in all of human civilization. They inspire awe, are massive in size, took years to build, and are marvels of engineering even by modern standards. Lest we forget, though, that they are above all, monuments to ourselves.
Tombs, temples, seats of power. History is littered with examples of us spending copious energy, money, and influence towards a physical symbol that transcends the individual, a stone reflection of human ingenuity.
Well, prepare to add another one. Because that's what Ophir is all about!
The game of Ophir revolves around the all-important goal of building that region's massive Temple structure – which is actually constructed as the game progresses. Players must sail around to different locations on the map, gathering up resources, and exchanging those resources in the continually-changing marketplace for the shiny things the Temple builders actually want.
So, speaking of that, do you have any piles of silver lying around? We're a little light on this week's donation quota…
Drat. At this rate, the Temple may never get finished, and that would be bad for, well, everyone. Donations have stagnated of late. It appears now would be a good time for a donation drive.
How's this sound: for every gold bar you donate to the cause you'll be safe from retribution for a whole month!
Oh, fine. Punitive whatever. Let's do this instead then: we'll hold a raffle, and we'll give away a copy of the game. Sound good. Good.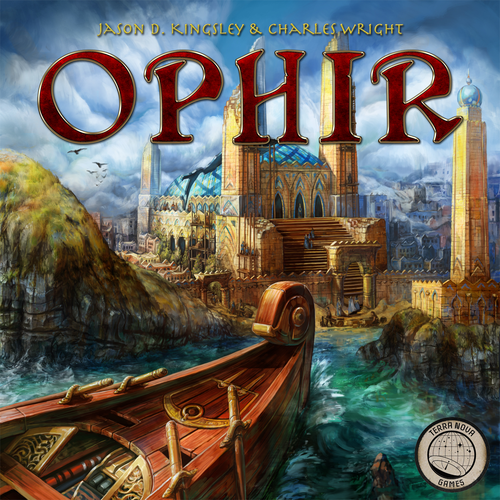 Ophir is all about influence and resources, and this tightly contested pick-up-and-deliver game makes you fight for every little scrap of either. The map is only a mere 7 hexes, and moving around those shores can get tiny in a hurry. The game centers around that conflict, as each player jockeys for turning basic goods into the money needed to purchase the precious metals that the Temple builders want.Or need. We're not sure entirely since it's not like they're giving tours yet. All you know is that this Temple needs to be built and that as various merchants, and influential people, you want to be on top of that donation list.
It's a simple enough concept, but becoming the best at filling the Temple's coffers is easier said than done. Fair warning: you may want to step up that 'piety' of yours.
So let's step up those donations and raise the roof on this building!
From now until midnight on Friday, May 30th, you can check the contest out on our Facebook page, or by entering below. Just follow the entry form, and proceed with the contest. The more you do, even if just one, you still have a better chance than not entering at all. Of course you're welcome to do that too. But your odds of winning drop to zero. No pressure or anything.
The Fine Print: The Cardboard Republic, in conjunction with Terra Nova Games is giving this game away strictly for entertainment purposes. This act is not a paid endorsement by Terra Nova Games or any other entity. This contest is open to individuals only. Staff members of The Cardboard Republic and Terra Nova Games are not eligible to participate. For winners outside of the Continental US, the publisher reserves the right to request they cover part or all of the shipping costs.