The apocalypse is upon us! No one is quite sure exactly how, or why, the dead started rising up to end humanity's reign on our little blue-green ball in space. Maybe they felt it was their turn as the dominant ones on the planet, maybe they were sick of all that reality TV, or maybe they just decided that humans were letting their big, juicy, delicious brains go to waste. At any rate, zombies arrived, and humanity quickly crumbled. In a last-ditch effort, the various ruling powers figured, "hey, let's nuke the place." Because that always works. When in doubt, drop the bombs.
Except it didn't work.
So now we're here, in the End of Days, and not only do we have to contend with hordes of zombies trying to eat us, but everything has that ever-so-healthy irradiated glow about it.
The Premise
Players command small bands of survivors of the zombie apocalypse trying to eek their way through a couple more days of their new existence. Players are the "lucky" few who managed to make it to an old fallout shelter before things got all …explode-y. But while the bunker afforded you temporary protection, it didn't last forever. In this game, players must venture out into the wasteland in order to find food, materials, and weaponry to defend themselves. Don't worry about finding zombies – they'll find you. Players will also rescue other survivors, building their own teams of characters. With them, they'll scavenge for items, protect the base, and slaughter a whole lot of zombies. That, or they'll end up as a midnight snack.
The Rules:
Zpocalypse, on the surface, has all the visual trappings of a "Big Box" game, with lots of different pieces and a robust rule set. When you break it down, however, a majority of the game's actions all funnel the player into the same objective: kill the zombies. That being said, there are numerous piles of different cards, fortifications, and various other markers that will be used throughout the game. To fully understand when each of them will come into use, you'll want to consult the rule book for more explanation.
Setting up in Zpocalypse will take few minutes. Find some decent table space for all of the cards, dice, tokens, zombies, and so forth. Rather than a board, Zpocalypse uses game tiles that are revealed as the game progresses. Players begin in the bunker tile with a four-tile starting zone denoted by various colored auras. (Yellow is the default). Each player will get a Squad Board for their characters, along with a number of goals, survivors, and other items. The Squad Board is used to keep track of their unit's collective skills, movement, armor, and health throughout the game. Players also receive a pair of miniatures to represent their group as they explore what is left of the world and fend off the mindless throngs of decaying flesh.
The game is played over a series of 2-4 full rounds (called Days), signaling a full 24-hour period of living through the night to fight again. Each round consists of four segments. The first three, Scavenge, Feed & Fortify, and Something's Happening, provide the players with a series of upkeep steps. In these, a player will be able to obtain much-needed survival gear, gain a pair of optional goals to achieve, and rescue/recruit new squad members. Players are also liable for feeding said squad members, and since food is a precious commodity, trading with other players is possible in case their food rations come up short. Once that is done, players take turns building defensive structures such as Walls and Traps around the region, to better prevent the bunker from attack. And they will need them, as during each Scavenge and Something's Happening phase, there is a new tile complete with zombies added for each player in the game. (For example, during a 4-player game, players will add eight tiles full of undead each Day. Welcome to hell.
The bulk of player activity takes place in the final phase, Combat. It is during this part that players take turns roaming around the board, searching for badly-needed materials and doing battle with the zombie masses. Each player gets two actions to move, search, attack, or patch themselves up. Then the zombies move. They'll lumber either towards the bunker or towards a player, depending on whom they see is closer. Turns continue until all of the zombies on the board are dead – or all of the players are. Should players survive, they return to the bunker and start another Day. Each successive Day, however, becomes more difficult. Under the Main Scenario of the game, for instance, the game ends at the end of the 2nd Day (4th if you're brave). In that scenario, the player with the most victory points wins. However, other scenarios may specify different win conditions.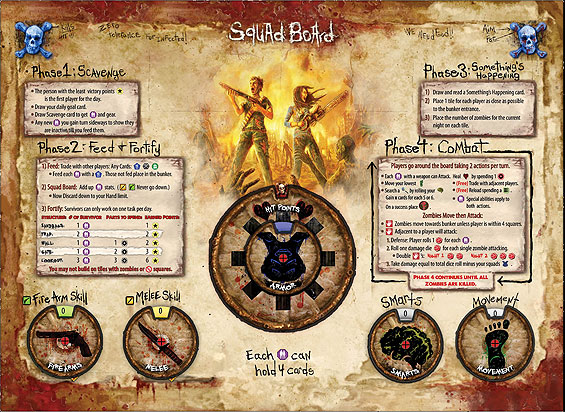 Complicated, or just a Complex?
Have you ever designed your own game? An actual, physical game from scratch? Perhaps it was a school project,  or you really thought you had something with The Wild Times of Snuggle the Fabric Softener Bear. Even relatively simple games that are successful, they take a lot of time, effort, revision, and testing by willing participants. Nowadays, the gaming community adds around 2,000 new board and card games a year. For it to gain attention or acclaim from others means that you have to do a lot of things right. That is to say, making a game can be a highly rewarding experience, but making a good game is hard if involves more than forays into your version of Candyland. Moreover, if you want your game to have complexity to it while maintaining an enticing theme, you're raising the bar even higher. It's no easy task, and most game designs falter at some stage long before they reach the market.
Zpocalypse is not in that camp. At all. In fact, Zpocalypse has done exactly what you want in a zombie game. This should be no surprise, as the creator set out with the simple premise of building what he wanted to see in a zombie-themed game that he felt didn't exist. It provides you with a foreboding theme, lots of zombies, and a detailed (but not too crowded) board. In addition, it provides you with a real sense of interaction between the characters and the setting. Your characters gain unique items, they can level up, they can build defensive fortifications, and they can become zombie-mowing legends. Or they can be killed in a very unpleasant way. In that sense, you can connect to the characters' desires for survival in these very dark times. Yet the game still manages to bestow some brevity, whether it's fighting off your zombie attacker with a stiletto, or that the game's instructions are sassy at times with comments like, "If your Survivors die, put a Death Token down to mark where your gear was left. Now it's up for grabs, sucker." It actually includes the phrase "Mwahahahahaha" at one point. It's this mix of both the sense of realism being depicted and the slight absurdity of what is being played out that players can appreciate. Immersionists that enjoy the feel of world building, or enjoy zombie-themed situations, will heartily soak up the flavor the game provides.
TL;DR – Do not TL;DR
Speaking of the rules: when it comes to running Zpocalypse, read them first. In their entirety. All of it. Many of us gamers have a tendency with more complicated games to piecemeal it. That is, we will go through the basics of each segment one at a time in order to expedite the learning process when playing something for the first time. Except, as much as you wouldn't know how to handle the tech tree in Civilization or Twilight Imperium until it would be too late, you won't know how weapons really work or how zombies function if you just wait until you "get there". More involved game rules usually don't fit everything into perfect compartmentalized sections – much as the game creators try. Zpocalypse is no different.
Yes, much of it feels like the game Zombies!!! on steroids, but there's a lot of one sentence rules amongst its 20+ pages that can be missed if you're step-stoning the learning curve. Rather, if you read Zpocalypse in the order it was printed, the layout is surprisingly decent given the game's detail. Sure, there is some ambiguity with certain goal cards and there are a couple potential questions that may need to be inferred – as is the case with most big games – but the vast majority of confusion can be corrected simply by taking the time to have someone read it through first. Most don't wing Arkham Horror; Zpocalypse is the same.
I'll Give My Right Arm for a Quality Zombie Game
Zpocalypse provides a lot of entertainment to a number different gamers, mainly because it offers something they can appreciate without curtailing the interests of others. Take combat, for example. Much of the combat in Zpocalypse comes down to a success/fail system of dice rolls. However, if it was just left there, as some other zombie games do, your average Tactician would tire easily as the entirety of fighting would come down to chance. Zpocalypse provides ways of augmenting that, through leveling up your weaponry skills, differentiating between ranged and melee weapons, and utilizing tactical areas on the map such as watchtowers and bottleneck choke points. Here, the map becomes more than just the location you're in; it is a notable factor in one's decision making process.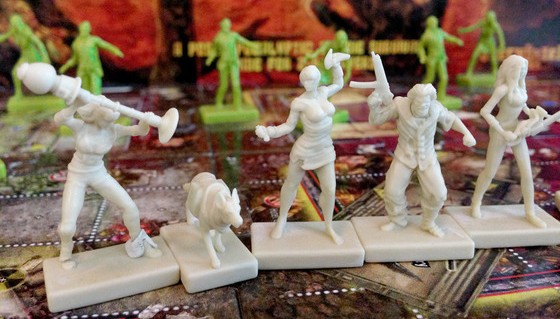 In order to see this expansive terrain, you'll be exploring as it unfolds before you. Each of the interlocking tiles are laid out in such a way as to provide you with a map that alters with each game session. Couple this with searching for items, killing zombies and leveling up in the process, and you have the type of game that Architects enjoy. Daredevils will be entertained as well, albeit for entirely different reasons. You know, like running into a zombie nest with abandon, guns blazing, or laying out a string of traps and playing bait.
Strikers may approach this game with some mild skepticism, but they should come around. On the one hand, the scenarios are mostly co-op, and the dice dictate the outcome of events more than many of them will like. On the other, there still has to be a winner. Strikers will enjoy being able to put their battlefield skills to the test in this zombie epoch. To them, it's an 'Us or The Zombies' mentality; once they realize that's their objective, they'll want to get to work. They'll appreciate the daily goals presented to them, though most of the archetypes will also enjoy fulfilling them if they can.
Of course, while these gun-toting, katana-wielding  curb-stomping, decision-riddled combat rounds are fairly straight-forward, they do add time to the game. Make sure you set aside adequate time to play, and warn your friendly Socializers that while the game mechanics aren't difficult once you get the rules down, they may not want to invest several hours into a zombie-fest that doesn't involve popcorn. They may be willing to give it a chance, but don't expect most Socializers to be looking to replay it.
The Takeaway
Zpocalypse has the right mix of seriousness and unpredictable fun to inherit the title of the flagship zombie game out there. Between the variety of available scenarios to enact, the length of the game, and always-unreliable dice, Zpocalypse never comes to feel predictable. Each game has a markedly different feeling. Sometimes your trusty machete always hits home, and sometimes you run out of ammo at the worst possible moment. It's a kill or be killed world out there. That's just the way it goes when you're fighting off zombies. Luckily, it is precisely that blend of strategy, variation, and luck that will keep players coming back to this ruined wasteland. If you like games around massacring the undead (are there those who don't?), or if you're merely a fan of some intermediate level, strategy-laden combat, Zpocalypse will keep you on your toes…while you still have them.

Cardboard Republic Snapshot Scoring (Based on scale of 5):
Artwork: 4.5
Rules Clarity: 2.5
Replay Value: 4
Physical Quality 4.5
Overall Score: 4
Photo Credits: Most Zpocalypse pictures by

Greenbrier Games

.