Episode 062
Length: 32:02
Subscribe to Show Link: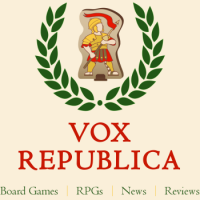 Welcome back to Vox Republica, the Cardboard Republic Podcast!
We post new episodes every Thursday, and each episode will be about 20 – 30 minutes long.
Whether it's a temporary coup or a well deserved respite, we won't say, but in any case, this episode has Ryan filling in as the host. He didn't take the task lightly either – he planned a full TEK Takeover!
With him this week to discuss our November Indie Spotlight game Tiny Epic Kingdoms are none other than designer Scott Almes and Gamelyn Games publisher Michael Coe. They talk of things big in small in the Tiny Epic and Gamelyn universes. Tune in to hear what's in store!
We'd love to hear from you! You can send questions or feedback via email at podcast@cardboardrepublic.com. You can also reach us social media, including Twitter and BoardGameGeek.
Audio Credits: Intro music track is "8-Bit Brawl" by DJ Cutman featuring S&CO., used with permission.