Bryan Johnson doesn't look like a man who's been through the wringer, but looks can be deceiving. His is a story of frustration, upset, and, ultimately, (spoilers!) perseverance. Johnson is the creator of Frost Forge Games, a small studio with only one title to its name: Island Fortress, which is due out later this month.
Of course, it would be equally accurate to say that Johnson's game has been due out for years.
Before you jump to assumptions though, this isn't a case of a Kickstarter gone wrong. There are no unfulfilled promises – at least not on Johnson's end. This, instead, is a tale of frustration from before the crowdsourcing era, lest we forget that even major developers can sometimes fail to follow through and even experienced companies can make poor business decisions.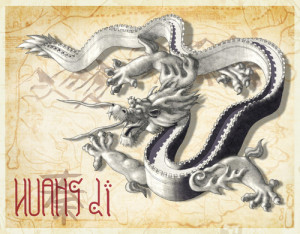 Let's start, then, at the beginning. Johnson began working on the game that would be Island Fortress back in 2005. At that point, he had named it Huang Di after the title of the Chinese Emperor. In the game, players used a pattern-making mechanic to lay blocks of stone atop one another, eventually constructing the Great Wall of China. Johnson entered Huang Di in the New England-based "Protoslam" competition run by Cambridge Games Factory, and he won. A couple of weeks later, CGF opted to pick the game up for production.
Unfortunately, the match was not meant to be. Not long after acquiring Huang Di, CGF fell into rough financial waters. While they were still willing to publish the game, everyone recognized that they were in no state to do so immediately. Rather than forcing Johnson to watch his game hover in developmental purgatory, CGF gave him the option of nullifying his contract and taking back his game. He chose to do so.
And, to its credit, Huang Di didn't languish for long. It was picked up only weeks later by UK-based JKLM Games. JKLM slotted Huang Di to come out in their lineup after Tulipmania 1637, a simpler game that would take less time and effort to get onto shelves. Then, they put another game ahead of it. Johnson understands, at least in hindsight, that the needs of the publisher can't always overlap with the needs of the developer, but he was eager to release his game. At this point, it was a nearly-completed product. All it needed was a printer. In fact, JKLM had even taken pre-orders and Huang Di had begun to generate some industry buzz.
Then, in what must have felt like an awful case of deja vu, JKLM hit a rough patch. They floundered and ultimately went under. Two years after they acquired Johnson's game, JKLM had still been unable to release it. Despite promises that they would get the game onto shelves, despite taking money for pre-orders, JKLM filed for bankruptcy. Johnson was out of luck – as were those early-adopters who had already ordered the game. JKLM was unable to issue refunds, a fact about which Johnson still feels a bit badly.
Still, even Johnson can now admit that maybe it all worked out in the end.
 Round One
What was your gateway game?
Settlers of Catan.
What was the last game you really enjoyed playing (besides Island Fortress)?
I've been so out of the loop with the new releases just because I've been so preoccupied with my own stuff. When I play new games, it's really just at conventions these days.
How big is your game collection?
I have 438. I have them all on BoardGameGeek, and I log my games. It fluctuates. A couple of years ago I ended up selling 50 games to make room.
What's your favorite type of game to play?
Fun games. To me, that's the only thing that really matters. A lot of people, especially with new releases, are just looking for something that's innovative, which is a good thing especially in this industry because it keeps things fresh. But that only goes so far. It's great if a game is innovative, but if it's not fun, I'm not going to want to play it again. More specifically, generally I look for games with a play time of an hour or less. The older I get, the more valuable my time is to me. The amount of time I can put toward gaming gets less and less.
That actually goes into our other question, which is: how do you feel about Monopoly?
That's actually a hard question. I guess it's a little unfair to compare it to the euro-style games. I think, for it's time, it's had its place. It's had its usefulness. But now it has none. People don't know that there are better games out there. That's the standard in the US, unfortunately.
After JKLM's liquidation, Johnson brought his game to Dan Yarrington, owner of Myriad Games, a chain of game stores based out of Manchester, NH. Yarrington is a business guy – he likes that side of game publishing that a lot of designers don't. Yarrington had an idea. He wanted to start a new company to help independent designers get their games out onto shelves, and with the rise of crowd-funding, the time was perfect to give it a shot. He founded Game Salute, and Johnson's Huang Di became the first game under its belt.
"When I first started working with Dan," Johnson says, "I was the publisher, but it transitioned to where I became the design studio. Game Salute was the publisher, which works out better for me because it's a lot less that I have to worry about." He was able to hand a portion of the workload off onto Game Salute. "It's still work, and we still have to keep in constant contact," Johnson affirms. Still, some help was better than none, and Johnson and Game Salute began working together to tweak Huang Di in preparation for its Kickstarter debut.
One of the first tweaks was a re-skin. The game became Island Fortress, and rather than building the Great Wall, players were now building a fortress on a colonial penal colony. "That was actually Dan's idea," Johnson says of the new theme. Initially, Johnson wasn't on board. He worried that the game's followers, those devoted fans who had already play-tested Huang Di and had followed his saga, would be lost or confused by the change. Yarrington, though, pointed out that those weren't the people Johnson was trying to reach. Johnson wanted to bring the game to entirely new audiences, and they thought that a clever re-skin would help him do that.
So, why a penal colony? "Well, I really wanted something that hadn't been seen before." He considered the pyramids of Egypt or the aqueducts of Rome, but a recent trip to Jamestown made him settle on a colonial fortress. Jamestown itself was too specific, and Johnson feared that he might lose some of his non-American audience, but a penal colony . . . "I don't know too many other penal colony games," Johnson says with a laugh. So far, the theme has been a hit amongst his followers, so hopefully his fears of alienating his base, so to speak, were unfounded.
Johnson also made a few additional changes to the game. The balance between difficulty and player choice is always a tough one, and Johnson was able to tweak it to his satisfaction now that he had more creative control. For example, his initial game had offered players ten action cards to choose from, but CGF Games and JKLM had both cut his number until he was left with only four action cards. This, he felt, was too limiting. Now, with help from Game Salute's team, Johnson has effectively brought more choice into the game while keeping the difficulty from spiking.
And, a few key components stayed the same. Jade, for instance, still remains the currency.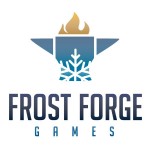 With these revisions in place, he launched his Kickstarter in November of 2011 under the imprint of Frost Forge Games. It was successfully funded (with about $4,000 extra) on January 15, 2012. Though successful, he describes the ordeal as a learning process, both for him and for Game Salute. Johnson even managed to make amends with the fans who had pre-ordered the game from JKLM and had lost their money when the company went under. He was able to give them an upgrade if they sponsored the Kickstarter and sent in a copy of their receipt from their original sale. While not a perfect solution, the fact that Johnson thought of it and tried to make things better speaks well of him.
If you've been counting, it has been seven years from conception to successful funding of his game. It'll be eight years by the time the game actually reaches store shelves. Johnson, though, doesn't sound bitter. Still, he admits that a lot can go wrong in getting a game from your head onto shelves. Minor tweaks to art can add time, and delays add up. Then, there's always Chinese New Year. Many games are actually made in China and are sent over by boat, but during February the country basically shuts down. Delay after delay makes for a very eager game designer.
Now that his game is (just about) out, Johnson is trying to give back the support he's received from the gaming community, particularly from Kickstarter. He's a frequent backer of other indie games, whether he thinks they're destined for greatness or not. "Somebody worked hard on this [game]," he says. "Whether or not it's a game I'll play a lot – or even play at all – when I get it is not important. I helped somebody with their dream."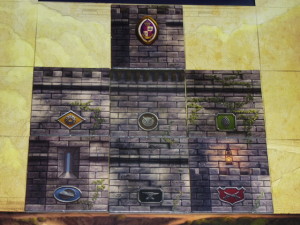 And, of course, this isn't the end of his game design story; there's more to come from him. He has "several" designs lined up. He's busy with Game Salute, working as a reviewer. For one, he has a prequel game in the works for Island Fortress. It's due to be a standalone game, but the gameplay bears similarities to Island Fortress. In it, the penal colony is in its early days, and the workers are mining the jade that becomes the currency in the second game. He's reluctant to put a timeline on it, but he hopes to have it on Kickstarter by the end of 2013.
Bryan has certainly had an unconventional and arduous project journey. He could not have predicted when he began work on his game project almost a decade ago the trials it would put him through, and, ultimately, all of the places it would take him. Through it all Johnson has remained largely optimistic, and he attributes a lot of that to the continued support he's received from the community.
To show that appreciation, we are excited to relay to you that we will be giving away a brand new kit of Island Fortress. As the street date for the game appears to be April 13th, we want to help build up that excitement. Only a few more days remain to complete what must seem like a lifetime of challenges to get the game to this final stage. So, from now until the end of April 12th, we will be raffling a single copy of Island Fortress, the 5-6 player expansion, and the pack of promo cards off to folks over on our Facebook page. Simply click on the icon next to the likes (or just click here directly.)* All you have to do is go there and follow the entry section on various tasks you can do to enter! The winner will be announced mid-day on the 13th! Don't delay!
*For those unable to or are unwilling to use Facebook, you still have chances at winning, and can do so by clicking here.
(Editor's Note: We have been informed since this post that the street date has been updated to be April 19th. So you'll technically be getting your winning copy early!)
The Fine Print: The Cardboard Republic, in conjunction with Frost Forge Games, is giving this game away strictly for entertainment purposes. This act is not a paid endorsement by Frost Forge, Game Salute, or any other entity. This contest is open to individuals only. Staff members of The Cardboard Republic are not eligible to participate.