As part of our August Spotlight on Operation F.A.U.S.T., we strive to inform the readers of little extra tidbits surrounding the game. Games are made by people, and one of those tidbits we enjoy is learning a little bit more about the people behind them. Some designers shy away from the public stage, while others enjoy being front and center. In the case of Faust designer Robert Burke, he's always up for chatting about his growing library of games. That is, if you can find him.
Luckily, we managed to decipher the code and find the secret staircase down to Robert's Lair. In return, he offered up a few minutes of his time. This isn't the first game under Robert's belt, but it does stand out as a game with a highly unique premise. Which is part of why we are here. We simply couldn't avoid digging into this mystery.
Operation F.A.U.S.T (Fine Art Underground: Stolen Treasures), is a quick bluffing and deduction game with great implications. It was inspired by the real life efforts of men and women of the MFAA during World War II to safeguard, secure, and rescue thousands of pieces of artwork across Europe from the clutches of the Nazis.
And it worked.
In this game, though, you're on your own. Set prior to the liberation of Europe, you and your fellow players are looking to out-con one another for information leading to the securing of these very works. With quick turns and simple rules, Operation Faust has each player seeking to be the first to stockpile $1 million dollars worth of these stolen goods.
At the same time, you also have to be careful that you aren't sitting on a forgery, because that'd be embarrassing and costly.
As a game, Operation Faust is an example of art imitating history referencing imitated art. Or something along those lines.
Seriously, with all of this lying, bluffing, and secret dealing, it's tough to keep track of what's what anymore…
Thankfully, Robert Burke is here to help us uncover the lies and get to the true heart of the matter….or is he? We'll let you decide. Enjoy!

Round One Questions
CR: What was your Gateway Game?
Originally, Dungeons & Dragons. But the game that got me back into tabletop gaming was Carcassonne.
CR: What was the last game you really enjoyed playing (besides Faust)?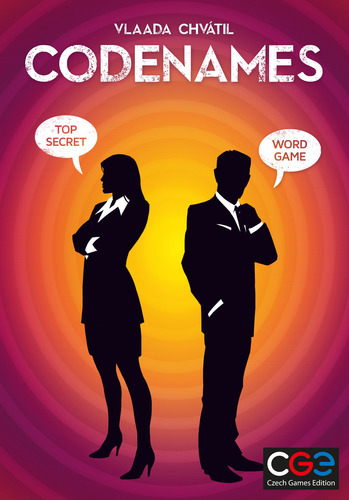 Codenames. It'so much fun, and a simple and elegant design.
CR: How big is your game collection?
I believe I am North of 350 at this point…
CR: What is your favorite type of game to play?
My favorites to play are games with a lot of social interaction.Bluffing, social deductions, negotiation, dudes on a map.
CR: How do you feel about Monopoly?
My opinion doesn't matter. Monopoly has its place like any game does. Board game snobbery hurts our hobby. If any subset of people enjoy a game it should be celebrated.
On Operation F.A.U.S.T.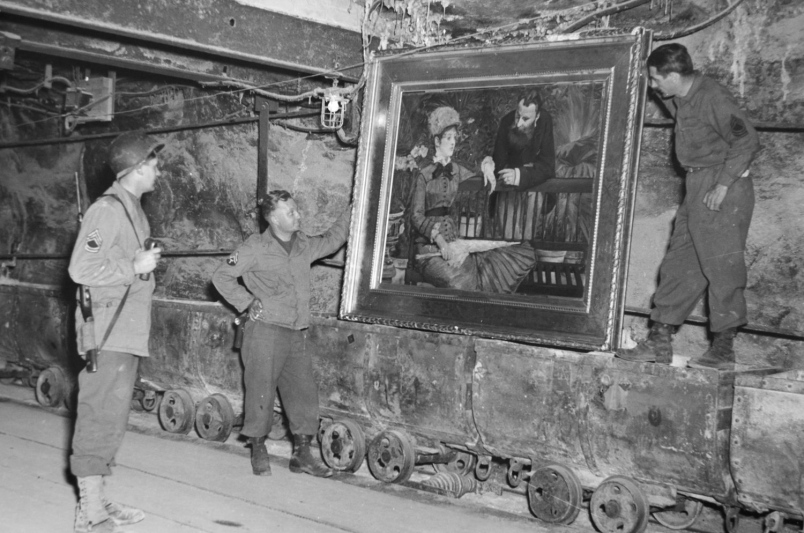 CR: Operation Faust does two unique things. Firstly, this is a social deduction game with hidden roles but no player elimination. Was that designed from the start?
Absolutely. Creating a social deduction and bluffing game without player elimination was a design goal from the very start, and actually was the spark for the game.
CR: Second, Faust is a WWII game that doesn't focus on fighting. What was the inspiration behind the game's theme?
My Father-in-law. He is a WWII historian and gave me the idea for the theme. I instantly loved it and started my research immediately. This was before the Monuments Men movie came out. The theme won't appeal to everyone, but this is important history that tends to get lost, so I am proud to help shine a light on it, even if it is a very small one.
CR: For a light game, there seems to be a concentrated effort to include as much source material as possible. Is that accurate?
Yes. Integrating theme into a game will always be a main goal of mine. If the theme is historic, even more so. Once I began research for F.A.U.S.T. I became obsessed with the history. Designing this game was like taking a college course in WWII history, and the process itself was worth every second I spent – even if there are no monetary rewards for my efforts.
CR: In all of that research, what is your favorite story of the MFAA (Monuments, Fine Arts, and Archives) program?
That's hard to say. There are so many, and F.A.U.S.T. encompasses more than the MMFA. But if I had to pick, I think it'd be the mystery around the painting "Portrait of a Young Man" by Rafael. The Nazis stole it in 1939 and it was moved to German Chancellor Hans Frank's chalet.
When Hank was arrested they found many stolen paintings, but "Portrait of a Young Man" was missing. The painting's whereabouts are unknown. The Monuments Men film took some liberties on this and showed it being burned by the Nazis. In reality we simply don't know what happened to it.
CR: How did you come up with the acronym F.A.U.S.T.? Is there any specific meaning to it from a real life event?
I inquired about obtaining the rights to the name "Monuments Men", but they never got back to me. The acronym stands for "Fine Art Underground: Stolen Treasures" and someone in my local game group came up with it. (Thanks Todd!)
There was actually a humanitarian mission called Operation FAUST in WWII to deliver food. So while totally unrelated it at least fit the period, but this Operation FAUST is fictional.
CR: Although the Kickstarter was pretty successful (900 backers and approx. $26k raised), was there ever a time you were worried the premise of the game wouldn't resonate?
Absolutely. You worry about every game. This one I worried about even more. The theme will attract war gamers but the gameplay won't, and the gameplay will appeal to social gamers but the theme may not. But I don't make games to fit a demographic; I make them because I'm passionate about creating something.
CR: Was there anything noteworthy left out of the finished project that you wished had made it in (specific cards, people, etc.)?
Yes. Blind playtesting feedback let me know that some players did not know to replace cards in the art cache when taken. So I added this to the rules. For some reason, the final version did not make it to print (my mistake). But I wish this made it into the rules to avoid any confusion.
CR: Lastly, thoughts on the aforementioned Monuments Men movie? Like F.A.U.S.T., it too works from the same real life events.
The movie was a disappointment. A great story, poorly produced. An opportunity missed in my opinion.

While the MFAA did a stellar job during the war, the legacy of their work continues. That's what Operation F.A.U.S.T. seeks to do. Thousands of pieces of artwork are still missing, whether forgotten about in secret locations, hidden among private collections, circulating on the black market, or perhaps even destroyed. With so many pieces of art still out there, it shouldn't be surprising that newly found pieces continue to surface as recent as earlier this year. The restitution of World War II must continue, and Operation F.A.U.S.T is throwing open its doors. To help them out, we are raffling off a copy of the game to all recruits in preparation for their next effort:
Help Search For The Amber Room!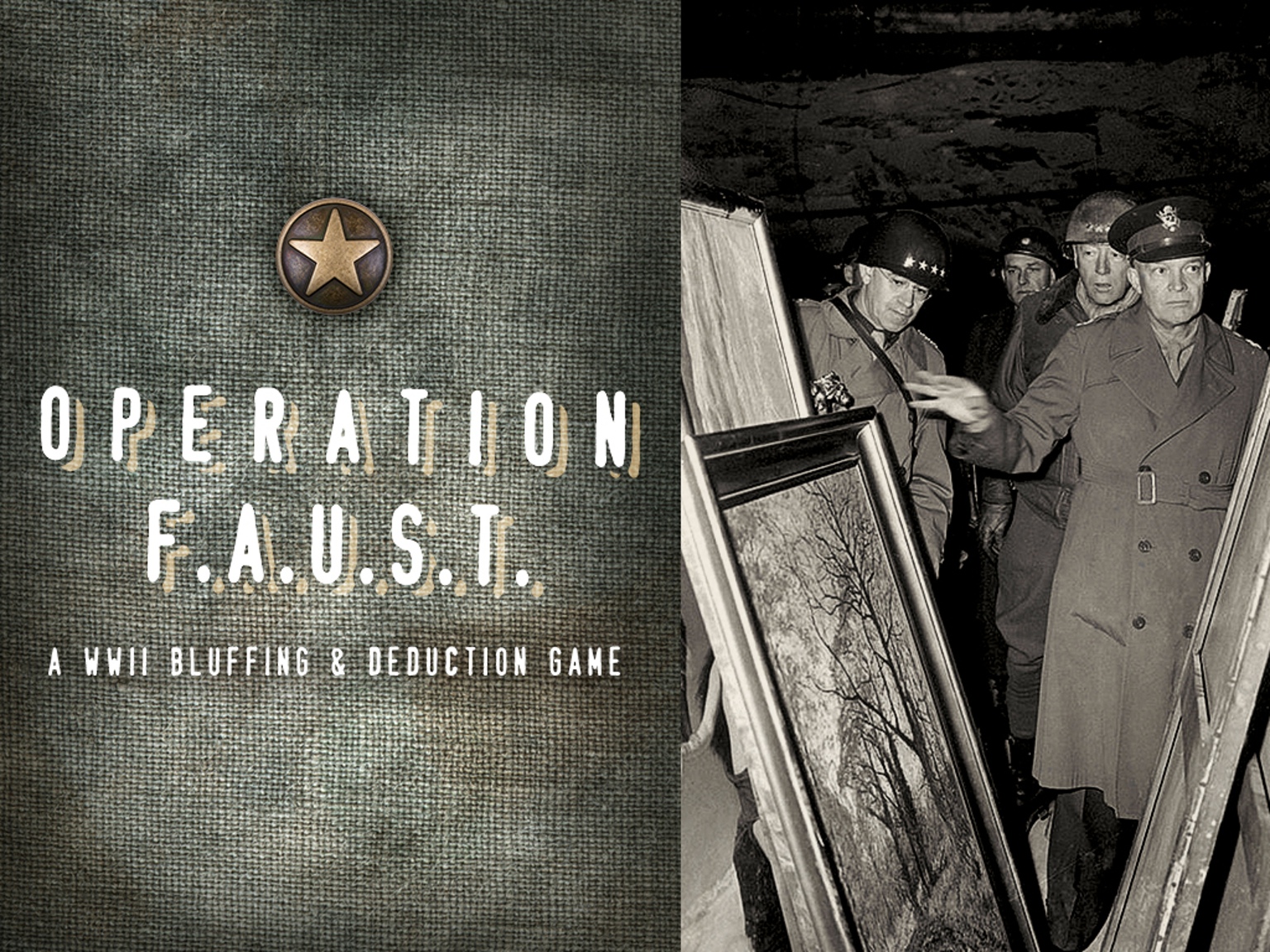 Photo Credits: Faust cover and artwork by Robert Burke Games; WWII photos by U.S. National Archives; Monuments Men movie by 20th Century Fox.