Among the many, many remarkable facts that came out of World War II was the staggering amount of art stolen by German forces during their occupation. It has been estimated that upwards of 20% of all artwork in greater Europe was uprooted during the period of the war. Twenty percent. That's almost inconceivable.
What's equally impressive is that during this time (and in the decades since), the vast majority of it was found and returned to their rightful owners. Much of this work came under the guise of the MFAA program, commonly known as the Monuments Men. It was primarily the work of these men (and women, contrary to the moniker) that painstakingly reversed the systematic looting of a millennium's worth of art and culture.
Operation F.A.U.S.T. (Fine Art Underground: Stolen Treasures) borrows from that tradition as it asks you to help in the war effort. In this quick and light bluffing and deduction game, you are tasked with safeguarding, securing, and rescuing as many pieces of artwork from the clutches of the Nazis and the black market as possible.
Set during the midst of German Occupation, players are stuck behind enemy lines in France trying to out-con one another for information leading to these very works. With simple rules and a short play time, it's up to each person to ensure the works you have aren't forgeries and be the first to stockpile $1 million dollars worth of priceless artwork.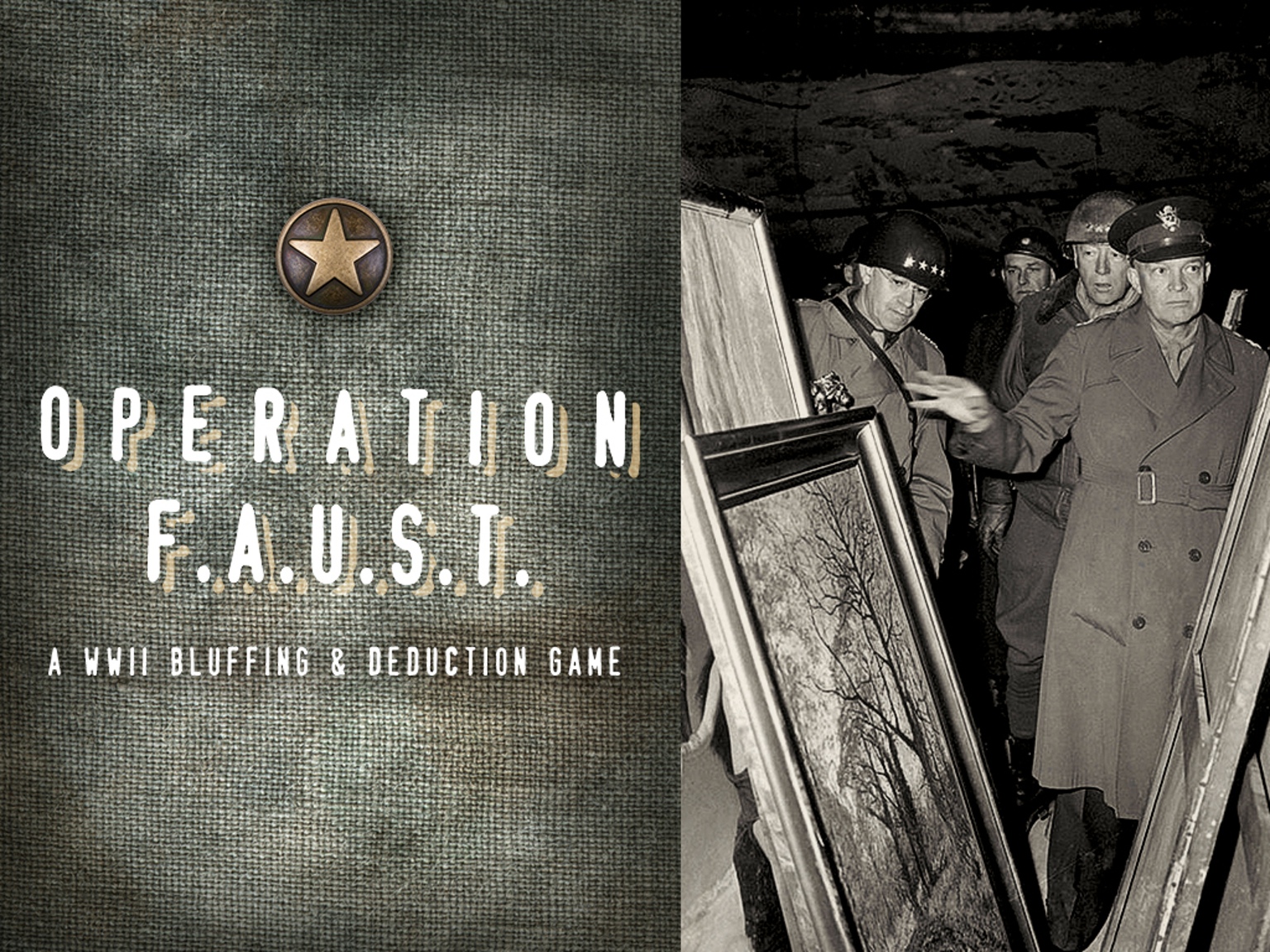 Once your task in France is complete, however, we have another task for you. See, while you are doing your job in France, far on the other side of Europe the Germans are making off with the famous Amber Room. Stolen from the palace at Königsberg, the gold-filled room panels made by 18th century master craftsmen simply disappeared. Many attempts have been made over the years to find it, but none have yet succeeded. It will be your job to see if you can locate some leads on it.
To help you in that endeavor, we feel that it's only fair you be given a field test to make sure you're up to the task. The best way we figured to do that is to put you through the ordeal of art recovery…right now. Operation F.A.U.S.T. is well underway, and to prove you have what it takes, we need you to be a part of it.
Now, we can't afford to send all applicants to France. But what we can do is raffle off a copy of a game whose premise is remarkably similar to your mission. Nothing like a little trial by fire, right?
Actually, let's not mention fire around the paintings…
From now until midnight on Friday, August 31st, you can check the contest out on our Facebook page, or by entering below. Just follow the entry form, and proceed with the contest. The more you do, even if just one, you still have a better chance than not entering at all. Of course you're welcome to do that too. But your odds of winning drop to zero. No pressure or anything.
The Fine Print: The Cardboard Republic, in conjunction with Robert Burke Games is giving this game away strictly for entertainment purposes. This act is not a paid endorsement by Robert Burke Games or any other entity. This contest is open to individuals only. Staff members of The Cardboard Republic and Robert Burke Games are not eligible to participate. For winners outside of the Continental US, the publisher reserves the right to request they cover part or all of the shipping costs.