Each month, the Indie Spotlight highlights a new game that exemplifies the creativity, cleverness, and beauty of today's independent games market.
This month's Indie Spotlight is:
Zephyr: Winds of Change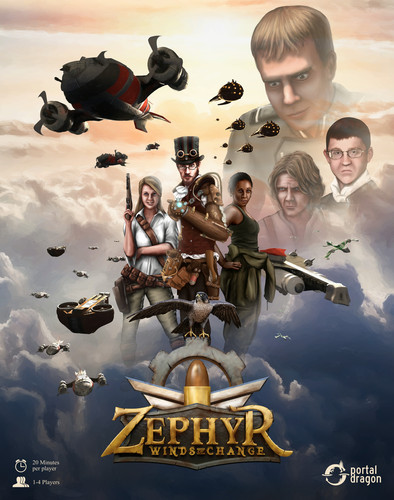 It seems so quaint by today's standards that mankind can take to the air in flying machines of their own design, but for centuries the sheer thought of exploring the world from above was a fantasy, a whim, a fevered wish of elite and commoner alike. To soar as the birds do, to leave the earth we stand upon – it was a realm off limits to humans. It was the realm of animals and gods, and we were not invited.
Well, at least, until we barged our way in anyway. Humans are a tenacious and persistent lot, after all.
We take it for granted now, but when we first conquered flight, it changed the world instantly. It was that powerful of an event. We had waited for so long to take to the heavens – dreamed of it, reached for it, wondered what that freedom would be like – that when the day arrived, there was no going back. It was finally ours to explore, and we knew it. Even now there's a collective part of us that is still fascinated with air travel. And rightfully so. We've had air travel for about a century, but our imagination on what that could mean is far from over.
Especially if that imagination involves a contentious steampunk-era fight for dominance among the skies.
Luckily we don't have to wonder about what that would be like at 40,000 feet. We can do it from the safety of ground level, with Zephyr: Winds of Change.
In the game of Zephyr, each player acts as a captain piloting their own airship in an effort to stave off bands of dangerous and cranky sky pirates. In this highly modular co-op game, you work together as a ragtag team of fighters trying to keep safe the last vestiges of civilization from aerial-based attacks and plundering by confronting your enemies head on.
Think of it as a mix between early 20th century dogfighting and Sky Captain and the World of Tomorrow, only with slightly less explosions and a lot less CGI.
To accomplish this, each player must upgrade their ship, hire crew, and prepare for battle against the pirate gangs. Between the scenarios chosen, the variety of ship layouts, and an ingenious mix-and-match overlay system of crew member abilities with varying ship roles, Zephyr offers an incredibly high degree of variability and replayability, giving you plenty of space to spread your wings and see where your efforts take you.
So grab your cap and venture forth young Ace, for action and adventure awaits you among the clouds! We're all counting on you.
Do you have a game that we should spotlight? Let us know at: admin@cardboardrepublic.com!
Previous Indie Game Spotlights:
April 2017: Sagrada| Review |  Q&A | Developer's Site
February & March 2017: Gloomhaven| Review | Goomhaven & Representation | Podcast | Developer's Site
January 2017: Santorini| Review |  Podcast | Developer's Site
December 2016: Karmaka| Review |  Q&A | Developer's Site
November 2016: Days of Ire: Budapest 1956| Review |  Q&A | Developer's Site
October 2016: Roll Player| Review |  Q&A | Developer's Site
September 2016: The Guardians: Explore | Review | A Tale Of Two Campaigns |  Q&A | Developer's Site
August 2016: Vast: The Crystal Caverns | Review |  Q&A | Developer's Site
July 2016: Dark Dealings | Review |  Q&A | Developer's Site
June 2016: Millennium Blades | Review |  Q&A | Developer's Site
May 2016: World's Fair 1893 | Review |  Q&A | Renegade Games Interview | Developer's Site
April 2016: Apotheca | Review |  Q&A | Designer Journal | Developer's Site
March 2016: Paradox | Review |  Q&A | Developer's Site
February 2016: The Shadow Over Westminster | Review |  Q&A | Developer's Site
January 2016: Hocus | Review |  Q&A | Strategy Guide | Designer Journal | Developer's Site