If you've never attended the massive board gaming trade expo that is Gen Con, one of the things we try to convey to those deciding whether or not to attend for the first time is precisely that: it is an expo. For all of the cardboard cavorting that happens with panels, events, meetups, and general socializing with like-minded folk – all of which are exciting and fun! – make no mistake, at its core Gen Con is largely about selling you things.
With thousands of new games released each year, and more than a few hundred debuting at Gen Con alone, publishers are acutely aware that you only have so much time in your day and money in your wallet. It can be hard to get the word out about every single new title, and that challenge is growing with every passing year. Events like Gen Con are an opportunity for companies large and small to grab some of your attention to that end, however briefly. After all, while the board game industry is pretty laid-back (occasionally to a fault), it is still a business. Crowdfunding has made a monumental impact on the industry, but most games are still released through the traditional publisher model. And those efforts aren't free. If you want to see more of your favorite artists and designers making games, they need to get their games signed. To get those games developed, manufactured, and shipped, publishers need money. And to get money, they need to sell you games. It's all very cyclical.
When you put that many people trying to do the same thing in the same room, the result is nothing if not electric. The level of new product on the Gen Con expo floor, and the collective energy of demoers and patrons alike is enough to make even the most introverted amongst us excited to be there. You want to partake in as much of the exuberance as possible. Step into our booth! Demo our game! Let me show you what's for sale! When you multiply that enthusiasm across the entire hall, it's hard not to get swept up in it all. Which is precisely what publishers want. After all, impulsiveness + captivated audience = sales.
Of course, in order to ensure that you're spending your precious moments looking at their stuff, publishers try to drum up as much fanfare for their games as possible. Sometimes this can happen organically via word of mouth and positive experiences while at the convention itself. This can generate the surprise hits (we'll be coming back to those in Part 3). Often, however, many publishers start the marketing campaigns for their games weeks or even months in advance via social media, newsletters, influence peddling, showing off demos at other conventions, and so on. Doing this drives up a game's hype.
And boy howdy does Gen Con thrive on hype.
Sometimes these games live up to the level of fervor that has been generated for it, and sometimes they don't. In Part 2 of our Gen Con 2018 Recap: Deluxe Edition, today we take a brief look at 15 of some of the most hyped games leading up to Gen Con and how their reception fared by the end of the convention.
Also See:

The New Hotness
Coimbra
Publisher: eggertspiele  | Players: 2-4 | Play Time: 60-90 Minutes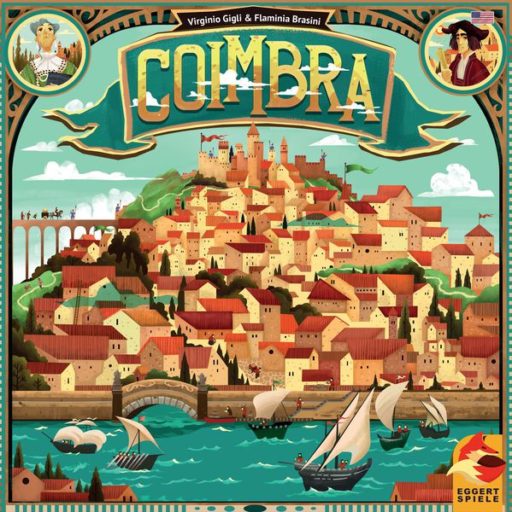 Coimbra was an early lock for popularity, thanks in part to the eggertspiele's track record of putting out decent Euro games over the past few years such as Heaven & Ale and Great Western Trail, as well as having a surprise (albeit small) allotment to sell at Origins a few weeks earlier which helped stoke the fires of this dice drafting game. So it was no surprise that its presence was well felt at the Plan B booth.
What was a little surprising here was that this one was originally estimated to garner roughly equal interest as their new lightweight game Reef, but Coimbra sort of ran away with it by the end of the convention. So much so that as of early Sunday they still had some copies of Reef available while Coimbra was long gone. (Granted they had more stock of Reef to begin with, but it does show that it's not always a guarantee to know which title will be the big mover at any given moment.) In any case, while their other new title Century: Eastern Wonders is out now, both Reef and Coimbra should arrive stateside together by early October, and we'll see then which resonates with larger audiences more.
Detective: A Modern Crime Board Game
Publisher: Portal Games  | Players: 1-5 | Play Time: 120-180 Minutes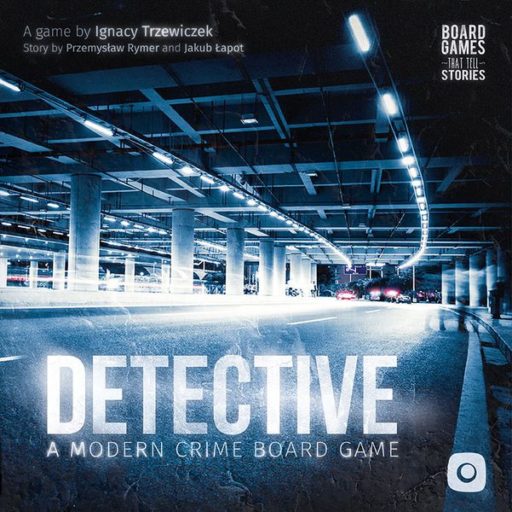 Of all the titles on this list, Detective was arguably the one we bought into the hype of the most. Effectively a modernized take on games like Sherlock Holmes: Consulting Detective, where your goal as a team is to solve the mystery of various crime cases before time runs out, Detective seeks to test new boundaries of the analog/digital divide by conveying a lot of the game's sleuthing materials through an online delivery system that can slightly change the information of the story being told based on prior decisions you make. This theoretically allows for a more immersive storytelling experience, and a digital storytelling platform could also make it easier to release subsequent stories (which is Portal's hope).
We've been intrigued by this one since the game's announcement over a year ago, and it was one of the few hyped titles at this year's Gen Con we were lucky enough to actually come home with. It also didn't hurt that preorders were filled prior, giving it a pre-con buzz boost with largely positive early feedback. Portal was able to capitalize on that by being able to satiate a good chunk of the estimated demand; whereas supply at Gen Con for their previous two titles Cry Havoc and First Martians were almost entirely limited to preorders, they came well prepared this year, with sales for interested parties lasting at least into Saturday. And if you weren't able to grab a copy then, you can get your sleuthing on as soon as you want, because Detective is available now.
Dragon's Breath
Publisher: HABA  | Players: 2-4 | Play Time: 15-20 Minutes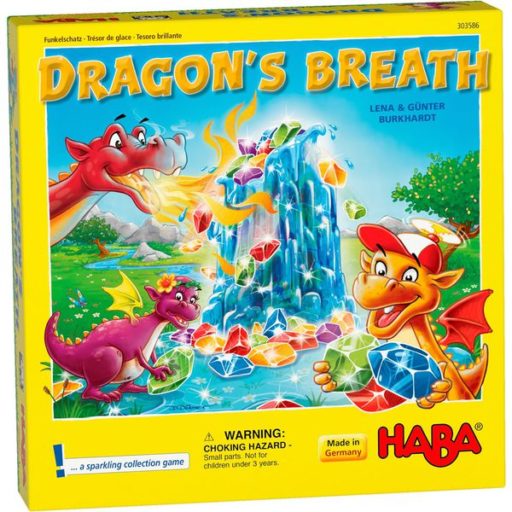 It wouldn't be Gen Con without HABA showing off some new title to entice parents and children alike. This year HABA USA had a bounty of new possibilities to show off, releasing close to 20 titles in North America in 2018 alone. While I was personally more intrigued by the gorgeous if slightly overproduced puzzle game Iquazu and the cute and casual-focused push your luck game King of the Dice, their most popular game by far was the simple-yet-clever Dragon's Breath.
With clear table presence and quick playthroughs, Dragon's Breath is a lightweight betting game where there is a pile of gems in the center held there by a series of removable rings, and your goal each turn is to guess which color will spill the most gems when you remove the next ring. There was a steady stream of people wanting to check it out, aided on some early press about the game (something something 2018 Kinderspiel des Jahres winner…) as well as being one of the more picturesque HABA titles of the season – perhaps only behind the latest Unicorn Glitterluck title. In any case, it unsurprisingly didn't take super long for this one to sell out. Award winner or not, however, we have some reluctance as to this one's longevity.
Exit Games – The Sunken Treasure & Dead Man on the Orient Express
Publisher: Kosmos | Players: 1-4 | Play Time: 60-90 Minutes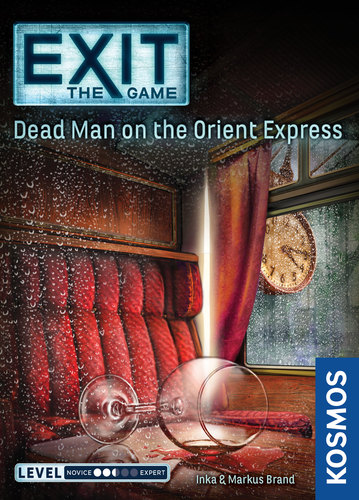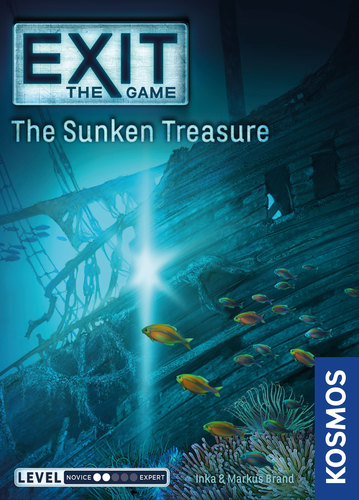 One of the more notable trends over the last couple years is the rise of games that can only be played to completion once. The concept itself isn't new, but with the success of legacy games like Pandemic, progressive campaign games like Gloomhaven, and the veritable explosion of escape room games, the idea of a truly consumable game is still on the rise in popularity and had a modest presence at this year's convention. The two most talked about examples of this going in to Indy were the latest two games in the Exit series, Dead Man on the Orient Express, and The Sunken Treasure.
Chances are you're aware of escape room games and the Exit line by this point, whereby one or more players have to navigate through a series of puzzles to achieve the best possible score, and if you weren't…well now you know. It was very apparent early on that Exit games were going to be a sought after commodity at the convention, largely due to their general accessibility and low price point. Needless to say, they didn't last especially long. Luckily they, along with most of the other new Kosmos titles (World Slam Family, Mercado, Targi, and Lost City Rivals) should be out by the end of the month, with only the Imhotep expansion taking slightly longer. We managed to snag our copies, and we'll be sure to provide them a proper Riven Score soon to see how they measure up! If nothing else, it should give a better sense of how these two will fare comparatively in the long run.
Forbidden Sky
Publisher: Gamewright Games  | Players: 2-5 | Play Time: 60 Minutes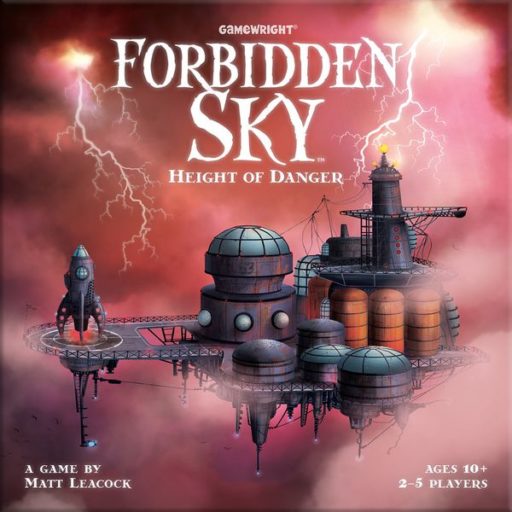 Two things are often prevalent when it comes to board game purchasing behavior. First, a series of successful games by the same publisher and / or designer can often prompt people into buying the next iteration sight unseen. Second, completionist tendencies are very real, especially when something is obviously part of a larger whole. So many people went into Gen Con 2018 and picked up Forbidden Sky without question, largely due to their enjoyment of Matt Leacocks's previous two series titles Forbidden Island and Forbidden Desert. The game sold immensely well ahead of its mid-September release, to a point where it quickly sold out of its daily allotment – as surprisingly did Gamewright's adorable little press your luck game Trash Pandas, which people gobbled up either in addition to, or as an alternative for, their attempts to get skybound.
For those who were more cautious, demos were running constantly – if you could find room. In this title players must work together to navigate the board and create a proper electrical circuit to power a plastic rocket ship towards freedom. Whether Sky will hold up to the elegance of Island or the spatial challenge of Desert remains to be seen (and based on our limited exposure our hunch is it'll end up in the middle), but its ease of accessibility and high production quality certainly made it understandable why it was such a hot commodity long before the doors opened.
Also the rocket ship is very cool looking.
Gizmos
Publisher: CMON  | Players: 2-4 | Play Time: 40-50 Minutes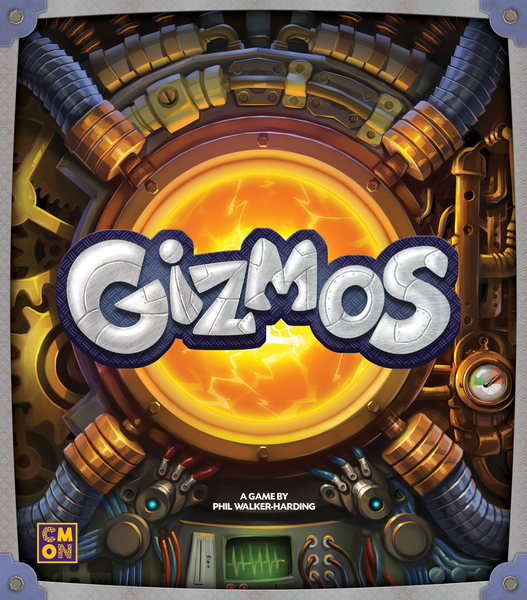 I will be the first to admit that even I underestimated the hype Gizmos would generate. It had a popular appeal at the swanky annual invite-only gaming convention The Gathering earlier this year, and it managed to create a decent word of mouth campaign over the following months leading up to the convention, but I did not anticipate it surpassing the interest of CMON's more advertised titles such as A Song of Ice & Fire, Way of the Panda, and Rising Sun. Which is why it was originally selected as one of our off-radar games to check out going into the con.
Well, we were wrong, as interest in the game wasn't only strong from the onset but actually grew over the course of several days.
Turns out that this lightweight engine building game about building engines struck a chord early on and never abated, thanks to its comparatively cheaper price point for CMON titles and a marble dispenser that gives it a highly visual table presence. It sold out quickly there, but to the relief of all (ourselves included), it should be enter circulation by the end of August and do well from there. Which is certainly better news to hear than a couple of its other titles, the co-op hidden movement game Narcos, and the excellent train-themed roll-and-write Railroad Ink, both of which aren't due in till November.
Ice Cool 2
Publisher: Brain Games  | Players: 2-4 | Play Time: 20 Minutes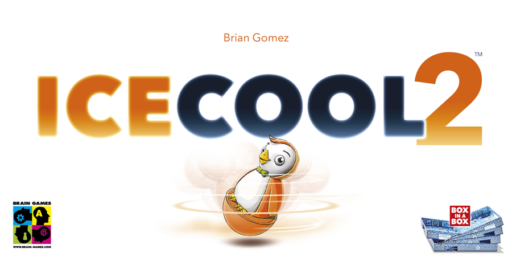 Sometimes sequels are successful because they expand upon the original's premise, allowing for deeper exploration into the world and characters meticulously crafted by the first, with new revelations to be made and new challenges to overcome. Other times sequels are successful because they do the exact opposite of that and simply provide more of the exact same thing that people loved in the first place.
Ice Cool 2 is very much in the latter camp.
The first Ice Cool ended up being a surprise hit of Gen Con 2016 before going on to winning the hearts of casual gamers and dexterity fans everywhere – not to mention numerous awards. This time around, people knew what to expect and flocked to the booth for the next instance of this short and sweet penguin-flicking game. Which is precisely what they got, as the vast majority of the game is the same. Aside from a few tweaks to the rules to change up some gameplay behavior, its biggest selling point is how it can be combined with the original to accommodate more players and make a larger map. Personally I was more intrigued by Brain's Hanabi style trick-taking game Pikoko, but that didn't diminish the fact that interest for Ice Cool 2 was high going in. I doubt the hype will hold on this one though; odds are its widespread release in the not too distant future will have a much more tepid splash than the first time around.
My Little Scythe
Publisher: Stonemaier Games  | Players: 1-6 | Play Time: 45-60 Minutes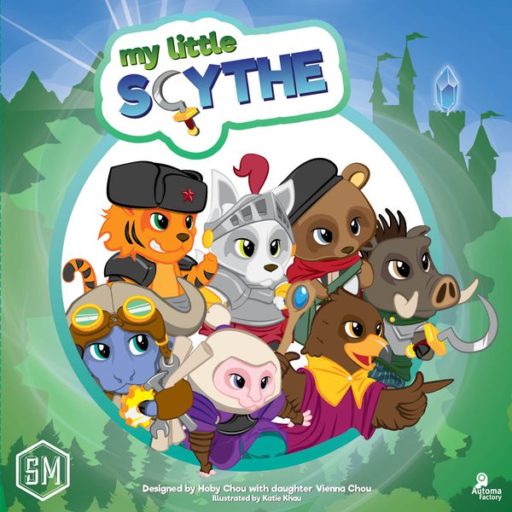 A couple years back, Scythe was one of the marquee games of Gen Con, sharing that distinction with few other titles. It since has gone on to become a staple game in many collections and supplanted Viticulture as the most well renown title for Stonemaier Games. Aside from winning numerous awards and a solid reputation among gamers, that medium-weight title went on to spawn several expansions, including The Rise of Fenris, also making its widespread debut at this convention. However, it was My Little Scythe's appearance that stole the limelight for Stonemaier.
My Little Scythe was originally a fan-made print-and-play that went on to earn accolades of its own. The dang thing became so popular that Stonemaier picked up the rights and turned it into a full-blown thing. As the name implies, My Little Scythe is a simpler, shorter, streamlined, and rethemed version of its larger sibling, retaining similarities mostly just in some of the mechanics and the name. This hasn't hurt interest in the game. In fact, interest had only steadily increased leading up to Gen Con. It wasn't necessarily the easiest title to find and didn't have an insurmountable number of copies available (Stonemaier often partners with others to sell their wares on the floor), but it was still well sought after and that trend is likely to continue for a while yet. For those who weren't able to get their hands on it in Indianapolis, fear not: this adorably-drawn title goes to full distribution in less than two weeks.
Nyctophobia
Publisher: Pandasaurus Games | Players: 3-5 | Play Time: 30-45 Minutes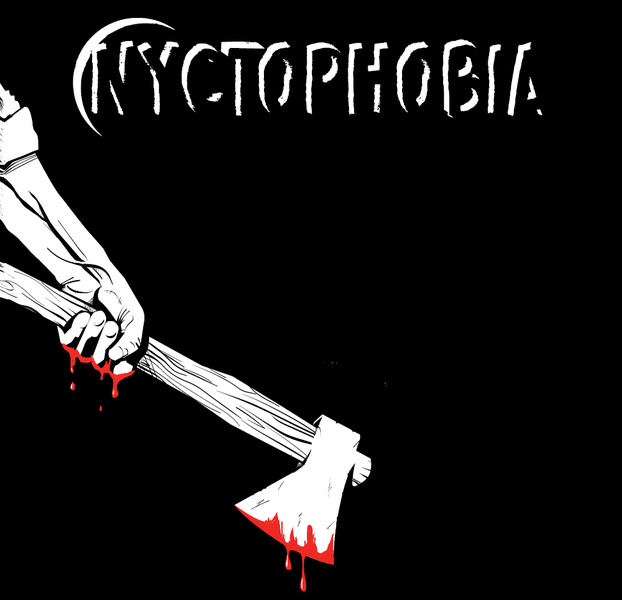 In my preview article before the convention, I made my annual prediction as to the game I felt that was going to be to be most overhyped of these New Hotness titles, and for 2018 I named Nyctophobia.
I've stated before that I simply adore the genesis of this game – a woman designer who created it so she could experience playing a game with her blind uncle is a pretty fantastic story. I genuinely am glad that this game now exists, and as innovation and creativity goes, it's a great story. Moreover, the unique experience this game provides makes for a game that we honestly feel everyone should try at least once. Whether people return to it time over time will be a harder sell, which was (albeit anecdotally) reiterated by numerous attendees we spoke to who played their copies right at the convention.
Nyctophobia is a fairly simple asymmetric game where most players spend the entirety of it with literal blinders on as they try to use their sense of touch to navigate a board while one player tries to hunt them down. The experience can range from confusing to down right unsettling, but this is all by design; it is hardly a game of mere novelty. Yet when you compare simply how much hype was bestowed upon Nyctophobia going in to Gen Con against the replayability sentiment of those who've already experienced it a few times, its lasting appeal is suspect, giving the game a very 'try but not necessarily buy' vibe. If you weren't able to (or didn't want to) pick it up at the convention, you'll be able to try it for yourself when it's released in Target in the coming weeks, albeit with a slightly different theme of escaping a vampire versus an axe-wielding maniac.
The Reckoners
Publisher: Nauvoo Games  | Players: 1-6 | Play Time: 60-120 Minutes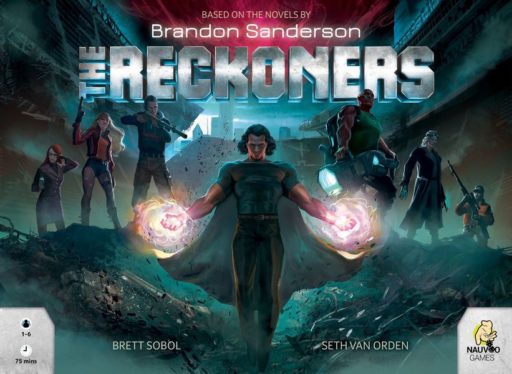 Going in to Gen Con preparations, the one title on this list I knew the least about was The Reckoners, the third title from Nauvoo Games. The game's theme is based on a book trilogy we were unfamiliar with, wherein a bunch of ordinary humans one day gain immense super powers and society promptly goes to hell. (Think X-Men but all of them are evil.) This prompted me to inadvertently forget about the game's Kickstarter – one of three Kickstarters on this list – and was only reminded about it when it was announced it was finished and would be on sale there.
Despite my ignorance as to its appearance, The Reckoners had ample buzz elsewhere and it started the convention on a high note, with many people flocking to get one of the game's two different limited run Deluxe Kickstarter editions (each having several upgraded components). Copies didn't fly away as fast as I expected after the Thursday morning crush, likely to the deluxe version's higher price point, but its couple hundred copies nevertheless did sell out relatively quickly.
The booth had a consistent amount of foot traffic throughout the convention as people came by to check out this real-time co-op dice allocation game – not to mention some impressive production quality. As a result, the demo table was almost always full. Which all made it quite apparent why so many people were eager to get their hands on The Reckoners. This combination of pleasant aesthetics and mechanics make for a solid presentation, and I'm a little regretful in hindsight I overlooked this Kickstarter. For those like us, however, hope is not lost. The game should deliver to Kickstarter backers and preorders in September and will enter distribution after that. It's hard to speculate how long-lasting it will be in the Everchurn of board game releases, but between its presentation and a known IP behind it, The Reckoners should be able to ride its hype train for a while yet before worrying about such things.
Root
Publisher: Leder Games  | Players: 2-4 | Play Time: 60-90 Minutes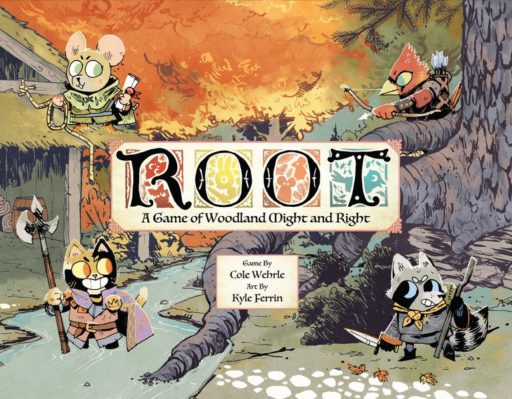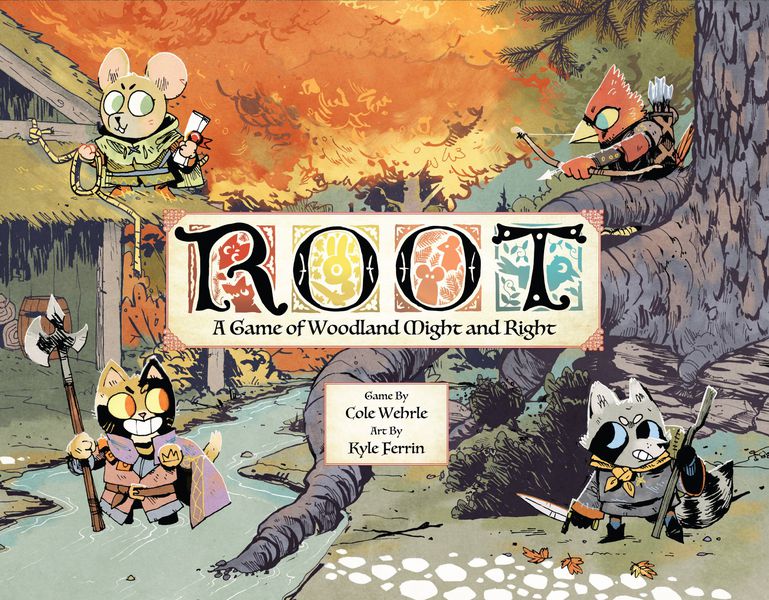 We knew that Root was going to have a solid reception at Gen Con. We just didn't anticipate precisely how successful of a reception is was able to generate.
Coming off a massively successful Kickstarter campaign of over 8,000 backers, this follow-up to 2016's surprise hit Vast made an impressive impact on the convention. Just like Vast, Root is an asymmetric-driven game where each player has their own unique traits, abilities, interactions with other characters, and victory conditions. Improving on the 'Vast' system, however, Root streamlined the process slightly to make the game easier to learn, such as making many of the basic actions the same, just with some kind of bonus for each class. Instead of being stranded in a cave this time, Root takes place in a fantasy wilderness, where the different factions are fighting over control of their version of the 100-acre wood. Conflict is abound, as is some wonderful artwork and the innovative gameplay many became familiar with in Vast, albeit slightly improved.
Excitement for this one was palpable early on, which is impressive given that unlike many other titles on this list it wasn't boosted nearly as much by media fanfare. Yet the hype for Root was very, very real: between preorders and Gen Con sales, Root sold nearly 1,600 copies. That's staggering numbers for any game at Gen Con, let alone a Kickstarter sequel. Vast was met with a mixed response over the last couple years due to its unconventional gameplay and learning hurdle, but even if Root holds on to a fraction of the enthusiasm that was on display for it here, odds are its legacy will be a bit more favorable. Fulfillment has already begun for campaign backers, but if you missed out on Root you'll have your chance very soon when it becomes available in September.
Scarabya
Publisher: Blue Orange Games  | Players: 1-4 | Play Time: 15-20 Minutes
What do you get when you mix Karuba with Patchwork? Why you get Scarabya, one of two new releases by Blue Orange this year. In a game that's both short and sweet, each player is handed a gridded board with a bunch of scarab icons on them. Your objective over the course of the game is to use your different player pieces to surround and isolate as many scarab icons as possible into small boxes of 1-4 squares to generate points. Which piece everyone uses each turn is decided by a central deck of cards. When the deck runs out, whoever has the most points is the winner. Fin.
While the game is undeniably quick and replayable, as most Blue Orange titles are, Scarabya does this particularly well. The game only takes about 15 minutes, plays up to four people, and has a really straightforward premise. Above all, the game taps into people's quiet adoration for this subgenre of games that focuses on covering up negative space (Patchwork, Indian Summer, Barenpark, etc.) but also does so in a very expedient manner. So it's no surprise that this was a much-lauded game heading into the convention by those who enjoy that style, as well as those always on the lookout for a new & exciting casual, family-friendly game.
We personally were more interested in learning about Blue Orange's other Gen Con release, the Knizia-designed area enclosure game Blue Lagoon, but we certainly understand the appeal that Scarabya was generating. And it undoubtedly delivers on its promise. Blue Orange came with ample stock for both titles at the convention, along with a new Kingdomino expansion, so attaining any of them was hardly an issue. Still, interest was up and will probably stay that way for some time. Like many Blue Orange titles of its weight class and price point Scarabya will likely go on to find a place in many homes once it releases later this month.
Spy Club
Publisher: Foxtrot Games / Renegade Game Studios  | Players: 2-4 | Play Time: 45 Minutes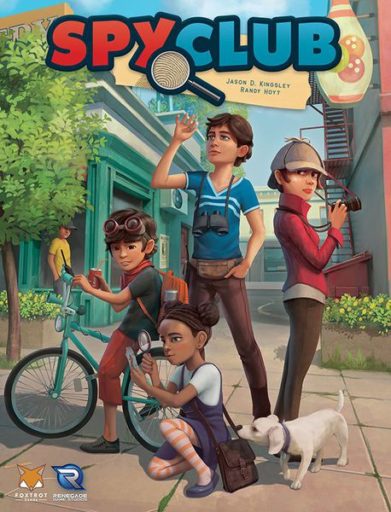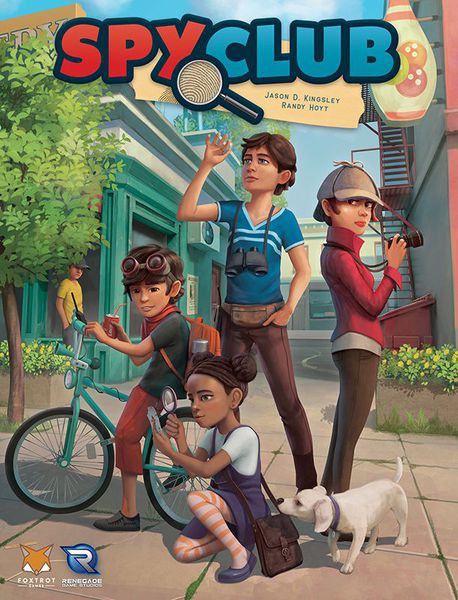 Just like the last few years, Renegade Game Studios came to Gen Con with a mission: to show off a litany of new titles and drive as much attention to their sphere of the floor as possible to check those titles out. This year their most hyped game was easily the debut of their new RPG, Overlight. Board game wise, their most talked about title beforehand was Foxtrot's Hardy Boys / Stand By Me themed co-op game Spy Club, with the new Beth Sobel illustrated version of Arboretum as a close second. This proved a little ironic, as Spy Club may have had the smallest allotment of copies available of all their new games, including Arboretum, Wendake, Gunkimono, Spell Smashers, and a Clank! In! Space! expansion, but it only goes to show that you can never know 100% what's going to catch people's attention.
Not that there's any reason why Spy Club wouldn't have.
In this lightweight co-op game, players are a team of neighborhood kid detectives who are out to solve a series of mysteries through some logic puzzling and different player actions. The game also boasts a mini-campaign, with unlockable new cards as you play through the game's five different scenarios, giving it a small sense of progression across multiple playthroughs. With bright colors and cute artwork, it seemed like a perfect game for Gen Con audiences. Which probably explains why it went so fast.
Luckily Spy Club is available in circulation now, so if you're like us and missed your opportunity at the convention, you can grab a copy today. We saw a prototype version at Gen Con last year and were hopeful this fun game with an endearing theme would do well upon release. Interest was certainly up for it at the booth, even if it wasn't as front and center as some of Renegade's other games, so we'll see whether that interest holds up beyond the convention or it gets lost in the next wave of releases. Foxtrot has a decent track record for making lightweight games that stick around, though, so we're optimistic.
Terraforming Mars: Prelude
Publisher: Stronghold Games  | Players: 1-5 | Play Time: 90-120 Minutes
Remember that whole bit about gamers and completionist tendencies? Yeah. See Exhibit B – Terraforming Mars: Prelude.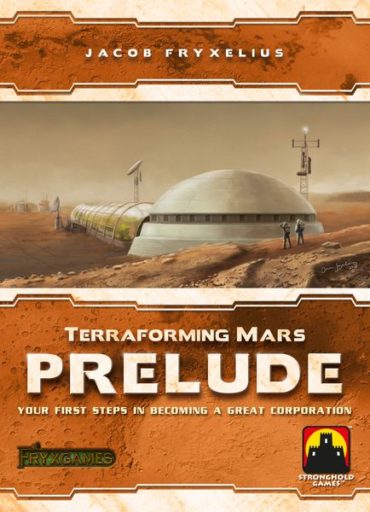 Stronghold Games always come ready to showcase their wares at conventions, and this year's Gen Con was no exception. This publisher had no less than ten different titles to show off, including printings of the real-time co-op game Kitchen Rush, the new roll-and-write Steamrollers, the unfortunately-overlooked Paper Tales, and a new edition of the 2002 Days of Wonder title Fist of Dragonstones. Yet the one that garnered the most aplomb, both before the convention and during, was Prelude – the third of many planned expansions planned for the powerhouse Euro game known as Terraforming Mars.
Similar in impact to the two previous titles, Prelude allows players to modify the behavior of TM without wildly deviating from the gameplay they enjoy so much. In this case Prelude focuses on new ways to ramp up the slow-moving early portions of the game by providing boosts of different kinds to your corporate entities. Which is arguably more than some may have known about this expansion; most merely stopped reading at the title and knew they wanted to buy it. And I'll be honest if I didn't add it to my own "post convention purchase list", so I'm clearly not taking the high road here.
Thankfully if you didn't grab it at the convention, Prelude should be available in just a few weeks. Still, it was somewhat impressive that an expansion made its way on to the most hyped titles of Gen Con, let alone a small box one at that. Sadly, of all the titles on this list, Prelude is the most likely to not live up to its pre-con buzz. Not because it's necessarily bad, but because, well, small expansion. But it does show the power of the TM brand is strong.
Yellow & Yangtze
Publisher: Grail Games  | Players: 2-4 | Play Time: 90 Minutes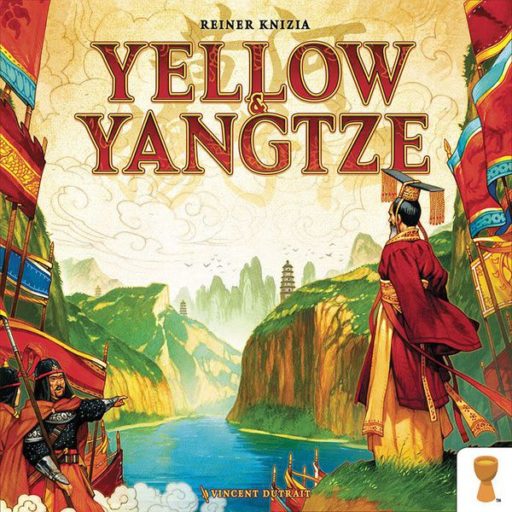 When it came to concern about the reception to Yellow & Yangtze, the marginally toned down reimplementation of Knizia's iconic Euro hit Tigris & Euphrates, no one was more unsure than publisher Grail Games themselves. They knew that interest was high, but whether that would turn into sales was less obvious in their prognostications. While they were confident that they would sell their small allotment of their much lighter other new game, Kashgar (and they did…on Day 1), they weren't nearly as sure as to whether Yangtze would find enough of an audience.
Turns out that all of this was completely unfounded, as not only did they nearly run out of Y&Y to sell by Friday, they had to make a warehouse trip to get more for the latter half of the con. So, yes, interest was indeed strong, and there were always people in the booth checking it out and asking questions.
Yellow & Yangtze still contains the tile-laying, civ-building core of its original incarnation, but this version has enough tweaks in design and art changes to make it more than the same 20-year old game with a new coat of paint – including a reduction in the barrage of player conflicts that can happen in Tigris. Grail stands by the assertion that it is distinct enough to be its own game but also acknowledges that a good 70-80% of the game will feel familiar if you've played T&E before. They even admit that there's enough similarity to the original version that many people may not be able to justify owning both titles in their collection.
To that end, ultimately the selling point to Yangtze appeared to be either a game for those who don't own Tigris & Euphrates and may be curious to try this one out, or those who may want a new iteration of the classic game that's a tad less confrontational. If nothing else, the game should do well over time as gamers decide for themselves which version better suits their tastes, as it's not evident one is clearly superior than the other. Start pondering now, because Yellow & Yangtze is due out in September.
That's all for now! Check back for the next segment when we talk about games that didn't have a ton of hype going in but made a splash all the same.