Episode 105
Length: 47:43
Show Links: RSS | iTunes | Stitcher | Download Episode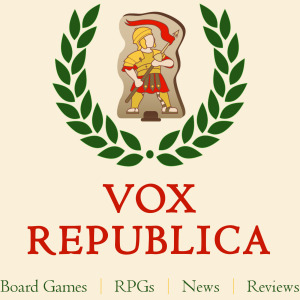 Welcome back to Vox Republica, the Cardboard Republic Podcast!
We post new episodes every other Thursday, with each episode being about 30 – 40 minutes long.
DESCRIPTION: This week, Erin and Ryan talk about Extra Life efforts and the games that made the table before diving into the idea of what actually constitutes cheating in a game. Then we review One Night Ultimate Werewolf.
GUEST: None
RECENTLY PLAYED GAMES:
QUICK TOPICS:
The Vox is switching to a bi-weekly format. We explain why.
We also recently participated in Extra Life, the 24 hour gaming marathon to help raise charity donations to aid sick children. The CR did its part, hosting an entire 24 hour event that raised hundreds of dollars, all for a good cause.
FEATURED TOPIC:
Cheating in games. On the surface it seems like it should be a pretty black and white issue, but as it turns out, it's not that simple.

What IS cheating classified as, anyhow?
How do you handle cheating in games when it happens?
Is one form of cheating more forgivable than another?
Breaking the rules of the game versus the spirit of the game
Where and how does kingmaking, metagaming, interpersonal relationships, and table politics fit in on the cheating spectrum?
REVIEW:
Fresh after seeing repeated use during Halloween and Extra Life, the CR tackles the light hidden role and social deduction game One Night Ultimate Werewolf, by Bezier Games. Condensing a classic game of Werewolf/Mafia into one round, we look at what the game has going for it, and where it may come up a little short.
PLUGS:
The CR has hit three years! All month long, be sure to check out the website for industry quotes, site changes, and more. This also includes the announcement of our winner of the 100th episode contest!
As always, Cardboard Republic YouTube videos and the BGG Guild are still ongoing. Subscribe to either – or both if you really love us. You do really love us, right?
We'd love to hear from you! You can send questions or feedback via email at podcast@cardboardrepublic.com. You can also reach us social media, including Twitter and BoardGameGeek.
Audio Credits: Intro music track is "Swing!" by Bargo!, used under Creative Commons license.