Episode 100
Length: 33:13
Show Links: RSS | iTunes | Download Episode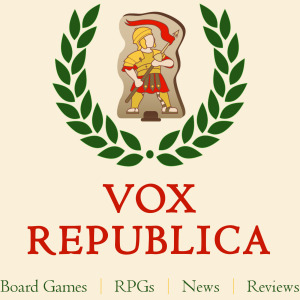 Welcome back to Vox Republica, the Cardboard Republic Podcast!
We post new episodes every Thursday, with each episode being about 20 – 30 minutes long.
DESCRIPTION: It's crazy to think, but 100 episodes! Whoo hoo! To celebrate, Ryan and Erin talk a bit about some recent games played before diving into a mailbag of questions from all of you! Thanks for all the support! To celebrate, we're giving away a game!
GUEST: None
RECENTLY PLAYED GAMES:
QUICK TOPICS:
FEATURED TOPIC:
100 episodes! We strap on the party hats and open up the mailbag to answer questions from you, the listeners! These include topics like:

Comparing the early episodes to now – and to the future
Lessons learned and experience gained
Our favorite moment(s) of being at the CR
And more!

Also, to celebrate the 100th episode, we are doing a games giveaway, and we've made it super easy to participate. Simply visit the any one of the "Official Giveaway" threads on Facebook, Our BGG Guild, or Google+ or find us on Twitter, and leave a comment for us telling us either a) something you like about the podcast and / or b) something you'd like to see us do (or do more of) on it going forward. (One entry per person).

And you have the entire month of October to enter! At the end, we will pick a winner, and they will have the option of choosing between a brand new copy of Sushi Go!, Harbour, or Travel Catan. Not bad for 30 seconds of effort!
PLUGS:
We'd love to hear from you! You can send questions or feedback via email at podcast@cardboardrepublic.com. You can also reach us social media, including Twitter and BoardGameGeek.
Audio Credits: Intro music track is "Swing!" by Bargo!, used under Creative Commons license.