Episode 079
Erin and Ryan are back! Having just returned from the picturesque shooting location of Middle-Earth known as New Zealand, they've decided to celebrate that fact by talking all about Lord of the Rings games.
Length: 34:12
Show Links: RSS | iTunes | Download Episode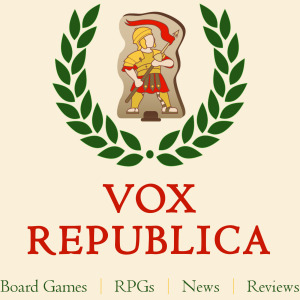 Welcome back to Vox Republica, the Cardboard Republic Podcast!
We post new episodes every Thursday, with each episode being about 20 – 30 minutes long.
DESCRIPTION: Tolkien's Middle-Earth setting has lent itself to dozens upon dozens of games over the last few decades. With myriad games embodying the tales of Lord of the Rings and The Hobbit (or simply borrowing the theme), Erin and Ryan look at the good and the bad of Tokien-based games over the last 40ish years.
GUEST: None
RECENTLY PLAYED GAMES:
Does trying not to go crazy after being on planes for 20 hours count as a game?
QUICK TOPICS:
LENGTHY TOPIC:
Lord of the Rings and The Hobbit games have been around since at least 1970

Common themes of Tolkien games

Earlier games revolved around hex-based wargame or Roll And Move mechanics.

Newer games are more diverse.

Most of them were designed and released around movie releases

How much of that was coincidence and how much was deliberate?
The difference in quality between licensed and book-based games.

What are the best games based in Middle-Earth?
We'd love to hear from you! You can send questions or feedback via email at podcast@cardboardrepublic.com. You can also reach us social media, including Twitter and BoardGameGeek.
Audio Credits: Intro music track is "Swing!" by Bargo!, used under Creative Commons license.