Here's a bit of news, hot off the line! Did you know that newspapers were once used for more things than as cheap packing material? It's true! In fact, for as many high profile newspaper establishments that are still around now, many times more were making headlines of their own just a century ago. Newspapers weren't just reporting the news; they were competing for it. And now you will too, in Penny Press by Asmadi Games!
The year is 1898 (or thereabouts) and players act as various newspaper editors sending their workers, er, reporters, out on the beat for the day's top news! You are tasked with building the page layout of your latest newspaper daily and go to print with them. Each of the game's news categories vary in size and value, and players have to balance maximizing the point rewards values of those stories with the need diversify your research and work around advertisements to keep the paper rolling.
Competition is fierce in the era of yellow journalism, and that's the kind of game you get here. Penny Press is one part light worker placement and one part spatial reasoning. The only question you have to ask yourself is, are you going to be the one to come up with the big story scoop of the day? Or are you going to let slip through your fingers the chance to prove your paper is more than some the third-rate circular?
Yeah, that's what we thought. Now roll the presses!
Wait, you don't have presses? Well, we can't have that. Looks like we'll have to provide you with one via a copy of the game!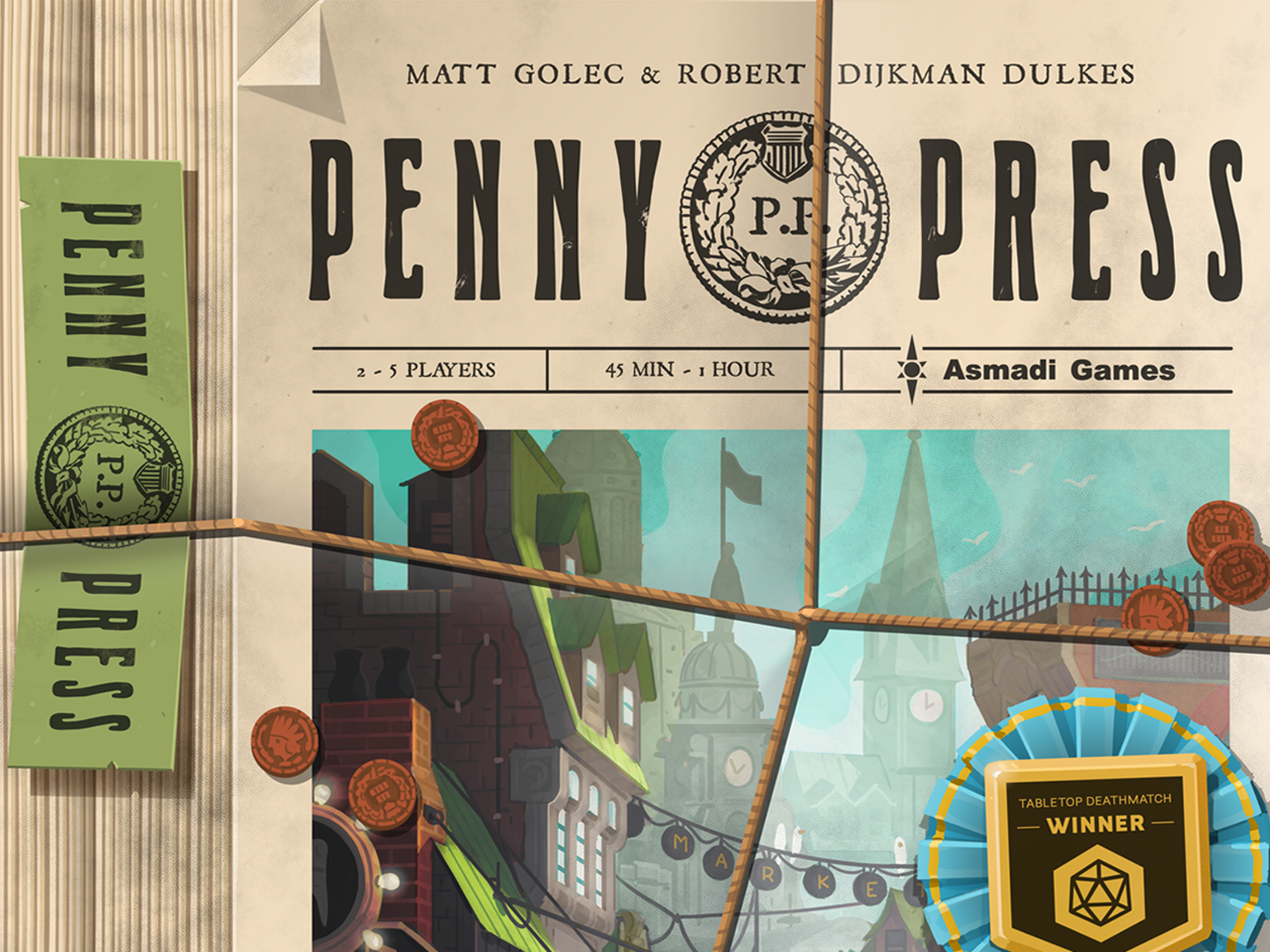 Penny Press not only indirectly provides players with some of the notable news stories of the time, but it also offers a slightly different take on the idea of how a worker placement game can work. Sure, you have a handful of worker units, but the strategy of the game lies not in actions to take. Rather, it's about developing a sense over which stories you can scoop first and generate the most influence with over your competitors.
So, naturally you have to be just as mindful of what your competitors are clamoring for as what will work for your story of the day. Truth, integrity, objective journalism? Those things are tertiary at best.
Of course, once you get those stories written, we need to catch the attention of our audience. We need quality, character, and above all, some nice catchy headlines to share around.
That's where we need your expertise. First, we want to hear some of your best headlines. Second, we want your help to spread our circulation.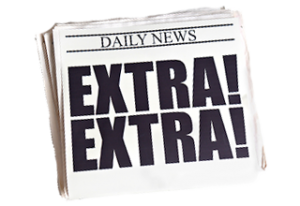 Here's how it works:
We want to hear and / or see some of your best gaming-related headlines and taglines. As part of the contest, each day you can head over to our Facebook, G+, and Twitter pages and post a new game-centric attention getting, with stuff like:
"Yet another pandemic sweeps the planet; terrible scientists baffled"
"Another wave of refugees pour over the border, proving it's not such a small world after all"
"Company investigated for allegations of maintaining a monopoly over Monopoly"
The splashier, catchier, or funnier, the better! Feel free to include a game picture too if it'll help the reference. Be sure to include the hashtag #meepleville on each page and for Twitter, our Twitter name. You can post to each page individually each day, but make sure each headline is different,
But Wait, There's More!
For every headline post that you share, you'll earn an extra entry in the raffle! (Up to a daily max of 5)
Now get out there and make some news!
From now until midnight on Friday, April 24th, you can check the contest out on our Facebook page, or by entering below. Just follow the entry form, and proceed with the contest. The more you do, even if just one, you still have a better chance than not entering at all. Of course you're welcome to do that too. But your odds of winning drop to zero. No pressure or anything.
The Fine Print: The Cardboard Republic, in conjunction with Asmadi Games is giving this game away strictly for entertainment purposes. This act is not a paid endorsement by Asmadi Games or any other entity. This contest is open to individuals only. Staff members of The Cardboard Republic and Asmadi Games are not eligible to participate. For winners outside of the Continental US, the publisher reserves the right to request they cover part or all of the shipping costs.