Episode 030
Length: 23:44
Subscribe to Show Link: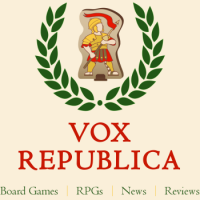 Welcome back to Vox Republica, the Cardboard Republic Podcast!
We're back at posting new episodes every Thursday, and each episode will be about 20 – 30 minutes long.
As many people can attest, playing tabletop RPGs can be a fantastic use of time, not only to bring life to characters, but to socialize with fellow gamers. Conventions prove to be a double edged sword for them though. On the one hand, they're a great resource to try out other games and interact with other gamers, but it isn't always as ideal as many players are used to. This week, Dave Gordon talks about some tricks and tips players and GMs can use for making tabletops more successful at convention settings.
For the gaming news bulletin, check out our Weekly Roundup.
We'd love to hear from you! Please leave feedback in our forums, or via email at podcast@cardboardrepublic.com. You can also reach me on Twitter or BoardGameGeek.
Audio Credits: Intro music track is "8-Bit Brawl" by DJ Cutman featuring S&CO., used with permission.