Around The Republic
The Cardboard Republic is heading west next week to the land of awkward highway billboard ads, inexplicable bulldozers in the middle of completely flat landscapes, and (best of all) GEN CON! We'll be in Indy for an extended weekend so you may notice a dropoff in content. DON'T PANIC! We'll be back soon with lots to report. If you happen to be going and want to find us, you can reach us easiest via the site's Twitter account (@Cardboardnews).
To prepare for that, we've also slowed down a bit on the site side as we gear up for some serious con time, but last week we reviewed Pyramix and talked about Open-Ended RPGs in the podcast. Be sure to check them out!
Games & Expansions
Title: Stuff & Nonsense Open Beta
Publisher: Cheapass Games
Designer: James Earnest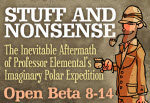 Anticipated Release: TBD
Why You Should Care: Want a chance to test drive the newest Cheapass title prior to release? If so, it's available from their site now.
Title: Light Rail
Publisher: Daniel Solis
Designer: Daniel Solis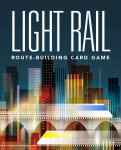 Anticipated Release: August 2014
Why You Should Care: All hail the microking! Minimalist designer Daniel Solis's latest game, Light Rail, is now available through DriveThruCards.
Title: Zombies!!!
Publisher: Twilight Creations
Designer: Todd Breitenstein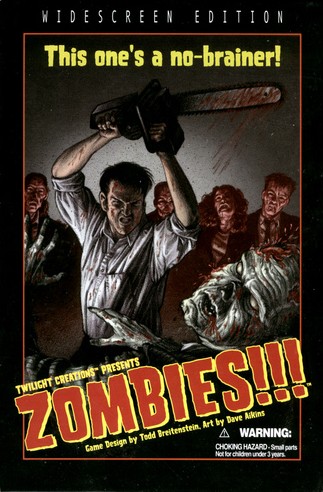 Anticipated Release: September 2014
Why You Should Care: The third edition of the classic zpoc game is on its way in September. Its been updated to include team and co-op variants, which is pretty neato and serves to breathe a bit of life (no pun intended) into what might otherwise be a stale release.
Title: A Song of Fire & Ice RPG
Publisher: Green Ronin Publishing
Designer: Robert J. Schwalb and Steve Kenson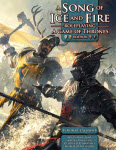 Anticipated Release: August 2014 with a supplement aimed for early 2015
Why You Should Care: After a long time wrangling over licensing rights, the Westeros-based RPG is returning to print with a new edition! Finally!
Title: Legend of Zelda Monopoly
Publisher: USAopoly
Designer: USAopoly

Anticipated Release: September 2014
Why You Should Care: We wouldn't normally cover this, but as far as Monopoly reskins go, this one looks pretty cute.
Title: Far Space Foundry
Publisher: Terra Nova Games
Designer: Dan Manfredini
Anticipated Release: 2015
Why You Should Care: Not everyone can be on the front lines fighting giant alien bugs – some people have to hang back and support the offense. In Far Space Foundry, you're in charge of a node in a supply line. You have to mine materials, build freighters, and recruit crew, but you also have to construct and transport your product. The game feels very engine-y, in that you build up a system with little-to-no interaction with other players, and then the winner is the one with the most efficient system – the one who can churn out the most product while wasting the least amount of time or actions. It's early days for this game yet, though, and it will be on demo at Gen Con.
Title: X-COM: The Board Game
Publisher: Fantasy Flight Games
Designer: Eric Lang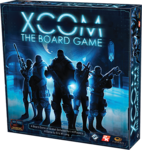 Anticipated Release: Q4 2014
Why You Should Care: Dude. I have been waiting for this for so long. X-COM is great baord game fodder – it's already tactical and turn-based, it has established and controlled tech and character progression, and very clear victory conditions. Not to mention the built-in fan base. This one should be a no-brainer, especially from the lore-tastic game designers at Fantasy Flight. 
Title: Mascarade Expansion
Publisher: Repos Production
Designer: Bruno Faidutti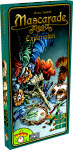 Anticipated Release: September 2014
Why You Should Care: Not a particularly clever title, but the game itself is good and beautiful. The expansion will add 12 new characters, including an Alchemist, Bear Tamer, and Necromancer…I suddenly want to re-skin this with a Game of Thrones theme. Just me? 
Other Interesting Things
What: RPGs Help You Tell Better Stories
Why: File this one under self-evident, yes, but also a cool affirmation.
What: BGG's Gen Con Preview List
Why: So many games! If you're interested in seeing what's going to be on display at America's largest board game con, check out this list.
Crowdfunding Corner Top Three
Title: Dungeon Saga
Publisher: Mantic Games
Designer: Jake Thornton
Buy-In: $100
Why It's Special: It contains some minis, which might be why it's funded so highly, but Dungeon Saga bills itself primarily as a board game – an Adventure Board Game, no less. It plays Mansion of Madness-style, with one player as a GM and the others leading a team of adventurers. An interesting add-on is the Adventurer's Companion, a set of optional, "advanced" rules that throw a bit more RPG into the game. It does seem to be primarily luck-based, though how much you can influence your rolls through adventurer skills or abilities is still a mystery. 
Title: Asteroid Miner
Publisher: Gareth Newton-Williams
Designer: Gareth Newton-Williams
Buy-In: $64
Why It's Special: In Asteroid Miner, players are looking to extract valuable ore from some neighboring asteroids. It's a classic Euro game, and it seems to be part of a mini wave of science fiction games of late, but this one takes advantage of the idea of asteroid orbit and actually incorporates it into its worker placement model. It seems like a good mix of theme and mechanics. It can't be easy to make space mining seem interesting, but this one is doing a good job so far.
Title: [Redacted]
Publisher: LudiCreations
Designer: Katalin Nimmerfroh, Dávid Turczi, and Mihály Vincze
Buy-In: $55
Why It's Special: We could tell you more about Redacted, but we'd probably have to kill you. This is a tongue-in-cheek game about the James Bond era, Players must gather important intel and pass it along to their teammates. The thing is, you don't know whom to trust, as your compatriots are unknown even to you, and the clock is ticking. Redacted is a game about hidden information. Figuring out friend from foe is just part of the overall mission. Good luck Agent.
Honorable Mentions: Fidelitas; One Zero One; Pack The Pack

As always, for more news and updates, follow us on Facebook, Twitter, or G+.
And if you have any updates or interesting stories, send them to news@cardboardrepublic.com.