Episode 051
Length: 32:36
Subscribe to Show Link: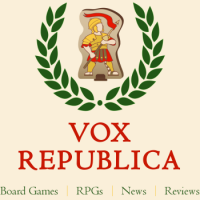 Welcome back to Vox Republica, the Cardboard Republic Podcast!
We're back at posting new episodes every Thursday, and each episode will be about 20 – 30 minutes long.
While many tabletop roleplaying games have finite stories to tell and promptly end after its tale has completed its course, one of the most well-known traits of RPGs are those whose stories can go on and on for as long as the players wish.
But did you know that there are other open-ended tabletop games of note besides the most obvious choices of Dungeons & Dragons (or Pathfinder)? It's true!
This week, we have Dave on to talk about a few of them, inlcuding Wraith: the Oblivion, Shadowrun, Exalted, Legend of the Five Rings and more.
For the light gaming news bulletin, check out our Weekly Roundup.
We'd love to hear from you! Please leave feedback via email at podcast@cardboardrepublic.com. You can also reach us social media, including Twitter and BoardGameGeek.
Audio Credits: Intro music track is "8-Bit Brawl" by DJ Cutman featuring S&CO., used with permission.