How much does theme matter to you? That's a question most gamers usually finding themselves address at some early point in their gaming experiences. For some, theme is the top priority. They want their game to be a highly immersive experience, with every card revealed and every decision make to thrum with flavor. For others, theme is immaterial; as long as a game has decent mechanics and strategies to captivate their interest, that's all that matters. Both styles are found now in abundance, though many of the most classic games throughout history – Chess, Go, Pachisi, Senet, Backgammon, etc. – are of the abstract kind.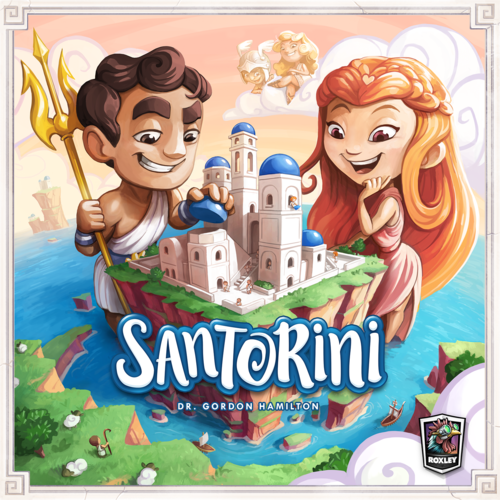 And then there's Santorini, which started its life off as fully abstracted game when initially self-published over a decade ago but has found itself reborn with a well-implemented and fleshed out thematic mantle.
Well, partially anyway. It's still pretty abstract, but there's definitely more of a point to it now. (If you're curious you can hear the full story in Vox Episode 134)
In this concise little building game, players move a pair of builders around a grid as they attempt to outwit one another while constructing a Greek villa on the island of Thera (still commonly known as Santorini). In theory, gameplay is as rudimentary as it comes: turns consist of moving a builder and adding a new piece to the board. If you get a builder to the top row, you win.
As with all things involving gods, however, things are never quite that simple.
See, the Greek gods are a little bored of late, and they've taken to overseeing the architectural efforts of mere mortals. And by overseeing, we mean interfering. So you'll also be contending with the various whims of deities on top of it all.
Image the demands of having to build up Olympus.
In that sense, it's probably best you're only locked into spending 20 minutes working on a Mediterranean isle…
That is, if you want to partake. It's no surprise that Gods love testing humans, and so naturally they've decided to do something similar here, by way of an architectural challenge. They want to see who amongst us is the most skilled builder to aid them with a new summer retreat for them to escape to now and then. They could build it themselves of course, but they figure – hey, why not get some humans to do it instead? Hence their desire for the best architect around. According to the message we got from Hermes, they've decided to turn playing Santorini into a bit of a contest, and they are watching the winners.
So, we're going to see if we can help the odds a bit by offering up a copy of the game in the hopes that they have what it takes to satisfy the whims of the Olympians.
Think of it as a Hellenic Last Starfighter….
From now until midnight EST on February 1st you can check the contest out on our Facebook page, or by entering below. Just follow the entry form and proceed with the contest. The more you do, even if just one, you still have a better chance than not entering at all. Of course you're welcome to do that too. But your odds of winning drop to zero. No pressure or anything.
The Fine Print: The Cardboard Republic, in conjunction with Roxley Games is giving this game away strictly for entertainment purposes. This act is not a paid endorsement by Roxley or any other entity. This contest is open to individuals only. Staff members of The Cardboard Republic and Roxley Games are not eligible to participate. For winners outside of the Continental US, the publisher reserves the right to request they cover part or all of the shipping costs.