Mayday Games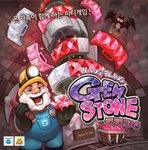 If last year's Mayday booth was about Caribbean pirates, this year's has to be about agile Koreans.
Mayday has imported a number of Korean dexterity games in 2014, and while they aren't my cup of tea, those who enjoy them kept the booth pretty busy. Hot off the heels of the Coconuts Kickstarter came two others from earlier this year, and both should be expecting to see stores in a month or two, including Bling Bling Gemstone (think a shiny Click-Clack Lumberjack) and Chopstick Dexterity Mega Challenge 3000. (Yes, that's it's actual name.)
Speaking of imports, they also recently just managed to raise money for a press your luck card game adaption of a mobile game called Dead Man's Draw. It would seem that the analog / digital barrier is starting to weaken, captain…
And to top off this family-friendly bevvy of games, you can expect to see a new Kickstarter campaign in the near future for a co-op survival game called Meteor. The schtick to that one is that you have five minutes to try to stop the end of the world. Five minutes – sand timers and all.
Mayfair Games / Lookout Games
Mayfair is easily one of the biggest vendors and exhibitors in all of Gen Con, and with their acquisition of Lookout Games this year, their footprint has increased even further.
In addition every year to doing a number of raffles, contests, giveaways, and so on, Mayfair usually has one big event they like to tout, whether it was last year's attempt at a world record, or this year's record-setting charity event based around the Cones of Dunshire on Saturday. And if you don't know what the Cones of Dunshire are, check this video clip out from the Parks & Rec episode. Now.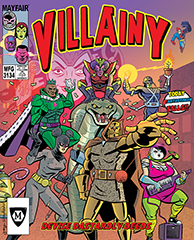 The live thing was just as funny and just as confusing.
On the gaming side, Mayfair released four new games into the Gen Con wilds. They were, however, a bit mum on anything else in the works for the time being. Nevertheless, the debuted games were:
Minion Games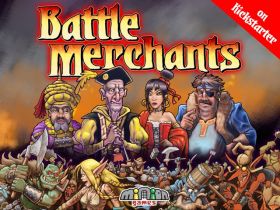 Last year Minion had a small booth to showcase their big box game, Hegemonic. This time around, Minion went boothless entirely, opting for a different approach to showing off their wares. We'll see how it fares in the long run.
Still, we still got to try out their latest game Battle Merchants with designer Gil Hova himself. Battle Merchants is a game where players are knee-deep in a fantasy realm at war, but that's a good thing. Because everyone is an arms dealer. The goal is to make and sell weapons to whoever will pay best and walk away with the most profit. Battle Merchants is a good-looking economic management game, and it's easily one of the games at Gen Con I'm looking to get to the table again soon.
Mirror Box Games
Have you found the Ovoid yet? Yeah, probably not. The makers behind the very originally-themed sci-fi game Chaosmos were on hand to demo their game and take preorders, but the final product is still not ready yet. At this rate they're hopeful at least backers will see the final deal by the end of 2014.
Mr. B. Games
This small publisher's big release at Gen Con was the science fiction survival game Alien Uprising, designed by Richard Launius. This was one that I was mixed on during the Kickstarter and wanted to try it out more thoroughly, but while I got to take a look at the finished product, I never did get that demo. For shame.
Nazca Games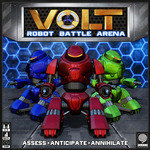 These new kids on the block entered the gaming scene this year with the simple robot battlefield game, Volt, and that was still half of their main showcase. The other game they had on display was their upcoming two-player espionage game Cipher Ops, where one player is a covert operative trying to sneak through a base Metal Gear Solid style, while the other is doing everything they can to stop them.
Cipher Ops will be unveiled officially in Q3, and you'll likely hear the name Nazca more as this game is being made in partnership with another well-known publisher whom I'm not at liberty to say yet.
Besides that, Nazca also has a microgame in the works for Q1 2015 called Suitcase that has a bit of a Deal or No Deal vibe to it.
North Star Games
Until this year, North Star has pretty much only been known as a maker of party games, but 2014 saw the launch of Evolution, their first more substantive product. The Kickstarter for it went really well, and the final product looks terrific, from the first player dinosaur meeple to the indented animal tracker boards. While they didn't have any copies to sell on hand (they're aiming for an October delivery), they did have a handful of finished ones to use as demos.
Passport Game Studios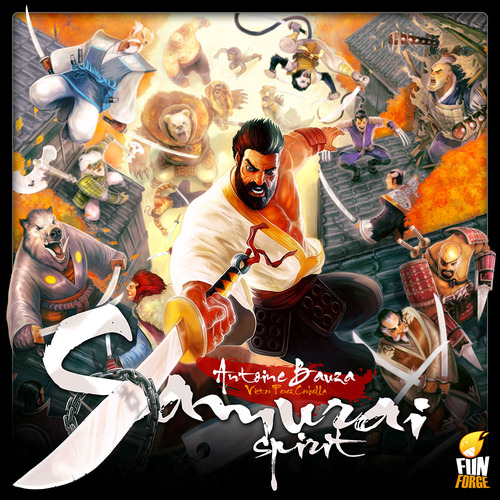 Passport Game Studios, for those who aren't familiar with them, is like a much smaller Asmodee, helping to import European games into the North American marketplace, including companies like Stratelibri, Funforge, and NSKN Games. Sadly, there weren't any NSKN games ready for this year's Gen Con, which means Praetor wasn't around from what I saw.
What Passport did have were three particularly intriguing games on hand, and all three should be officially out around October. The first was that they happened to have about 300 copies on hand of Antoine Bauza's new game, Samurai Spirit, which sold pretty quickly. It's a co-op game based around the classic 7 samurai story, where players defend a village against bandits, and yes, up to seven people can play. For all intents and purposes, Samurai Spirit is essentially a more winnable Ghost Stories.
The second is Provincia Romana, a card drafting game set in Gaul during the time of ancient Rome. In it you have to build a resource engine to maintain your army, grow up your city, and keep your people happy. It seems to have a decent amount of heft for a card drafting game while still being easy to play. If you like card drafting games, this is one you may want to keep an eye on.
Finally, there is Kingsport Festival, which easily had to be one of the sleeper hits of Gen Con 2014. In short, it's Kingsburg with a Cthulhu theme. (It's not a huge stretch given that one of the designers worked on both titles.) In this dice allocation game, players take on the mantles of various cultists who are running around the city trying to stop those pesky investigators and help pave the way for the Great Old One you worship. Ia! Ia! Cthulhu Fhtagn!
Plaid Hat Games
Let's get the corpsified elephant in the room out of the way: the co-op zombie survival game Dead of Winter was their big release here, and they sold out of the almost 500 copies of the game they brought with them in under five hours. But the horde, it kept coming anyway…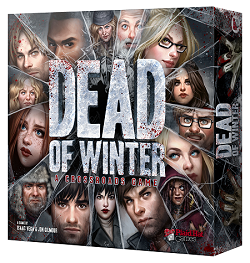 Luckily the plaid hatted crew had a number of other things to show off, including the first full expansion for Mice & Mystics called Downwood Tales. In it, the mice head outdoors to the eerie and dangerous woods for all new adventures. To celebrate this release, the booth was also showcasing a couple prototype plushies of the M&M crew, and they looked so cool I can only hope that they are already in mass production.
Although those were easily the two releases of note, they were also showing off demos of their next game, Video Game High School. It's based off the web series of the same name, and while it appears to be a honoring the source material, I can't say for certain as I've never seen the show.
Conspicuously absent, however, was any showing of the Summoner Wars: Alliances Set expansion, where you'll be able to have hybrid Summoners who can mix two different factions together. I was told that Alliances, VGHS, and Downwood Tales should all be available in Q4, whereas Dead of Winter should be available by October – presuming they don't sell out of their first printing from preorders alone.
Beyond that, they did mention they are currently developing another expandable card game for 2015 called Ashes: Rise of the Phoenixborn.
Portal Games
Even though it's the first time this European publisher has set up shop at Gen Con, chances are you've already come across some of Portal's hits like Robinson Crusoe and Neuroshima Hex. Here they were offering up their latest game by designer Ignacy Trzewiczek, Imperial Settlers. Imperial looks like a lot of fun and has similar mechanics to their other game, 51st State, so I was certainly curious to try it out. Unfortunately, I was not one of those wise people who preordered the game, and all of the copies they brought with them were sold out before the doors even opened on Thursday.
Unlike a lot of their other games, Imperial Settlers is being released directly into North America by Portal themselves. The good news is that the game technically releases the day after Gen Con. The bad news is that early reports indicate many retailers have already sold out, so you may have to wait for a second printing due in late September.
After the Settlers dust clears, you can next expect to see the first expansion for the space station survival game Theseus (called Bots) and a new Neuroshima Hex army both showing up around October.
Privateer Press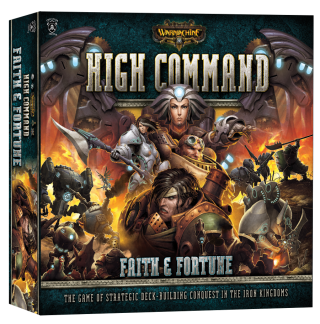 It never seems like the world of Immoren catches a break, nor does Privateer Press look like they're letting off the gas pedal anytime soon. The land home to Warmachine and Hordes lines of miniatures is growing yet again, as the crowdfunded video game adaptation, named Warmachine Tactics, has entered the beta testing phase. They had some of this turn-based game on display, and even if you're like me and not a highly familiar with the subject material, it still looked like something to check out when it comes out around November.
On the board game side, they were also showing off Faith & Fortune, the latest base expansion for High Command (their LCG card game adaptation). This expansion went on sale as of Gen Con, adding in new factions to the mix. There's also an expansion to the new Faith & Fortune factions and a new Hordes campaign expansion in the pipeline; they should both show up in September / October.
As for the RPG side of Iron Kingdoms, they were quietly touting the September release of Monsternomicon, a monster expansion, and the October release of the latest Hordes supplement, Exigence.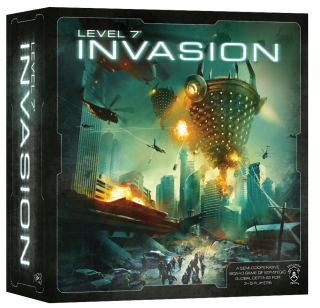 And then there were the poor denizens of the Level 7 universe. While I'm still positive on the initial title of the series, Level 7: Escape, it's clear that the franchise has grown up a lot in the last year. Arguably their biggest game being demoed was the co-op survival juggernaut Level 7: Invasion, due out next month. It has each player operate one or more of the game's five global regions in a desperate attempt to thwart total annihilation. Level 7 Invasion has you fighting aliens, monitoring your territory statuses, controlling resources, managing tech trees, and consistently makes you feel like your back is against the wall.
It's evident already that FFG's X-COM will easily be the more talked about alien survival game of the convention, but after checking both out I actually that I think Invasion does a better job channeling the classic 90's X-COM spirit.
Queen Games
Queen Games never seems to have a shortage of pretty games, and this time was no different. They had a whole host of their games on display to demo and check out, and they had their three new titles up for grabs.
First up was the new card drafting mafia game Greed. I had a pretty neutral take on the game, but given that it was made by Donald Vaccarino (of Dominion and Kingdom Builder fame), I'm willing to give it the benefit of the doubt. For now.
The second was the pirate-themed dice action game Tortuga, due out in November. This half hour dice game has players rolling dice to collect treasure and keep it safe from all the other pesky pirate players wanting it for themselves. I didn't get to see it in action, so I'm not sure how it'll fare out there on the high seas of other pirate games.
Lastly, they had copies of the massive Fresco Big Box for sale. The game of Fresco is where you play as painters looking to outmaneuver one another to come across as the best tradesman of your craft, and while that may sound a bit dry, it's actually a quite engaging middleweight game. But the Big Box also contains all 10 1/2 module expansions, plus the base game, all in one container. The game alone is visually pleasing, but when you add in all of the extras, the Big Box presentation made it an easy choice to grab. It should be hitting retail distribution within the next month or so.
R&R Games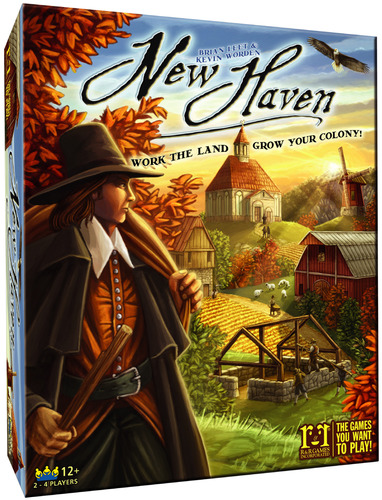 R&R these days is probably best known for their SDJ-winning game Hanabi, but they continue to put out a number of new titles every year. This year they were showing off a number of their new light social and party games such as Guess the Mess, and Get a Life, but none of them particularly excited me.
However, I did manage to walk away finally with a copy of the hit lightweight worker placement game Coal Baron and the hard to get New Haven. New Haven was a hit at Essen last year, but production issues have made it difficult to get since, with US distributors only starting to receive copies again within the last month or two. Sure, it's another farming Euro, but it's set in New England, so…
In other news, they have two new games slated for the fall. The first is a pick up and deliver game about growing railroads called Spike, and it sounds promising. The other is Spellcaster, a quick card game where you play as wizards dueling one another in a battle of supremacy.
Rather Dashing Games
This group followed up to last year's item crafting game Dwarven Miner with the succinctly named Pirates, Ninjas, Robots & Zombies. (Hey, they know their audience). This is a simple tile manipulation game that I didn't initially know anything about, but it's a quick study. This 20-ish minute game has four factions trying to alter tile placement on the board to their advantage (and nab the win). It's light on theme, but it's also light on the wallet, and I noted it to check out again when it comes out in September.
Rio Grande Games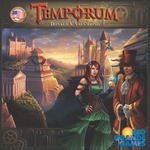 Once again, Rio Grande had a peripheral presence but no booth to speak of. They did have a demo room where they were showing off their next two games of note, being Roll for the Galaxy, the dice version of Race for the Galaxy, and the time traveling game Temporum, which is yet another card game by Don Vaccarino. Trying Temporum was high on that list of To-do Items That Didn't Happen, sadly, so I'm quite eager to see when it comes out. Neither have an official release date yet. Rumors have them to be in Q3, but I wouldn't be surprised if we don't see them till Q4 in reality.
Sherwood Games
The minds behind In the City: Origins were back again this year, showing off (shockingly) the recently published small expansion, Harbor. It adds a bunch of new cards to the equation, opening up all sorts of new wrinkles to emptying the game's card columns. Plus a column of ships. Hence the name. Beyond that, they're working on a party game to Kickstart in Q3 that deals around making word associations between a pair of cards – one public and one hidden – where players have to guess what the hidden one is. It seems simple enough, but we'll see how it does.
SlugFest Games
The makers of the Red Dragon Inn series of games offered up two new Ally expansions, where you gain a new character to add to the party. Up for 2014 are the priestly Brother Bastian and his prayer cards, and Ozrik the Adept, a combo-card elementalist. Both should be available by the end of August.
Spy Alley Partners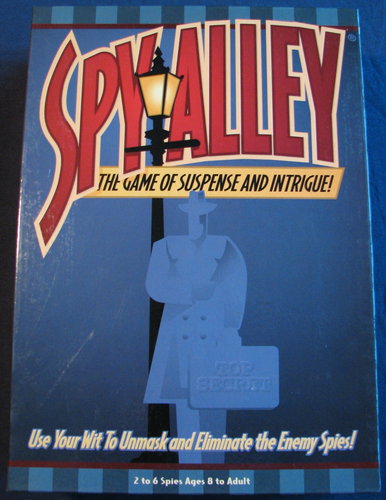 Gen Con is often a public exercise in everyone scrambling for the latest hotness, and it only exemplifies how easy it can be for older games to be quickly overlooked and forgotten. So seeing a Spy Alley booth was a nice chance of pace. Spy Alley, the 1992 deduction and bluffing game has quietly persisted over the years, but they've recently decided to follow some modern trends. That is, last year they put out Spy Alley Dice, the quick-paced dice adaptation of their classic game, and they were showing it off here.
Steve Jackson Games
Here's a shocker: SJG is going to be putting out a lot more licensed Munchkin products. As if it wasn't ridiculous enough as it is…
Anyhow, aside from the soon-to-be-released Munchkin: Princesses mini expansion and an Adventure Time reskin of the base game, they also announced Munchkin Dredd, a mini expansion for Munchkin Apocalypse in 2015.
More noteworthy is that now that OGRE is in their rearview mirror, these folks are ramping up a number of non-Munchkin titles again, including Mars Attacks Dice, a 5-6 player expansion for Revolution! called Anarchy, and a revised edition of the classic Chess variant Knightmare Chess, all of which will be out over the next month or two.
Oh, and they're also putting out Hipster Dice, but that might be too mainstream for you…
Stone Blade Entertainment / White Wizard Games
I always have mixed feelings visiting the Stone Blade booth because of their business model of charging for individual promo cards. They aren't the only company who does this, but they were the first that really made it a big visible component to their store. I just have a hard time feeding into that model. That aside, I enjoy Ascension and always like to see what they're up to.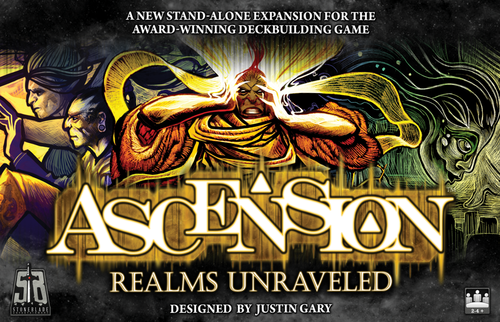 Their two pre-convention announcements included the release of the new expansion Realms Unraveled, where you can now play with cross-faction heroes. They also let it be known that Ascension finally has come to Android devices. 
Their next big thing is the Ascension Collector"s edition, due out in Q4. It'll consist of the base Ascension, the first expansion, a couple mini expansions, and all of the Year One promos – all in a foil version. For Ascension collectors, or people looking to get in on the game for the first time, it'll be something to watch for.
Now, while co-creator Rob Dougherty technically still has a stake in Ascension, most of his efforts nowadays are with his other venture with a little game called Star Realms. This hyper-aggressive deckbuilder has been one of the big hits of 2014 – so much so that it's already sold through two print runs. It doesn't hurt that the price point is so cheap (at $15). Luckily there were plenty on hand. What's next for this space combat game? Well, it should come as no surprise to learn that Star Realms will shortly be announcing an expansion for the game, aiming to be due out by the holidays.
Stronghold Games
Stronghold is having a pretty banner year, with over a dozen new games expected for 2014. They were showing off a handful of these releases, including the import of Artipia's Among the Stars, a Space Cadets Dice expansion, and the fun trick-taking game Diamonds. Yet their biggest game easily had to be be the solid Euro, Panamax. They only had a little over 100 copies with them, and they all went super quickly – with good reason – making it one of the most sought-after games of the convention. For everyone else, Panamax should be out around October.
Not to rest on their laurels, they have even more titles on the way, including games like the automotive assembly line game Kanban, debuting at Essen, a reprint of Hans im Gluck's 2001 game Medina, and Dark Moon (formerly known as Battlestar Galactica Express), which is slotted for Q1 2015.
Tasty Minstrel Games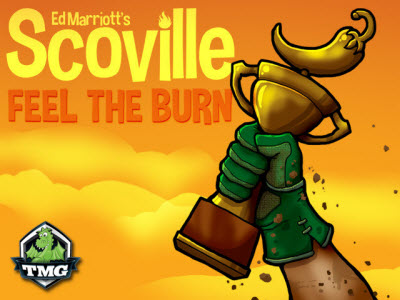 While the end of 2013 and beginning of 2014 was an period of microgame campaigns for the normally Euro-capable TMG, their latest series of games appear to be a return to form for what they do so well. They did have all four of said microgames completed and for sale, but I was far more interested in what else they had in store for us. These include: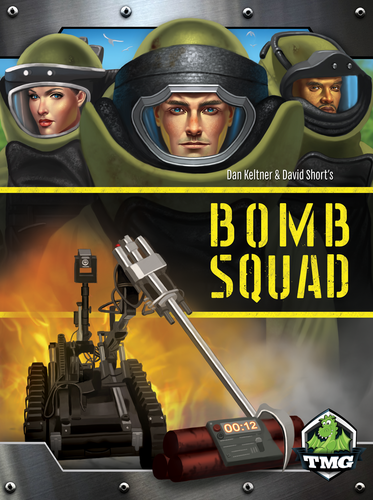 They also had two of their upcoming games on display for people to check out. The first is Bomb Squad, a real-time co-op where players work under tense conditions to defuse bombs, and it lives up to its theme. Expect the Kickstarter on this one to up around the end of August. The second was Gold West, an area control game over resources set in frontier territory. I liked this one as well, although details were conflicting on when this one is due up for some crowdfunding.
Beyond that, fans of TMG will be excited for some of their 2015 projects, as they have a science-fiction worker placement, a steampunk worker placement, and another expansion for Eminent Domain all in the works.
The Flux Capacity
Shore up your defenses and prepare for conflict! The Flux crew were officially releasing three new titles for 2014, all of which showcase simple gameplay and adventure themes and should be available by the end of the month. The first was the trick-taking Gone Viking!, where, as you'd expect, you plunder your way to victory. It was my personal favorite of the three. The second was the very lightweight Zombie Island (formerly Voodoo Island), where your goal is to avoid the zombies and make it off the accursed island you're stranded on. Their newest game is Khrysos Hunters, where players are treasure hunters scrambling to get their hands on as much treasure as they can whilst also fending one another off.
Twilight Creations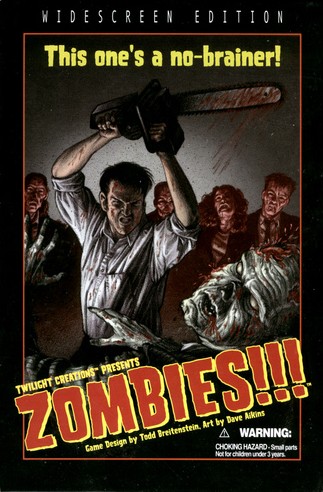 Sometimes you just don't mess with what works. For a good example of that lesson, see Twilight Creations and their perennially enduring board game Zombies!!! They had a successful Kickstarter for Defcon Z, the 13th Zombies!!! expansion earlier this year, as well as announcing in July that they'll be putting out a third edition of the base game (which mostly adds new co-op and scenario game variants). Both of those are aiming to be out by Halloween.
Twin Fire Productions
Are you ready to face the darkness? Are you equipped to explore the land and see what really goes bump in the night? You soon will with Folklore: the Affliction, a game that I truly have a hard time quantifying. It launches on Kickstarter in October. On the surface it's a board game where you travel around to do various quests, but much of what happens is dictated from storytelling in a very tabletop RPG way. What's more, when it comes time to fight, it switches gears to be almost a miniatures-like combat system.
I can't tell if it's brilliant or a jumbled mess of ideas. Feel free to help sway me in either direction.
Upper Deck Entertainment
I never got into the classic Vs System CCG by Upper Deck, but I was aware it had a pretty solid following even after it was discontinued in 2009. It came as a surprise to many when UD revealed at the show that they going to be testing the market by bringing the game back in limited quantities – but as a LCG instead, continuing the recent trend seen already with Doomtown and Android: Netrunner. In typical fashion, the older cards won't be compatible with the new Vs System, and it'll be up to sales by the player base to see if Upper Deck brings it back fully.
In darker news, they also released Legendary Encounters, a standalone co-op deckbuilding survival game set in the Aliens movie universe. Legendary Encounters is pretty much functionally identical to the Legendary Marvel game, but they are not able to be integrated. Encounters is available now. There are a couple new Marvel expansions coming too, including a Guardians of the Galaxy expansion (shocking) and a Spiderman-themed expansion. However, timetables for those weren't available.
V3 Games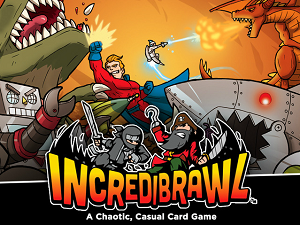 Does a Samurai beat a Troll? What about  Leprechaun against a Robot? Let's find out. V3G was primarily showcasing its inaugural short and chaotic card game Incredibrawl, which came out earlier this year. It pairs various people and creatures together in a Rock-Paper-Scissors style resolution as players vie for glory.
The new game they were showing off was Strife, a two player tactical card game that revolves heavily around knowing not just what you want to do but anticipating what your opponent will do. It definitely makes you think, and if you like brain burners, it'll help to know that it's headed for a September Kickstarter.
Water Bear Games
What do you do with a smelly fish? What about an ugly fish? Or a toxic fish? We're about to find out, with Discount Salmon, the co-winner of last year's Tabletop Deathmatch. It's a fast card game with a slight dexterity component to it, where you're at the terribly contaminated Lake Miasma and are trying to "fix" and collect the most fish. It's officially available now.
WizKids Games
If one company personified the convention's theme of scarcity, it easily had to be WizKids. They've had a number of supply issues of late, namely with trying to keep up with demand for the collectible dice game (CDG) Marvel Dice Masters. MDM is so in demand that it's easily supplanted Quarriors as their dice game to tout, as they had literally zero mention there about its latest standspansion (standalone expansion), Light vs. Dark. They are working on fixing their supply problems for MDM, but it's still proving problematic – they didn't even have any available at Gen Con. And their announced expansion Uncanny X-Men has already been delayed until late October as a result.  I suppose the silver lining is that they plan on doing some promos for the game in the future once the game becomes widely accessible.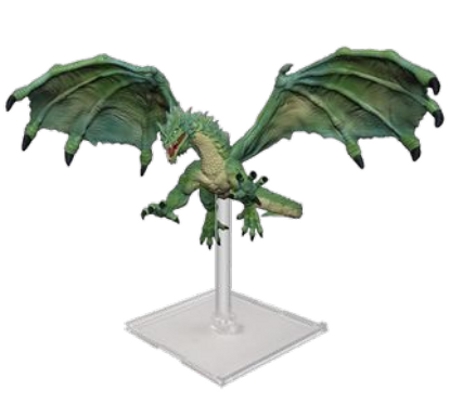 Their other big showing at the convention was the previously-announced D&D Attack Wing. Rules-wise it's pretty similar to their Star Trek Attack Wing line but has been modified to account for things like, you know dragons. I'm not an AW person, but the dragons did look pretty cool, as did the 9″ Borg Cube.
Yet while they had all of the core materials available, the promos were a different story: they repeatedly ran out of their day's allotment of advertised Attack Wing promos within minutes of the doors opening each day, leading to a lot of disgruntled fans.
Yamie Chess
I only really stopped to check out two booths devoted to children's games. One of them was HABA. The other was Yamie Chess. Yamie Chess is a game designed around three things: teaching kids about core STEM topics, learning to play Chess, and making learning fun. This game has been getting a ton of buzz in the educational spheres because of how it combines math and science concepts with playing a game, and I can see why. Yay science!
Zafty Games
One of many indie newcomers, Zafty was on hand to show off their Kickstarter Pixel Glory. I saw this game back at PAX East, and it seemed to get a fair amount of attention both there and at Gen Con. Following in the trend of 8-bit nostalgia, Pixel Glory is a simple deckbuilding and auction game that has players competing for cards and then using them to clear out the dungeon. They had a number of demos going for it, but the game won't officially release until likely sometime in Q4. Stay tuned.
Z-Man Games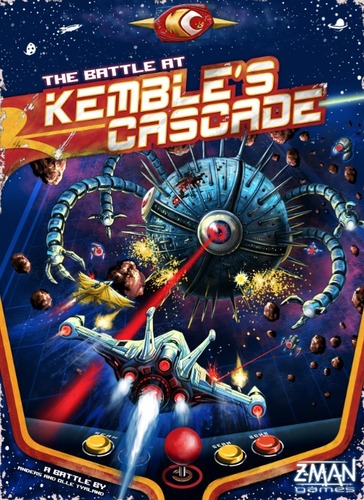 Z-Man brings the board game segment to a close, but not before it hands out some very worthwhile tidbits. They showed off four new games at Gen Con, three of which became officially available there or will be within the next couple weeks. These are: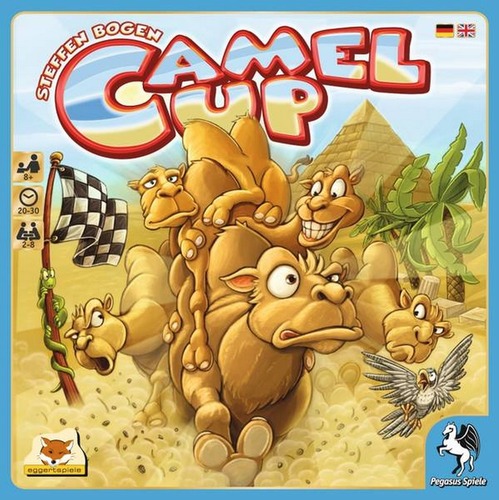 Z-Man also had about 150-200 copies of the SDJ-winning Camel Up, and those disappeared pretty quickly. I was not one of them, as I'm still on the fence as to whether it appeals to me or not. For those who do want copies, a print run should have the game available in late Q3.
Speaking of Q3, Z-Man will also be unveiling expansions for Terra Mystica and Bruges at Essen, and likely have those available widespread shortly thereafter. They may also be unveiling Sylvion at that time, a quick tower defense game set in the same world as Onirim, but they couldn't say for sure.

Next: RPGs