Gen Con may cast a heavy spotlight on the physical games as the primary focus of the event, but it's hardly the only notable thing that occurs there. In addition to the multitude of panels, demos, game sessions, and events of all stripes, it's almost impossible for it to not generate newsworthy tidbits of one kind or another. Especially business-related ones.
This isn't by accident. Gen Con is one of the largest game expos in the world. It's rare for that many publishers to be present at one location with such a captive – and enfranchised – audience to share major announcements with. Many companies use this opportunity to generating buzz, with some going to far as to turn their own Gen Con announcements an annual Moment. The people making those important decisions are often there, as are the people who generally report about those announcements. It's all seen as very win-win.
Of course, a news announcement is only effective if people hear about it, and that can be tricky with so much else going on (not to mention every major outlet attempting to grab their own share of screen time). Plus, it's not like the entire Gen Con audience is visiting the same panels or constantly checking their inbox newsletters while being in the middle of the convention, which actually makes many of those desired watershed moments very word of mouth initially. Add in the constant stream of updates, pictures, and conversations from the attendees themselves on social media, and it's very easy for notable news stories to get overlooked until well afterwards.
Interestingly, there wasn't a ton of major news this time around, at least compared to last year. Odds are you may have already heard about most of these at this point as a result. But if not, then join us in Part 4 of our Gen Con 2019 Recap: Deluxe Edition as we share a brief roundup of many (though hardly all) of the headline-grabbing announcements made at, just before, or just after this year's convention.
Also See:

News & Announcements
Fantasy Flight Marvels
Of all the companies that like to jazz up their Gen Con presence, few bring with them the level of gravitas as that of Fantasy Flight Games. They are a company that has spent many years cultivating their biggest annual reveals around Gen Con. Their summer is often punctuated by a series of game announcements leading up to the convention, but FFG historically does not divulge what it will be showing off at Gen Con until it rolls out a series of excitable new announcements mere days before as a means of driving up brand hype. And it works.
Yet even with all that said, they still manage to save some of their biggest news until the convention itself as part of its In Flight Report panel. This year proved no different.
And for 2019's panel, all of the biggest reveals were about Marvel. Because 2019 is all Marvel, all the time.
Marvel-branded games are not all that uncommon, with several companies using the license to put out a title here or there. But FFG made it clear that just like their deep dive into the Star Wars license, they were going big with access to the Marvel IP, and they were doing so in a hurry.
The biggest of these revelations was that they would be rolling out Marvel Champions, a brand new cooperative-based Marvel LCG game. As would suspect, each person's deck has them play as one of the eponymous marvel heroes we all enjoy so much, and you must work together to overcome a series of procedurally generated events before facing the villain. The fun twist with this game, however, is that not only will each character come with their own traits and abilities that mimic their respective character, but you will be forced to switch back and forth between your hero-fighting side and your alter-ego side throughout the course of the game. Contending with more mundane things like doing homework or researching ideas. They plan on rolling out the core set before the end of the year, with additional packs released monthly thereafter.
Although there were some confusion over the fact that FFG was rolling out another LCG – seen by some as a means of replacing the Netrunner and raising concern in others that it could put another LCG on the chopping block – the company attempted to allay those concerns by stating that the game has been in development for several years and was expressly designed around the Marvel IP – which took them a while to obtain the rights to.
Which is probably why they weren't content to talk about just one superhero-themed game.
Yes, while this news alone was enough to get the crowd excited, FFG doubled down by also announcing that they would be partnering with Atomic Mass Games (a newly created Asmodee design company) to create a paintable Marvel-themed miniatures skirmish game, also due out before the end of the year.
Although it left little room for any other surprises (someday Android 2nd Edition, someday…), both of these titles made a huge splash at the con and did their intended job of creating full throttled interest in what's to come.
Digital Games Continue to Grow, CMON Invests In Hybrid Gaming
Although possessing less exclusive floor space showing it all off (which still says something given the sheer amount of publishers under the Asmodee umbrella these days), Asmodee Digital has a lot to be excited about this year with a number of notable titles either getting the ol' digital treatment or being expanded upon. This included the launch of Pandemic on Xbox and Switch consoles, some new gameplay footage of the upcoming behemoth (and last year's big news on the topic) Gloomhaven, and a new due date for the official launch of the Lord of the Rings LCG at the end of August. They were hardly the only company with digital wares to share, though. Gen Con also saw the slightly-delayed launch of Dire Wolf Digital's Raiders of the North Sea and a new trailer for Sagrada, and Thunderbox Entertainment unveiled news that they're going to be porting over AEG's The Captain is Dead! title.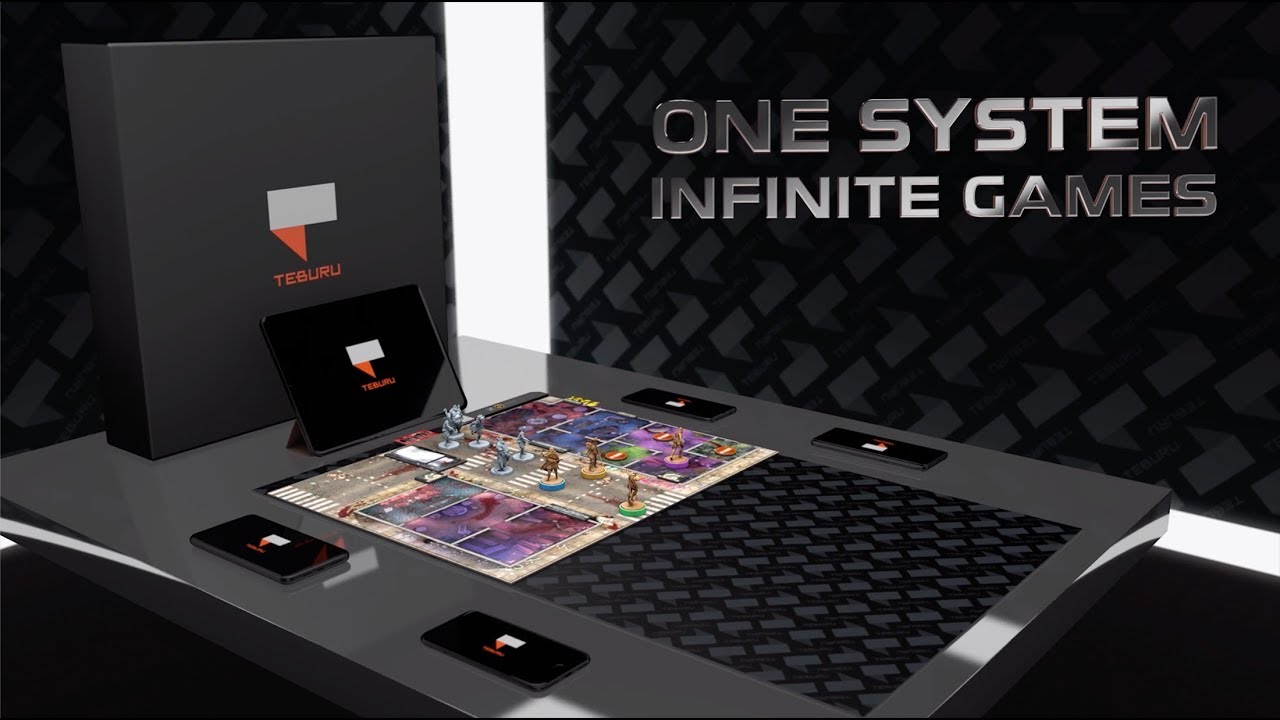 Yet the most interesting facet out of the pixel provinces at the convention this year was easily CMON's new digital tabletop gaming hybrid system, Teburu – and not just how to spell it correctly. Going to Kickstarter in 2020, the Teburu system was announced in the days leading up to the convention and takes the concept of digital tabletop gaming to the next degree. With the intent of trying to increase gameplay immersion while reducing downtime due to rules or math calculations, the Teburu combines several ideas currently out there into one complete system. This includes smart dice and ID tagged pieces that are tracked and monitored by the central device, digitized player boards tied into the main console, and added capacity for more A/V based ambiance/narrative in the game. All while still retaining as much of the physical game itself as possible – especially the board. CMON is very insistent that the Teburu is aiming to be more of an augmented board gaming experience rather than a replacement for it, and that is a fine line to walk. It's an ambitious idea for sure, and we'll see whether audiences respond to it more as a new approach to gaming or as a novelty when it goes for funding next year. One thing that will help: it's aiming for a 2021 delivery, will be under $200, and plans on ramping up the number of supported games quickly. All of which could be enough for many to take a chance on it.
Mergers and Acquisitions
In what seems to be an annual tradition at this point, every Gen Con comes with an announcement of some publisher buying up, or combining forces with, another one. The knee-jerk reaction to hearing about such things is usually, "Who is Asmodee Buying Now?", but for the second year in a row that distinction went to someone else. At Gen Con 2019, this was the much smaller Genius Games. Known for its line of STEM-themed board and card games like Cytosis and their new title Periodic, Genius Games unveiled news that they have purchased the equally sized Artana Games. The pairing seemed to be good fit for all involved, as Artana themselves have also made a name for themselves with a number of games over the years that focus on scientific technology and history, including their Gen Con debut Lovelace & Babbage and their most well-known title in Tesla vs. Edison, but even dating back to titles such as The New Science and Road to Enlightenment under the Conquistador Games banner.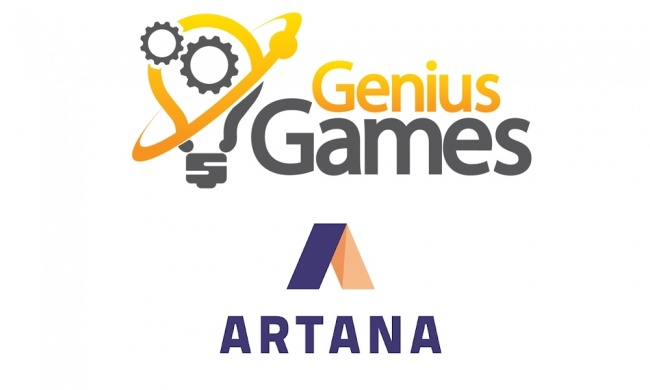 Genius Games has stated that they will be keeping the Artana brand intact, which should allow them to carve out some separation between their STEM-based titles and their history and engineering ones. Genius Games CEO John Coveyou will be maintaining his role, while Artana founders Marcus Muller and Dirk Knemeyer will be staying on part-time in designer roles. Either way, the announcement was well received and in retrospect makes a lot of sense. It also illustrates that game company mergers aren't automatically a bad thing, especially in an age where competition is fierce and brand recognition is so important.
But if you really need your Asmodee Buys The World fix, it was announced just after Gen Con that they have acquired longstanding Canadian distributor Lion Rampart Imports. This comes on the heels of them attaining two other smaller distributors in Taiwan and Chile earlier this summer. While seemingly noteworthy on paper, in all three cases the respective companies and Asmodee had already been working partners for several years, so it's not particularly earth-shattering and is unlikely to lead to any notable changes from the consumer side. It's certainly not nearly the same as when a publisher gets snatched up.
Funko's Gamble Pays Off
We already covered previously how Funko was showing off their upcoming Funkoverse Strategy Game at the convention, where players can square off in different arena style settings with different characters  using scaled down versions of their insanely popular vinyl figures. Not only did they have a booth on the floor itself but they had a separate room in one of the rooms across the hall from the expo floor that also had a hands-on look at the game in action, and there was a steady stream of people moving through both places trying to get more detail on this ambitious new foray into board games. This gamble clearly paid off, with post Gen Con reports indicating that the company's second quarter sales numbers for this burgeoning game line are already exceeding expectations, with many retailers scrambling to put in orders for the game ahead of its October release.
All of which not only bodes well for the Funkoverse line itself, making it far more likely we'll see new characters, powers, and settings in the not-too-distant future, but it also proves to be highly reassuring to Funko that their decision to get into tabletop was worth it.
That all said, this also raises an interesting question how Funko will decide to move forward in aligning additional games under the Funko brand versus games their Forrest-Pruzan Creative brand (the company of the Prospero Hall design team) whose model has been to this point to sign titles with other publishers – particularly Big G Creative, Ravensburger, and Z-man Games. With this early financial success, will Funko decide to bring more future Prospero Hall titles to market under their own umbrella instead? Will they try to bring those other games in-house down the road? I wouldn't be shocked, given their initial Gen Con reception, but will have to see.
Exclusivity Is Here To Stay
A few years ago news circulated around that Target was wanting to make expansive inroads into the board game market, and they followed up by heavily expanding the number of games they were selling in their stores. Shortly thereafter, they took the then-unconventional step of finagling a series of board games that were Target exclusives. If you wanted to buy that specific game, Target was the only place you'd be able to find it. And they've been ramping up that approach ever since. In 2016 they advertised nearly 50 unique game titles. By 2017 that had risen to 75. In 2018, it was close to 100. That's a lot of games to lock in to exclusivity, even for a temporary period of time, but the approach worked.
Looking to get in on the same idea, Walmart tested out its own exclusivity approach in 2018 by signing the wonderfully resonant relationship-themed game Fog of Love. Not knowing what to expect, they took a more timid approach and limited this exclusivity to their website only. And while the numbers for the game did decently enough in this approach, sales did seem below their estimates compared to their distribution elsewhere.
Well, it has been reported that the trial year for Fog of Love has now ended and the game (as well as its expansions) should be due to arrive in normal distribution channels very soon. This will be particularly interesting to watch, as how it does in a wider pool of availability may give some indications as to how successful this trial was.
Target, on the other hand, shows no signs of abating in 2019 by the way, with plenty of new games of note already purchasable in their stores just from Q2 alone, including Pandemic: Rapid Response, Jaws, Horrified, and Carpool Karaoke, just to name a few. All of which makes it clear that while individual outlets such as Target, Walmart, and Amazon are exploring different ways to grab their share of gaming exclusivity, the concept itself is here to stay for the foreseeable future.
Puerto Rico Returns…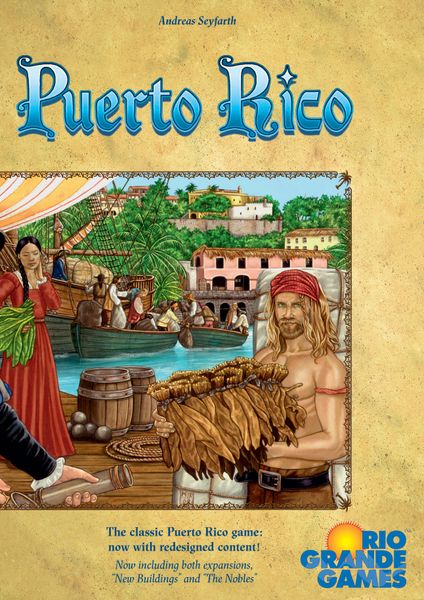 Ask any designer or publisher what they'd wish for most with a new title, and the most common answer will almost always be for it to become a highly successful 'evergreen' title – a staple game in their catalog that continues to be sold and reprinted due to demand over and over again for years to come.
Ask them what they'd realistically prefer to see, and it's usually that the game is still being talked about more than six months after it releases, a somewhat glib reflection about the increasing churn cycle affecting the industry despite its continued growth. Because game releases have substantially increased in both volume and frequency in recent years, there is a fear by some in the industry that nowadays games don't have the time circulating in the marketplace to lay the groundwork to become a well-known neo-classic game years after they've come out, let alone become an evergreen title. Games like Catan, Fluxx, Munchkin, Power Grid, Ticket to Ride, and Dominion. Games that people have heard of even if they're not the most entrenched person in the hobby.
Games like Puerto Rico, which despite what you've heard about the game – for better or worse – is a recognizable title some 17 years after it first came out. And it's back in the limelight with a new edition. Sort of.
See, back in 2011, German publisher alea created a deluxe 10th Anniversary edition, which completely overhauled the graphic design of the game and added new art. All of the component pieces were upgraded as well, including all of the crops, tiles, and swapping the cardboard money with metal coins. It also threw it the two Puerto Rico mini-expansions that were often hard to find. There came with it two problems, however. First, all of those upgrades brought with a price point nearly double the normal one. Second, and more impacting for many North American gamers, was that Rio Grande only did a one-time print of 7,000 English language copies of this version. In 2013 alea started selling a Second Edition of the game with the new artwork, a new cover and some (but not all) of the revamped components. This became the de facto version of Puerto Rico in most marketplaces….except that alea had no intention of releasing an English version. Because Reasons.
Fast-forward to Gen Con 2019, where Rio Grande proclaimed that they would be releasing the Puerto Rico Deluxe Edition (effectively the Second Edition English version), which will pretty much match the non-English alea versions that have been circulating for some time now.
Though interest in new colonialism themed games has been waning in recent years, demand for the new edition of this older title has been been an exception, and gamers can expect it to appear in stores as early as next week.
…As Do Some Even Older As Old Titles
What's old is new again is as true with board games as it is anywhere else. Sometimes this manifests as a simple reprint or a completely rethemed version of an older title. And then there are those who decide that what a game really could benefit from is a completely reworked, retooled, revamped, and revitalized new edition of, possibly even from the ground up. Maybe it's a case of having the right idea but the wrong implementation or the fact that game design has improved drastically in the last 30 years and you can make something that isn't just a completely random dice-fueled roll-and-move.
And from that mindset came two pretty sizable announcements from publishers at Gen Con 2019.
The first came from Restoration Games, a publisher whose entire model is to take old games and modernize them. This model has proven particularly effective, with hit games such as Downforce, Fireball Island, and their newest co-publication Unmatched. But also enjoying a knack for the dramatics, Restoration has made it a tradition to announce their next big project at Gen Con each year. In 2018, this came in the form of them excitedly declaring that they were rebooting Dark Tower, a famous board game from the 1980s with electronic components that had reached grail game status for many. This year they followed that up with a slightly deeper-cut with the highly creative but somewhat lackluster 1990 game Key to the Kingdom.
(Weirdly, I also offhandedly predicted it would be a good choice back at Pax Unplugged but didn't actually think it would happen as their next title.)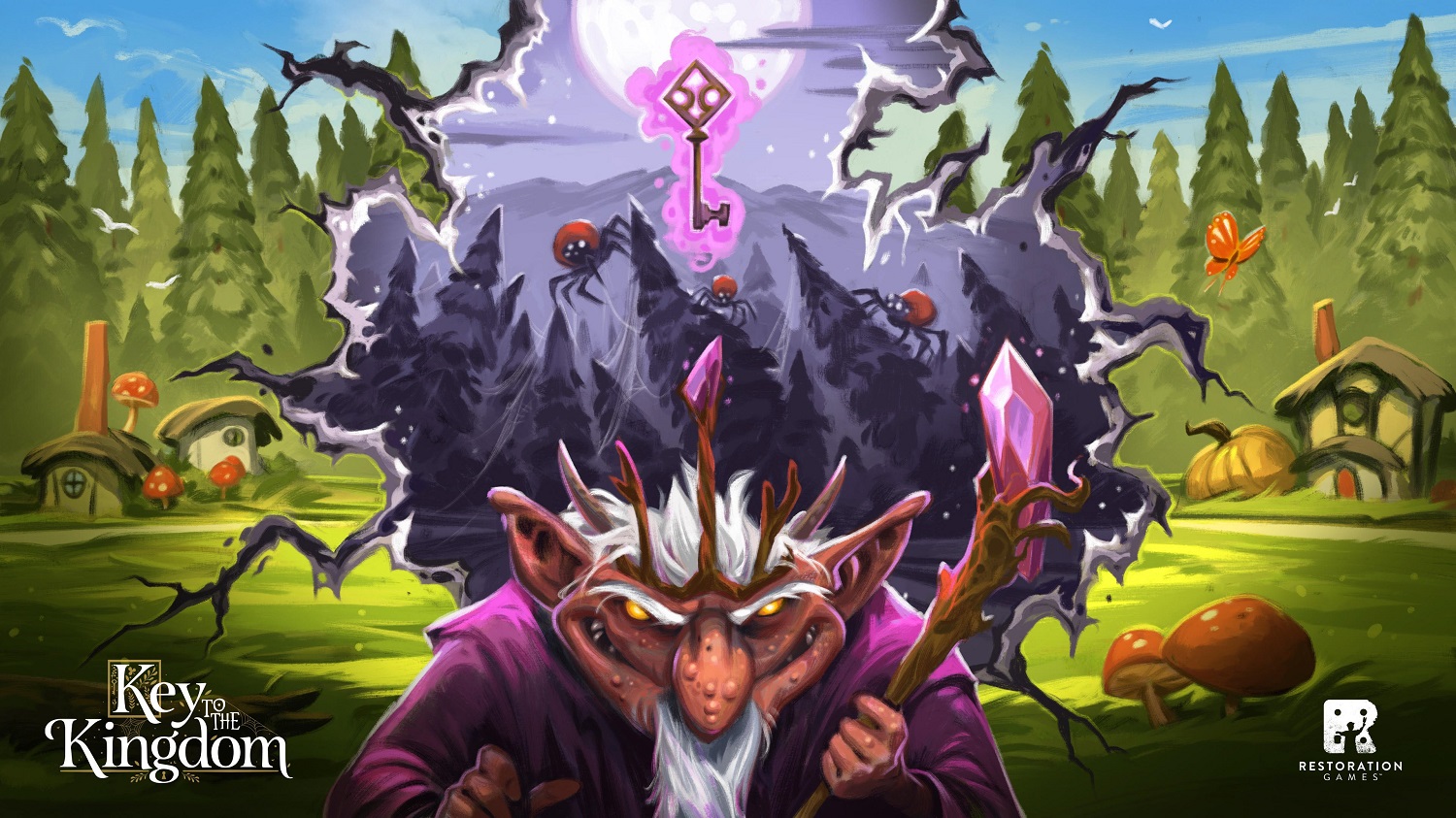 In this adventure-themed game players must venture around a board in search of treasured "key" cards in order to escape the kingdom. Moving about the board required overcoming obstacles, facing monsters, and dealing with theft from other players, all of which was aided by needing (or often even requiring) specific equipment cards. The really appealing part about KttK though is that the land of the kingdom was represented on foldable double sided boards, which are either collapsed or expanded when players jumped through a series of open holes (whirlpools) in the game. The concept is really intriguing, but sessions often turn into a Talisman-style luck fest that could be highly frustrating to some. Great idea, so-so execution. We still have the original and while I didn't hate it as much as many we knew, I totally get its poor reception. Given Restoration's track record, I have high hopes that this new edition of Key to the Kingdom could be really worth checking out.
In slightly darker news, it appears that the endless night march that is White Wolf's World of Darkness IP advances steadily forward. Despite being nearly 30 years old, the revolutionary and genre-setting urban fiction style universe has been inspiriting and influencing gamers for many, many years. The most famous of this is Vampire: the Masquerade, wherein players are vampires of various clans who must navigate the tumultuous and dangerous hidden world in the shadows as they scheme and fight with one another constantly while also trying to avoid being noticed by humans.
The game has gone on to spawn numerous supplements and editions in the RPG world alone, but many times over its lifespan the license has extended out into the board and card game sphere as well. One of the most famous examples of this was Richard Garfield's Vampire: the Eternal Struggle, his 1994 follow-up CCG to Magic: the Gathering, that focused much more exclusively on a multiplayer tug-of-war style gameplay. The game was very well received and lasted for about 5 years, but the late 90s market glut of CCGs led to the demise of many, including V:tES.
Well, a new card game is in the works and plans on debuting in 2020, as While Wolf and Paradox Interactive are teaming up with Renegade Game Studios to introduce a new card game about those conniving undead creatures that rule the night. The game will be of the expandable game model versus a classic CCG and will be Renegade's first ECG to that effect. Using the source material, these companies hope to revitalize the idea of a dynamic and ever-changing card game that matches the murky and fluid political realm that is Vampire: the Masquerade.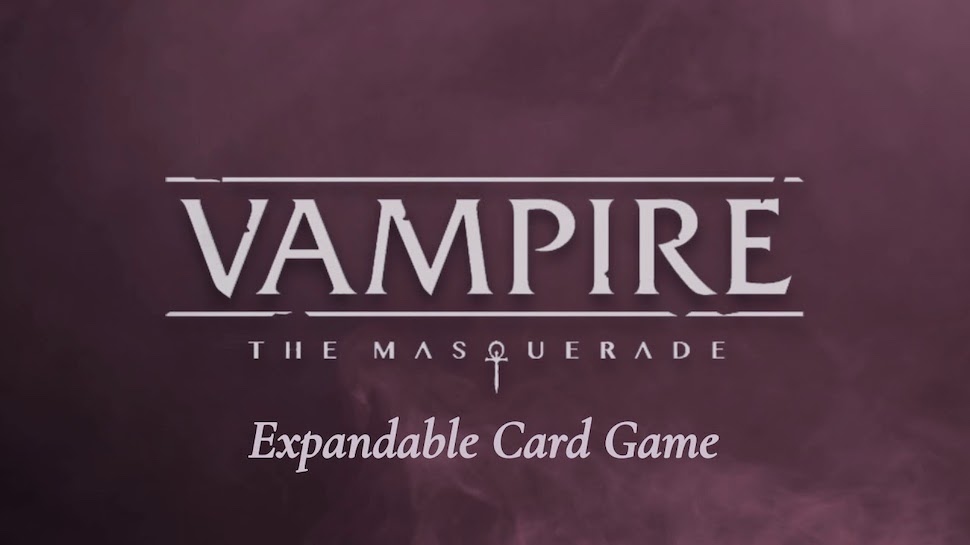 While details on the mechanics of the game or the gameplay itself were sparse at Gen Con, many hints were dropped that it cleaves closer to the RPG experience than some of the other Vampire: the Masquerade board games currently in development by other publishers and likely will focus on the importance of protecting the masquerade itself. Still, these three companies left enough bread crumbs in their wake that many World of Darkness fans are already eager to drink up new information as more is slowly revealed over the coming months.
What's old is new again.
So Does Magic (To Gen Con Anwyay)
Once upon a time, a little game called Magic: the Gathering made its first major showing at Gen Con – way back in 1993. Its early reception at the convention was one of the catalyst moments in generating the initial buzz needed to get the game off the ground, and the rest is history. The game now makes up a sizable share of tabletop market sales and has become a central figure in gaming culture now for over 25 years. And despite a recent dip in year over year sales overall, Magic is more popular and profitable than it's ever been.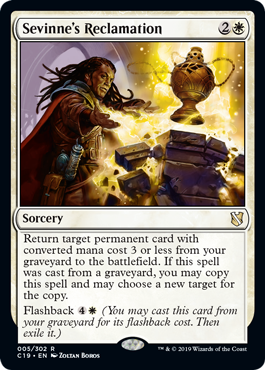 What it doesn't have anymore, and hasn't for some time, is an official Wizards of the Coast presence on the expo floor itself. Sure, there are numerous vendors that peddle exclusively in the beloved cardboard crack, but a good number of years back WotC moved its operation outside the expo floor to the nearby play halls to expand its overall footprint. In time, though, its presence at the convention has become almost exclusively tournament driven, leaving the debuting or previewing of upcoming products to its own online apparatus or other convention showings. Almost a point where if you weren't there for some tournament or Learn to Play events, you'd almost forget this massive game was even there.
This year, though, Wizards decided the time was right to make a partial return to its own stomping grounds. While they didn't have a booth presence (and likely won't again), they did nevertheless factor Gen Con into their schedules with an impressive bevy of scheduled events. Ranging from live figure painting to panels on the game's lore and art, to a Q&A with the unaffiliated Rules Committee in charge of the super popular Commander format, to an ever-popular You Make The Card event, Wizards really doubled down at the con as a means of reaching out to the more casual-minded board gaming audiences. The biggest draw by far, however, was a preview panel for the soon-to-be-released Commander 2019 decks, where they showed off several new upcoming cards.
Although it wasn't super overt, the desire by Wizards to broaden its reach at Gen Con again is a good sign of their desire to diversify the game in their attempt to find people who may have avoided the game or moved away from it over the years. Based on the panel receptions, it seems that these efforts were well appreciated.