Like a flock of origami swan flying home to roost, thousands of gamers from across the world once again recently descended on Indianapolis to engage in the massive, sprawling board gaming convention that was Gen Con 2019. And then some.
While the convention itself has boasted several consecutive years of over 60,000 unique attendees, Gen Con 2019 saw the biggest visitor totals yet, with the convention staff touting that this year's numbers were close to 70,000. Not only is this a new record and at least a 10% increase over the last few years, but it also blows away the early estimations of around 65,000. In what will only continue to become a recurring thing, four-day passes sold out prior to the con starting, and the number of events to partake in – both ticketed or not – have somehow climbed even further.
All of which basically means that Gen Con was being Gen Con. Accomplishing such a massive expo is no easy task, but somehow the convention managed introduce new elements, refine existing processes, and entice newcomers to the eerily flat lands of central Indiana all at the same time. And barring the inevitable handful of issues to arise, the convention largely pulled it off without incident.
The attendee numbers breakdown largely reflects what we saw last year, in that the increase in one-day passes means Gen Con continues to entice a sizable regional presence – those who can make a day trip or a quick overnight. This was inadvertently reflected in one of the handful of small issues that did arise with the convention – albeit one about the city of Indianapolis more than the convention itself. In the leadup to the convention it had been announced that the highway between downtown Indy and the airport was going to be closed for repair during the convention, and while that led to some extra travel time getting to and from the airport, the report also mentioned that it's estimated better than 75% of all Gen Con attendees actually drive to the convention rather than fly. Which means as big as the con is for those on the coasts or outside of the country, its central location very much makes it a great location for many in the Midwest to easily reach.
This is also undoubtedly one of the reasons Gen Con has no immediate desire to relocate even as the convention continues to grow.
In many ways, this year's Gen Con capitalized on the many refinements of the last few years. The new hotel lottery system implemented last year went over even easier this time (the existence of such a system aside), and convention organization seemed to take extensive efforts trying to ensure that transportation to the outer ring of hotels was functioning and that the food truck carousel out front was as efficient as it could be. The lines to those features admittedly felt slightly longer than last year, but only moderately so.
All in all, Gen Con itself ran fairly smoothly this year, with only a few minor issues that are to be expected for a venue of this magnitude. Things can still be improved of course, such as the fact that the Lucas Oil play area didn't really feel advertised much this year and the relegating of many panels to the stadium again feels like it could be affecting all but the most desired panels in terms of attendance to some degree. But for the most part, this year felt status quo, despite the uptick in people.
In terms of gaming itself, Gen Con as always had you covered. Despite the plethora of opportunities at Gen Con to partake in, when most people think of the con itself they inexplicably end up referring to the expo floor. Per usual, this year's selection of games was something to behold. Over 600 new and relatively new titles were mentioned leading up to the convention, and more than half of those were on sale. The staggering amount of variety, coupled with the fact that like last year there weren't any overly labeled marquee games garnering all the attention, ensured that there were plenty of games for everyone to get excited over. From crunchy Euros, to dexterity games, to a seemingly endless stream of roll & writes (seriously, So. Many. Roll & Writes.), the list of new games available at Gen Con for attendees ran the spectrum from incredibly light to sufficiently heavy.
This also says nothing of the remaining few hundred titles on display to hold your attention till when they become available in the months ahead.
The topic of scarcity almost always rears its head when discussing the expo hall contents, and that was pretty much unchanged here as well. However, in most cases the lack of salable copies for certain games was due to the cost of air freighting enough to be able to sell any at all, and in a couple others there were issues with delivery to the convention, shipments getting misplaced, production setbacks, and even a few whose product were stuck in customs. While there are almost always a few publishers that understocked some titles on purpose to drive up hype for a game, the overwhelming majority of unavailability at Gen Con 2019 was a result of normal logistics than anything else. For the most part, though, if you wanted something within the first couple days of the convention, you were able to secure it. This was especially true for those who took advantage of BoardGameGeek piloting its preorder system as a means of securing a copy ahead of time and seemed to help alleviate some of those FOMO fears. Though I can also admittedly see that becoming a double-edged sword like it sometimes is at Essen, with the only copies available being those who were preordered, leaving nothing for the general masses. Time will tell on that.
Still, if you weren't after specific titles, Gen Con 2019 also had a wonderful array of games to check out. There was no shortage of gaming options, that's for sure. In fact, one could argue there were almost too many being released at a time, especially in the case of certain publishers churning out two dozen titles (or more) a year. Eventually the industry will need to address issues of sustainability and the impact of an ever-shortening board game release cycle. But for now, this year's panoply of cardboard was on full display for everyone to browse through, from the biggest names to indie publishers making their first appearance.
What follows, then, is a comprehensive look at many pieces of information we acquired over our four days Gen Con. This spans the board gaming sphere as well as a few other areas that were worth mentioning.
Mind you, it's impossible to catch everything at the con, and though I certainly try to gather as much intel as I can while gabbing along for four days, there's simply too much for any one person to process on the expo floor alone, let alone the convention writ large. So I apologize if I left anything or anyone out. Trying to report on everything individually is close to a statistic impossibility: with over 500 different game vendors, even if you spend the entirety of the expo hall's 30 hours on the floor (and I do), it would leave you with less than 4 minutes to stop at every single booth. That all being said, I spent the majority of my daytime hours running around gathering information per usual, and over the next week I'm excited to share much of the pertinent pieces of that endeavor.
So, let's get started. Without further ado, I give to you our Gen Con 2019 Recap: Deluxe Edition, with Part 1, the Kickstarters.
Also See:
Part 4 – News & Announcements
Part 5 – What Comes Next

Active Kickstarters
For the first part of the recap, we want to mention the ongoing Kickstarters that were happening during the convention or launched immediately afterwards, and a number of them don't have a lot of time left. Hence why we're starting with those. In addition, there were a handful of Kickstarters that ended just a few days prior to Gen Con that may be worth a second look if you missed them. These include:
As for the active Kickstarters: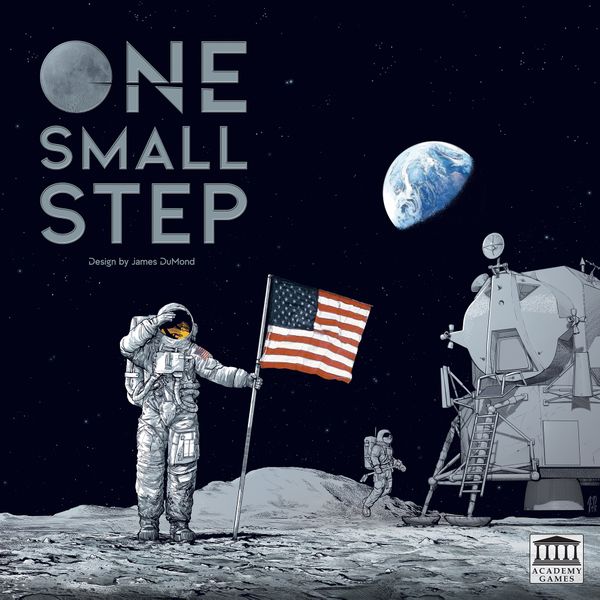 One Small Step by Academy Games. While the campaign just ended yesterday (8/6), One Small Step was quite active during its time at Gen Con after a soft unveiling at Origins. Coinciding with the 50th anniversary of the moon landing, this game sparked a bit of interest due to it being team-based worker placement game.
Taking you back to the height of the Space Race, one side plays as the Americans and the other the Soviets as both sides dig in to be the first country on the moon. Although it uses a largely typical worker placement model, the fact that each side gets all of two meeples to use each round to generate resources, upgrade equipment, hire personnel, and advance progress on their missions makes it a tightly contested engine-building sprint to the heavens. We originally had plans to preview it here on the site, but due to some prototype generation issues, that didn't quite happen. The short version though: if you enjoy worker placement and / or dig the classic space theme, give this one a look.
Trial by Trolley by Explosm Games / Skybound Games. I'll be fully honest here: I actually enjoy the Cyanide and Happiness comic in small doses. It's equal bits acerbic, subversive, outlandish, and crude. Yet I've never found those occasionally amusing moments translate into an interesting board game. It certainly didn't with Joking Hazard and it doesn't especially here either. Nevertheless, this campaign, which ends today (8/7) has already generated over $3 million in backers, bolstered in part by its Gen Con presence.
In this, er, "party game", players disperse into two teams that each lay out a row of mostly-innocent bystander cards, then muddy the waters by sabotaging one another with a clearly awful character card. All of this is in an attempt to get the judge ("conductor") to decide which row of people to mow down with a runaway trolley. It's all posited as a game of ethical dilemmas, with players trying to end with the least amount of death tokens, and sure, I guess there's some room for black humor here. But these days, I'm just not into it. If you are though, the time left on this track is almost out.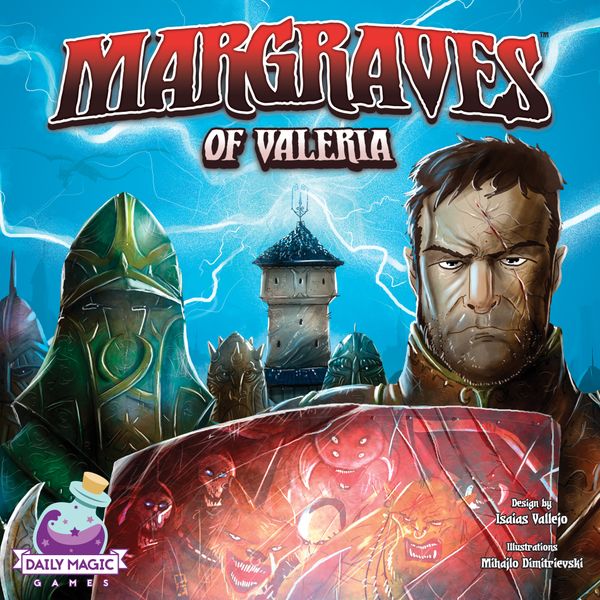 Margraves of Valeria by Daily Magic Games. I'm continually impressed that Daily Magic Games has been able to make a consistent, cohesive, and evolving series of games all based around the same world IP and still manage to make each of them distinct (even if I do get them personally confused from time to time).
Margraves is the 5th and latest standalone game in the vaunted Valeria series, which focuses on knight-commanders called Margraves and their attempts to build defensive towers to defend the cities whilst also gaining influence with the cities' guilds. Using a mix of worker placement, resource management, card drafting, and a personal favorite – multi-use cards – Margraves is the largest and most involved in the Valeria line so far. Time is almost up on this one though as it ends today (8/7).
Dice Throne Adventures by Roxley Games. Dice Throne has been long touted as a phenomenal dice game both in terms of its quality and its tactical combat-laden entertainment value, reflected in its two massively successful previous Kickstarter campaigns and subsequent pickup by Roxley Games. In the standard Dice Throne game, each player is a different playable characters whose job is to be the last one standing. This is accomplished slightly differently depending on each character, but the basic gist is that you use dice to build up points and then spend those points to power attacks, abilities, upgrades, and other effects. DTA takes this basic idea and amplifies it significantly by turning the game from a mere arena-style deathmatch into a cooperative dungeon-crawling style adventure. It's an ambitious project but one that the game's fans are already highly receptive to, reflected in the fact that even though Roxley didn't have a booth at Gen Con people were still seeking out one of the designers to ask questions about this mighty expansion. Which is wise, because this campaign only runs through Friday (8/9).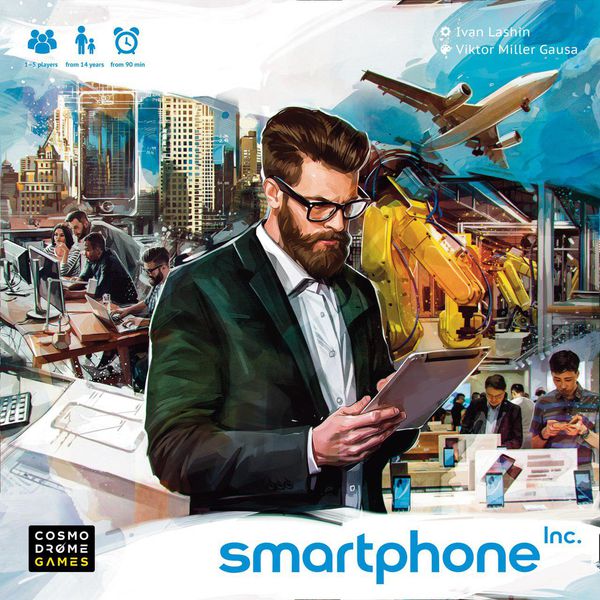 Smartphone Inc. by Cosmodrome Games. If you're a Euro gamer fan, chances are you've already heard a bunch of people (including ourselves) touting this game's appeal. Originally an Essen 2018 release in limited quantities, Smartphone became a slow-rolling hit from most who played it. When news broke earlier this year that Cosmodrome was going to be Kickstarting a larger print run with updated components and it would make its way into retail in 2020 thanks to Arcane Wonders, people were understandably excited.
The fact that Cosmodrome was quietly on hand at Gen Con to demo the game for those who hadn't heard about it I'm sure only aided that cause further. In this game, players are cell phone companies competing with one another for several rounds for to get the greatest ROI of their product, which involves manufacturing phones, finding regions to sell them in, upgrading their tech, and pricing them accordingly for maximum profit. All of which is done via an unconventional but highly enjoyable set of action boards full of symbols that you manipulate and overlap to determine which actions you take each round and their relative potency. We figured Smartphone was going to have some kind of presence at the con and it was nice unexpected surprise to see it in action from its creators. Its campaign runs through 8/12.
Trudvang Legends by CMON Games. Based on the well-received Trudvang Chronicles RPG, CMON has adapted this Nordic tale of myth and legend into a challenging cooperative game – one of course full of hefty miniatures this company is known for. Steeped in Norse theme and flavor, in Trudvang players act as various heroes trying to stave off the forces of darkness (like you do). Beyond the obvious minis selling point – which I know for some is all you need – Trudvang is also intriguing thanks to its evolving world state of the course of the game's campaign. Although not a legacy game in nature, the decisions your party makes and the ramifications thereof are reflected in various in-game ways, including modifying the locations on the board itself. Billed as a GM-less story-driven campaign game, the more you look at Trudvang, the less it feels like the standard part and parcel CMON miniatures game fare, and that fact definitely caught our attention. Its campaign runs through 8/14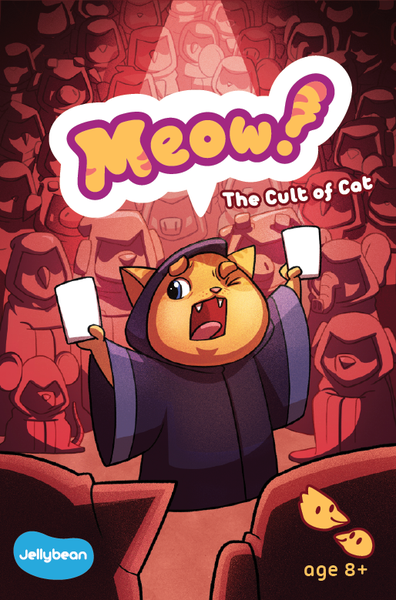 Meow: The Cult of Cat by Jellybean Games. There was no shortage of cat-related games at this year's Gen Con (I know, as we may have ended up with a couple ourselves), and Meow certainly fits right in alongside them. In what is effectively a party game for kids, Meow is a short experience that's one part memory, one part deduction, three parts goofiness.
The goal in Meow is simple: all you have to do is complete the cat's initiation ritual without breaking any of the ceremony's rules. The catch is that you don't actually know most of the rules to start. Each player has a card denoting part of the ritual's rules, which could be things you need to do (or not do) and may be verbal or physical in nature. If you get that part of the ritual wrong, the cards are revealed and shuffled in for a replacement, starting that process all over again. Which means paying attention and remembering when someone is correct is key. Meow has a simple presence, adorable art, and makes for a pleasant addition to the Jellybean line of family-friendly games. Its campaign runs through 8/16.
SHASN. Though Gen Con is primarily known as a bastion of new games by well-established publishers, the convention is also home to a fair amount of indie designers trying to show off their game when and where they can. Sometimes this is through organized events and meetings. Other times it's very ad hoc, involving simply setting up at a table and trying to entice others to join in. SHASN, an upcoming political simulation game whose creator is based out of India, was somewhere in between, with a handful of scheduled events deep in the bowels of the play hall (which I regrettably didn't get to see personally). Still, it actually sounds interesting.
Advertised as an area control and resource management game based around the often tumultuous and contentious world of political influence, SHASN has players as politicians trying to establish political dominance in their region. Rooted in the desire to win at all costs, players must scheme, strategize, and capitalize on a frequently-changing board state and do what it takes to secure the hearts, minds, and votes of its populace by making impactful event decisions and then dealing with the results to their advantage the best they can. All of which is done while being completely divested from the real world political issues of any specific country – which is a strangely novel approach. If you're into the idea of a political strategy sim, you may want to give SHASN a look. Its campaign runs through 8/16.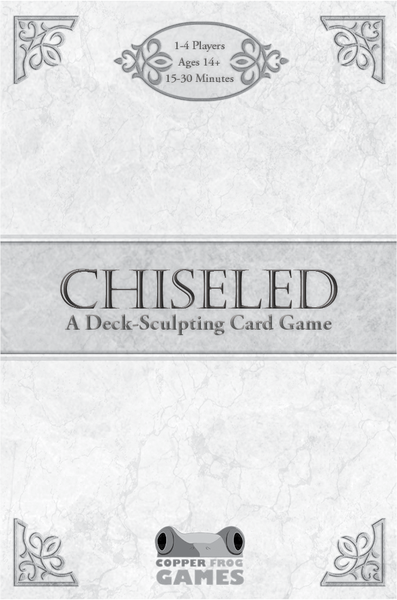 Chiseled: A Deck-Sculpting Game by Copper Frog Games. Easily the smallest and shortest game of this list, Chiseled is a short and simple game that's easily taught and easily playable. Inverting the standard deckbuilding approach, Chiseled instead boasts itself as being a deck deconstruction game. In Chiseled, players are sculptors trying to perfect their next masterpiece, and they must do so by finding it by hewing away parts of the block of stone before them – a nice nod to the philosophy many great sculptors had. On your turn, you select an available action from the center row and perform its effect, including shedding marble cards from your hand that not only advance your goal in the game but are worth negative points at the end if you don't. It's a clever mechanical inversion with a matching thematic purpose, and the whole thing plays under a half hour. Its campaign runs through 8/17.
On the Rocks by PenTree Games. While PenTree Games themselves didn't have a booth for Gen Con, their inaugural game On the Rocks was still being shown off all the same. In this aesthetically appealing marble drafting game, players are mixologists trying to perfect a series of cocktails for their clientele. Each turn, players will pull a series of ingredient marbles out of a bag and add them Mancala style to a set of bowls. You then select one and use its contents to attempt fulfill your various drink orders to score points. After three rounds, whoever has the most points wins. It's a straightforward but appealing game (what game with marbles isn't?) that's sort of like Potion Explosion, except with slightly fewer side effects. Family weight in terms of play time and complexity, On the Rocks is an affable take on swanky bartending. Its campaign runs through 8/22.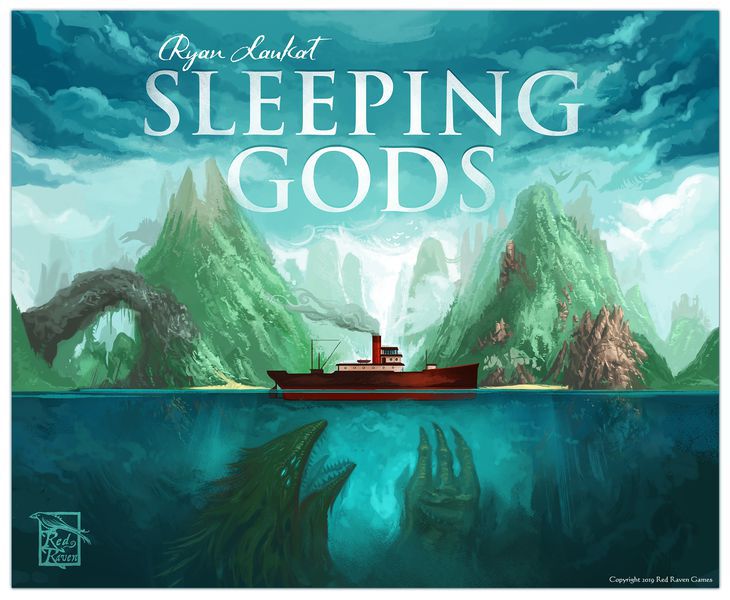 Sleeping Gods by Red Raven Games. For fans of Ryan Laukat's brand, Sleeping Gods may be as close to an auto-back as you can get. We got a look at a much earlier version of the game at Gen Con 2018 and were sold then, but the one on display this year looks even better. In Sleeping Gods, players find themselves in an otherworldly journey circa 1929 as members of a ship's crew who have somehow found themselves lost in a strange and mystical land.
Similar in nature to some of Red Raven's previous storybook games like Above & Below and Near & Far, players must cooperatively explore these unknown lands, meet new characters, and locate a series of totems in order to find your way back home. What makes Sleeping Gods so appealing – not to mention ambitious – is that you have a lot more agency in the direction your story takes. Every page in the game's book represents but a fraction of the world's map you can potentially sail to. If you want to say, sail south off the page, then you can, and simply turn to the appropriate new page to continue your nautical journey. The result is a storytelling campaign game that will unfold largely based on your group's decisions while still having a cohesive overall framework. In some ways Sleeping Gods almost feels like an exploratory video game in book form, and it's captured our interest for well over a year at this point. The campaign launched immediately after Gen Con and runs through 8/29.
Fiasco the Card Game by Bully Pulpit Games. The one-shot tabletop RPG game Fiascso was all the rage a number of years back, and rightfully so. Embodying the spirit of a Cohen brothers style film, Fiasco was a low barrier RPG that provided an outlet for players to live out a procedurally generated tale of ambition, poor decision-making, and the consequences thereof. Its ease of access made it a tabletop game that was positively touted from RPG newcomers to ardent geek celebs, and for a while it seemed like everyone wanted to give this narrative-driven tale of woe a spin. (If you missed out and are curious to learn more, you can read our review here.) Of course, Fiasco was still an RPG at the end of the day, and approachable as it is, generating a story to run still took some effort. This is where the newly adapted Fiasco Card Game comes into play. Taking the same core Fiasco premise, the folks at Bully Pulpit have created a storytelling card game version that seeks to make propping up your own ridiculous tale even easier by selecting a series of cards to construct your framework. The only real question is how this one will end. The campaign runs till 9/4.
That's all for now! Check back for the next segment when we talk about some of the most talked about games to make their Gen Con debut.