E.E. Cummings once wrote, "Listen: there's a hell of a good universe next door; let's go." Mechanika: Empires of Blood and Steam picks this line of thought up and runs with it. Mechanika promises to be an ambitious and engaging title from a new publisher, channeling the energy of the steampunk DIY spirit into indie developer success. Mechanika is a game of steampunk horror, with heavy influences from both fantasy and science fiction. As the premiere game of the new "Xaos" system, it aims at creating a truly cinematic roleplaying experience.
The setting of Mechanika is London on an alternate Earth, where the Celtic Empire reigns and the old faerie paths lead to the realms of the Great Old Ones. Elements from the speculative fiction of Jules Verne, H.P. Lovecraft, and Robert Louis Stevenson are mixed with the historical figures of Nikola Tesla and Grigori Rasputin. The year is 1897, and the world is filled with fantasy, mystery, and danger. Player characters are member of the free-thinking Nouveau, people who reject the strictures of the Victorian society they are governed by and use their unique gifts to change the world. In the shadows, the agents of the great and terrible ones wait, seeking the opportunity to break the seals and return their masters to the world.
In short: if you ever wanted to see Mr. Hyde and Nikola Tesla team up to battle a swarm of flying polyps in Edison-built power armor, this is probably going to be your best chance.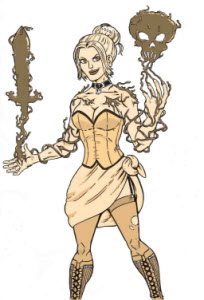 One of Mechanika's greatest strengths is its scope of character possibilities. With no level or class system, players are encouraged to truly create whatever character they wish to play that can find a place in a fantasy-rich steampunk-meets-Lovecraft Earth. The game features several races, cultures, skill options, and has a complete "perks and flaws system" for players to construct their characters out of.
Advancement allows players to buy new abilities at their own discretion, instead of locking them into a linear, role-oriented progression. The very progression system itself is focused on the character, as a character earns destiny points for roleplaying their character's lofty goals, and terrible short-comings. These destiny points can be spent to change the world in the way of a player's choosing, or they can be saved for experience. With the interplay between roleplaying and destiny, players are encouraged to take hold of their character's story, and guide it to their desired destination.
The system itself plays intuitively, making use of Fudge or FATE dice to provide quick resolution to most challenges. Actions are broken down into defensive, attack, and move, with rules to handle physical combat, social combat, and mental combat. The rules are straightforward enough to be understood within a few pages and are designed to keep the game moving fast. The attention stays on the action, bogging players down as little as possible with minutae while still encompassing nearly any situation that may reasonably come up. Mechanika's aim for action-packed, character-driven stories shows up in its system and adaptability.
While the Kickstarter promises a comprehensive crafting method for the machines and mysticism ubiquitous to the steampunk aesthetic, the rules for such is not included with the demo currently available for free through their website. Judging by the rest of the game that is available, however, it will continue in the trend of DIY creation, allowing players to put a truly personal touch to their character's spells and inventions with a minimal, but sufficient amount of rules. Like most great steampunk settings, if you can dream up a strange contraption to aid you, it's possible.
No game is perfect, but Xaos Publishing is showing great promise with Mechanika: Empires of Blood and Steam. As steampunk games begin to fill the market, only a few will have the traction to survive the invariable turning of the counter culture. Mechanika, with its compelling setting, encouragement of personalization, and DIY energy, has all the signs of gaining that traction, and lasting for years to come. Xaos Publishing has made the right choice in making Mechanika its flagship game, and we look forward to seeing its success in the future. You can check out Mechanika further on their Kickstarter page.