Note: Podcast hosts Erin and Ryan are currently enjoying a holiday away. They offer their episode from last season's recorded episode for Couch2Con, originally posted on 8/12/14.
Episode Couch2Con [Repost]
In Erin and Ryan's Couch2Con episode, they talk to Cory Jones, Jason Tagmire, and Makenzie Cameron about pitching games at conventions.
Length: 31:50
Show Links: RSS | iTunes | Download Episode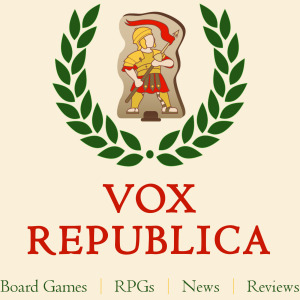 Welcome back to Vox Republica, the Cardboard Republic Podcast!
We post new episodes every Thursday, with each episode being about 20 – 30 minutes long.
DESCRIPTION: This special episode was recorded for the Couch2Con project, used as a means to get people into walking practice for convention season. Erin and Ryan talk to a number of industry folk about pitching games at conventions.
GUEST: Cory Jones of Cryptozoic Entertainment, and game designers Jason Tagmire, and Makenzie Cameron.
RECENTLY PLAYED GAMES:
QUICK TOPICS:
LENGTHY TOPIC:
Being a designer looking to pitch at a larger convention.

Which approaches work to catch the attention of publishers? And which don't?
Are there any helpful organizations for up-and-coming designers?
Are conventions even necessary for designer success?
Red flags to avoid in a pitch.
How to maximize your pitch's effectiveness.

Being a publisher being pitched to at a convention.

What qualities they look for when designers approach them.
The difference between a scheduled and unscheduled pitch.
Does a publisher's personal game preferences impact your odds of success?
The three essential questions a designer has to be able to answer in a pitch.
We'd love to hear from you! You can send questions or feedback via email at podcast@cardboardrepublic.com. You can also reach us social media, including Twitter and BoardGameGeek.
Audio Credits: Intro music track is "Swing!" by Bargo!, used under Creative Commons license.