Episode 103
Length: 55:40
Show Links: RSS | iTunes | Stitcher | Download Episode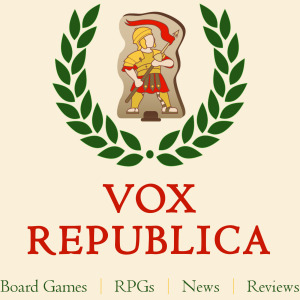 Welcome back to Vox Republica, the Cardboard Republic Podcast!
We post new episodes every Thursday, with each episode being about 25 – 35 minutes long.
DESCRIPTION: It's almost Halloween, and for many, that means spooky game sessions. We dive into the pros and cons of horror in gaming, including some of our own horror-based games of choice.
GUEST: None
RECENTLY PLAYED GAMES:
QUICK TOPICS:
After seeing it discussed a few times, Erin and Ryan navigate through the often-tricky topic of expectations and distractions and how to handle them when planning a game day.
FEATURED TOPIC:
Halloween, more than any other holiday, always gets gets a big reception from the gaming community, in no small part because of the level of horror games out there. We explore that relationship, including:

What does – and doesn't – qualify as a horror game
Why zombies claim the vast majority of horror game themes
Some of our personal favorite games amongst various horror categories
The inherent difficulty of making a board game truly scary
And more!
PLUGS:
Our 100th episode celebration is still ongoing! for a chance at a copy of Sushi Go!, Harbour, or Travel Catan, all you have to do is visit one of the gameplay threads on Facebook, BGG, or Google+ or find us on Twitter. Then leave a comment for us telling us either:

Something you like about the podcast and / or
Something you'd like to see us do (or do more of) on it going forward.

If that's not enough, we're also running a giveaway for Resistor, our October Indie Spotlight game!
As always, Cardboard Republic YouTube videos and the BGG Guild are still ongoing. Subscribe to either, or both if you really love us. You do really love us, right?
We'd love to hear from you! You can send questions or feedback via email at podcast@cardboardrepublic.com. You can also reach us social media, including Twitter and BoardGameGeek.
Audio Credits: Intro music track is "Swing!" by Bargo!, used under Creative Commons license.