Episode 102
Length: 25:23
Show Links: RSS | iTunes | Stitcher | Download Episode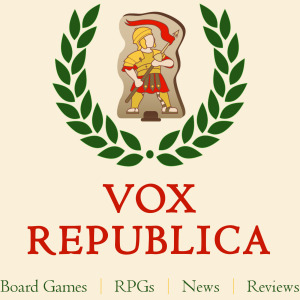 Welcome back to Vox Republica, the Cardboard Republic Podcast!
We post new episodes every Thursday, with each episode being about 25 – 35 minutes long.
DESCRIPTION: These days, you can't turn a corner before hearing about some great new game title, but most of us can't simply buy every single one that catches our interest. Luckily there are alternatives. Erin and Ryan talk about how to find games when you're on a tight budget.
GUEST: None
RECENTLY PLAYED GAMES:
QUICK TOPICS:
Game conventions and gaming news used to go hand-in-hand. Not anymore. We reflect on why this has happened and why it may actually be a good thing overall.
FEATURED TOPIC:
Compared to most hobbies, board gaming is fairly cheap, but it can still add up. We explore ways you can play and attain games without breaking the bank, including:

Sales, auctions, thrift stores, and to a lesser extent, conventions
Game trades, swaps, and shared libraries
Game Crafter, Print on Demand, and Print-and-Play sites
Giveaways and contests
And more!
PLUGS:
Our 100th episode celebration is still ongoing! for a chance at a copy of Sushi Go!, Harbour, or Travel Catan, all you have to do is visit one of the gameplay threads on Facebook, BGG, or Google+ or find us on Twitter. Then leave a comment for us telling us either:

Something you like about the podcast and / or
Something you'd like to see us do (or do more of) on it going forward.

As always, Cardboard Republic YouTube videos and the BGG Guild are still ongoing. Subscribe to either, or both if you really love us. You do really love us, right?
We'd love to hear from you! You can send questions or feedback via email at podcast@cardboardrepublic.com. You can also reach us social media, including Twitter and BoardGameGeek.
Audio Credits: Intro music track is "Swing!" by Bargo!, used under Creative Commons license.