Episode 099
Note: A prior release of this episode had a corrupted upload that has since been fixed
Length: 35:03
Show Links: RSS | iTunes | Download Episode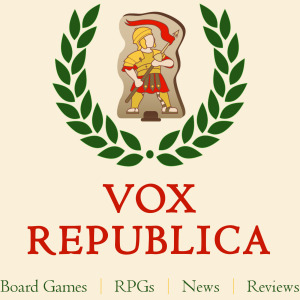 Welcome back to Vox Republica, the Cardboard Republic Podcast!
We post new episodes every Thursday, with each episode being about 20 – 30 minutes long.
DESCRIPTION: Ryan and Erin touch base about the games they've busted out lately before bringing in R. Eric Reuss, designer of the reverse colonialism game Spirit Island. He walks us through the evolution of Spirit Island, from the initial concept through the version we see today.
GUEST: R. Eric Reuss
RECENTLY PLAYED GAMES:
QUICK TOPICS:
Not two weeks after the announcement that Fantasy Flight announced the acquisition of Legend of the Five Rings, word has come out that they will be discontinuing their own LCG, Call of Cthulhu.
FEATURED TOPIC:
We are guided by the creator of Spirit Island on the game's creation and development.

How he came up with the idea of a reverse colonialism co-op game
Which mechanics survived the early stages to the version we see now
The thematic origins of the game's spirits and colonists
The effect of the Greater Than Games team on streamlining the game
What sort of room is there room for Spirit Island expansions?
PLUGS:
We'd love to hear from you! You can send questions or feedback via email at podcast@cardboardrepublic.com. You can also reach us social media, including Twitter and BoardGameGeek.
Audio Credits: Intro music track is "Swing!" by Bargo!, used under Creative Commons license.