Episode 096
Length: 27:03
Show Links: RSS | iTunes | Download Episode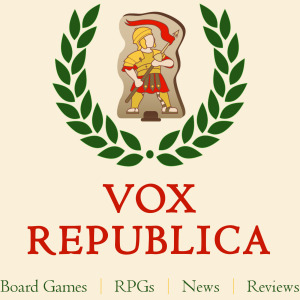 Welcome back to Vox Republica, the Cardboard Republic Podcast!
We post new episodes every Thursday, with each episode being about 20 – 30 minutes long.
DESCRIPTION: Erin and Ryan talk about Vassal's Law and the myriad troubles that come with running extra long games.
GUEST: None
RECENTLY PLAYED GAMES:
QUICK TOPICS:
We briefly address the topic of 'Vasel's Law'
FEATURED TOPIC:
Massive, expansive and lengthy Big Box games can be a lot of fun…but they're also a lot of commitment, in time, energy, and table space. We over up some tips on how to make your giant game day run smoothly, including:

Plan ahead. Give yourself a solid block of time to run them without other schedules. Include extra time for pauses in game and to teach new players.
Make sure everyone knows ahead of time what they're getting into in terms of length of the game, genre of the game, difficulty of the game (co-op vs not), etc.
Have a board game 'GM', or a player who knows the game really well and can guide everyone else through it. Designate them as the game arbiter for clarifications to keep the game moving.
Take breaks. It helps to refocus people. Too long of a break, however, can have the opposite effect.
Give it a dedicated focus. Make an event of it. Don't try to squeeze it in between other things.
PLUGS:
We reviewed Mysterium
As always, Cardboard Republic YouTube videos are still happening, though we've given our copy of Exodus away. There could be more in the future though, so subscribe!
We'd love to hear from you! You can send questions or feedback via email at podcast@cardboardrepublic.com. You can also reach us social media, including Twitter and BoardGameGeek.
Audio Credits: Intro music track is "Swing!" by Bargo!, used under Creative Commons license.