Episode 095
Length: 1:19:52
Show Links: RSS | iTunes | Download Episode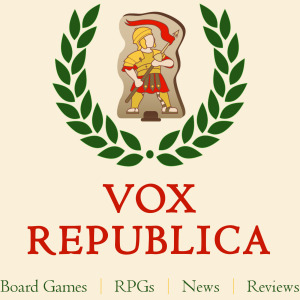 Welcome back to Vox Republica, the Cardboard Republic Podcast!
We post new episodes every Thursday, with each episode being about 20 – 30 minutes long.
DESCRIPTION: The Cardboard Republic goes to Gen Con! In part two of a two part series, Erin, Ryan, Dave, and Sean talk about what the hyped games and sleeper hits of Gen Con were, a rundown of various publisher info we saw, indie games of note, and what our favorite game of Gen Con 2015 was.
GUEST: David Gordon and Sean McNamara
QUICK TOPICS:
A quick topic in a Gen Con recap? Don't be silly. Move along.
FEATURED TOPIC:
The CR goes to Gen Con 2015! Here is a breakdown of the topics being discussed in Part Two:

00:41 The New Hotness Games of 2015
07:45 The Sleeper Hits of the convention
21:07 Our mega recap of various publishers' new and upcoming games we saw first-hand in the hall
1:04:43 Indie / upcoming games we checked out at Gen Con – plus a few we missed that you should keep an eye on anyway
1:18:00 Ryan & Erin's favorite games of Gen Con 2015
1:19:53+ Sleep
PLUGS:
We are giving away a copy of NSKN's 4X game Exodus: Proxima Centauri and the Edge of Extinction expansion! From now through August 14th, check out the latest Cardboard Republic YouTube video to find out how to enter and win.
We'd love to hear from you! You can send questions or feedback via email at podcast@cardboardrepublic.com. You can also reach us social media, including Twitter and BoardGameGeek.
Audio Credits: Intro music track is "Swing!" by Bargo!, used under Creative Commons license.