Episode 094
Length: 54:13
Show Links: RSS | iTunes | Download Episode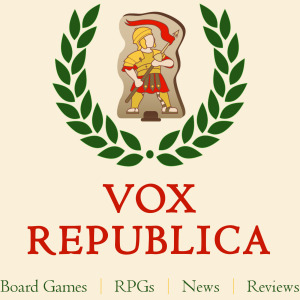 Welcome back to Vox Republica, the Cardboard Republic Podcast!
We post new episodes every Thursday, with each episode being about 20 – 30 minutes long.
DESCRIPTION: The Cardboard Republic goes to Gen Con! In part one of a two part series, Erin, Ryan, Dave, and Sean talk about general Gen Con experiences, tabletop games of note, and what we got to demo.
GUEST: David Gordon and Sean McNamara
RECENTLY PLAYED GAMES:
QUICK TOPICS:
A quick topic in a Gen Con recap? Don't be silly. Move along.
FEATURED TOPIC:
The CR goes to Gen Con 2015! Here is a breakdown of the topics being discussed in Part One:

00:30 Games We've Been Playing
06:59 Gen Con 2015's growing attendance, the pros and cons of increased scope, and the first impressions from a Gen Con newcomer
15:44 Tabletop games of note at Gen Con, including L5R Siege War, First Contact, Shayo, Polaris 3rd Edition, Clockwork: Dominion, Fading Suns, and Baker Street
28:20 The Gen Con auction house (and how Kickstarter will eventually play into it)
31:42 Games We Demoed (and the trials of doing so)
PLUGS:
We are giving away a copy of NSKN's 4X game Exodus: Proxima Centauri and the Edge of Extinction expansion! From now through August 14th, check out the latest Cardboard Republic YouTube video to find out how to enter and win.
We'd love to hear from you! You can send questions or feedback via email at podcast@cardboardrepublic.com. You can also reach us social media, including Twitter and BoardGameGeek.
Audio Credits: Intro music track is "Swing!" by Bargo!, used under Creative Commons license.