Episode 092
Length: 41:28
Show Links: RSS | iTunes | Download Episode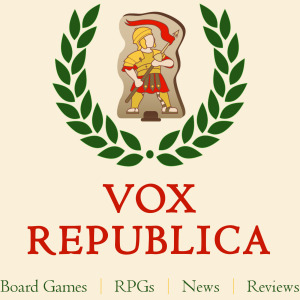 Welcome back to Vox Republica, the Cardboard Republic Podcast!
We post new episodes every Thursday, with each episode being about 20 – 30 minutes long.
DESCRIPTION: Erin and Ryan talk about suggesting games for other people. What factors are important when you're recommending a game to someone for the first time? And…what happens if they don't like it?
GUEST: None
RECENTLY PLAYED GAMES:
QUICK TOPICS:
The new Magic: the Gathering board game
The launch of our new YouTube channel
FEATURED TOPIC:
When you play enough games, people starting asking you for recommendations. How can you make ones that they will enjoy

?

How to make good game suggestions?
What factors to consider when making your recommendation?

Length
Weight / Type
Theme
Rules
Audience
Experience
PLUGS:
We now have a Cardboard Republic YouTube channel! Feel free to subscribe!
For those heading to Gen Con, we're spearheading the Indie Cavalcade, a thorough list of where you can find games to try by people who don't have their own booths.
Also at Gen Con, Ryan will be part of the Battle of the Board Game Networks event. If you're around Friday night, come watch him and other gaming media folks make fools of themselves for your benefit – and maybe win some games!
We'd love to hear from you! You can send questions or feedback via email at podcast@cardboardrepublic.com. You can also reach us social media, including Twitter and BoardGameGeek.
Audio Credits: Intro music track is "Swing!" by Bargo!, used under Creative Commons license.