Episode 090
When you sit down to play a game, is your first instinct to find the most optimal strategic path to winning, regardless of what the game is thematically attempting, or do you try to play within the spirit of the game?
Length: 42:26
Show Links: RSS | iTunes | Download Episode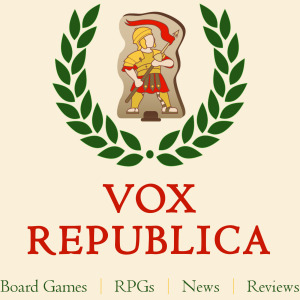 Welcome back to Vox Republica, the Cardboard Republic Podcast!
We post new episodes every Thursday, with each episode being about 20 – 30 minutes long.
DESCRIPTION: Erin and Ryan talk about the adventurous idea that is 504, the most recent wave of game industry controversies, their light week of gaming before going into the hands-on philosophy of playing with, versus playing against, the game.
GUEST: None
RECENTLY PLAYED GAMES:
QUICK TOPICS:
Much ado about nothing regarding a poorly researched Telegraph article about gaming
The announcement of 504
Board Gaming Financial Turmoil Troubles
LENGTHY TOPIC:
Breaking A Game Vs The Spirit Of The Game

Not always mutually exclusive
AKA the Min/Maxer vs The Roleplayer

Similarities to RPG tendencies

They each have their strengths and weaknesses

What happens when theme and strategy no longer line up?
What does the happy medium look like?

Many parallels to traditional Euros Vs Ameritrash
Who is drawn heavily to one side or the other?

Designers compared to developers?
Strikers or Tacticians compared to Socializers or Immersionists?
We'd love to hear from you! You can send questions or feedback via email at podcast@cardboardrepublic.com. You can also reach us social media, including Twitter and BoardGameGeek.
Audio Credits: Intro music track is "Swing!" by Bargo!, used under Creative Commons license.