Episode 085
The Legend of the Five Rings CCG has long been known for including player input in its game development, tying its community together in a unique way. This week we go behind the scenes to see what that design process entails.
Length: 42:50
Show Links: RSS | iTunes | Download Episode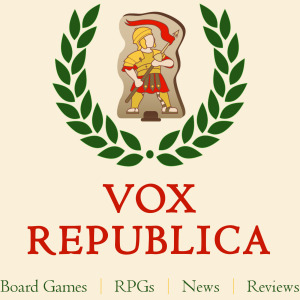 Welcome back to Vox Republica, the Cardboard Republic Podcast!
We post new episodes every Thursday, with each episode being about 20 – 30 minutes long.
DESCRIPTION: Ryan and Erin talk briefly about Erin's experience with a 'mega game' and other recent games before Ryan and Dave sit down with L5R player-turned-designer Chris Medico to chat about what goes into designing a card game with a 20-year history.
GUEST: Chris Medico and Dave Gordon
RECENTLY PLAYED GAMES:
Watch The Skies
Sentinels of the Multiverse
Cash N' Guns
Inkognito
Cthulhu Gloom
QUICK TOPICS:
LENGTHY TOPIC:
Designing cards for Legend of the Five Rings CCG

Chris's history with L5R as a player before joining the design team

How did that happen, and how long has he been at it?

What goes into the process of designing a card

Some personal favorite cards or mechanics?

How L5R balances story with mechanics and overall card development
How exactly does the game incorporate player input into game design
The impact and influence of a game being 20 years old
Current and upcoming information of L5R sets and events
We'd love to hear from you! You can send questions or feedback via email at podcast@cardboardrepublic.com. You can also reach us social media, including Twitter and BoardGameGeek.
Audio Credits: Intro music track is "Swing!" by Bargo!, used under Creative Commons license.