Episode 083
Now that we're no longer buried under six feet of snow and remember what the color green looks like, it's once again safe to go outdoors. But what if we want to bring a game or two outside with us? Which kinds of games lend well to not being at the kitchen table?
Length: 39:54
Show Links: RSS | iTunes | Download Episode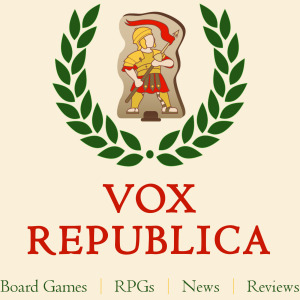 Welcome back to Vox Republica, the Cardboard Republic Podcast!
We post new episodes every Thursday, with each episode being about 20 – 30 minutes long.
DESCRIPTION: Ryan and Erin discuss playing games outside. Now that it's spring and the weather's so nice, it seems like a good time to move your game day to the back yard. They also talk about Cards Against Humanity and the a number of games they've been playing lately.
GUEST: None
RECENTLY PLAYED GAMES:
Versailles
Ophir
Sentinels of the Multiverse
Android: Infiltration
QUICK TOPICS:
Cards Against Humanity was a topic of conversation again
We Reviewed King's Forge
Ryan was a recent guest on the Whose Turn Is It Anyway podcast, discussing the role of board game media
LENGTHY TOPIC:
Most tabletop games can be problematic trying to play outdoors

How often is this even done?
Dealing with the elements of temperature, rain, lighting, etc.

Lack of even surfaces and wind are huge for choosing game

Common traits of games we don't mind to bring outdoors
Some of our personal suggestions to be able to bring out into the sunlight
We'd love to hear from you! You can send questions or feedback via email at podcast@cardboardrepublic.com. You can also reach us social media, including Twitter and BoardGameGeek.
Audio Credits: Intro music track is "Swing!" by Bargo!, used under Creative Commons license.