Episode 081
For many of us, the appreciation of today's games result from the games of our past. Many of those games pale by today's standards, and yet we often have fond memories of them. We look at what effect, if any, that nostalgia has on gamers and the hobby in general.
Length: 41:49
Show Links: RSS | iTunes | Download Episode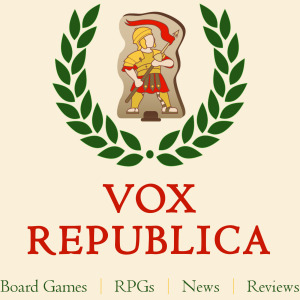 Welcome back to Vox Republica, the Cardboard Republic Podcast!
We post new episodes every Thursday, with each episode being about 20 – 30 minutes long.
DESCRIPTION: Ryan and Erin explore games of the present before diving into their past. This week is all about nostalgia in games. Plus, we also dive into the Origin and Dice Tower Award nominations.
GUEST: None
RECENTLY PLAYED GAMES:
Samurai Spirit
Viticulture
Abyss
Hyperborea
Camel Up
Disaster Looms!
QUICK TOPICS:
Origins & Dice Tower award nominations
LENGTHY TOPIC:
How nostalgia applies to gaming overall and how nostalgia has different effects
Nostalgia for our youth

Pixel art and 8-bit style games
Nostalgia for theme exists, but does nostalgia for mechanics?

Nostalgia for the earlier eras of modern gaming

Throwback to the 70s and 90s
Overlap with nostalgia for youth, depending on age

Nostalgia in general

Idealized versions of the past color appreciation of past gaming experiences
Is popularity of games set in certain historical eras due to nostalgia?

You don't see too many modern farm games
We'd love to hear from you! You can send questions or feedback via email at podcast@cardboardrepublic.com. You can also reach us social media, including Twitter and BoardGameGeek.
Audio Credits: Intro music track is "Swing!" by Bargo!, used under Creative Commons license.