Episode 078
Erin and Ryan talk about the criteria and logic of choosing games to travel with, the recent HABA Games announcement, and the unfortunate news of the shuttering of 5th Street Games.
Length: 26:29
Show Links: RSS | iTunes | Download Episode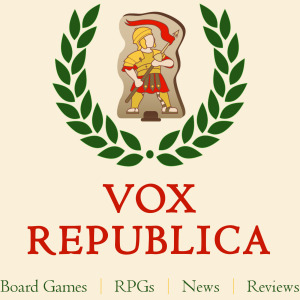 Welcome back to Vox Republica, the Cardboard Republic Podcast!
We post new episodes every Thursday, with each episode being about 20 – 30 minutes long.
DESCRIPTION: Games have a wonderful knack of being capable of being played anywhere, whether it's at home, on the go, or even in line waiting for something else. Since they're about to do some traveling of their own, Erin and Ryan talk the pros – and cons – of traveling with games.
GUEST: None
RECENTLY PLAYED GAMES:
None. No, really. Not a one. We are quite ashamed.
QUICK TOPICS:
HABA Games gets a widespread US distributor.
The demise of 5th Street Games.
LENGTHY TOPIC:
Gaming on the Go: bringing games with you on a trip.

Are there down sides to bringing them with you?
Does the type of trip matter?

Deciding on the types of games to bring.

What criteria should be considered. Is one style better than another?
The role that classic and digital games have in the conversation.
We'd love to hear from you! You can send questions or feedback via email at podcast@cardboardrepublic.com. You can also reach us social media, including Twitter and BoardGameGeek.
Audio Credits: Intro music track is "Swing!" by Bargo!, used under Creative Commons license.