Episode 075
Pax East looms large before us, and it brings up a good point: larger conventions can be maze of events, scheduling, logistics, and sensory overload. We share some of the things we do – or try to do – when staring down so many possibilities on how to spend our time.
Length: 32:57
Show Links: RSS | iTunes | Download Episode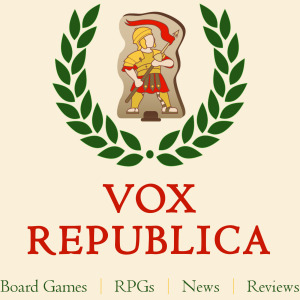 Welcome back to Vox Republica, the Cardboard Republic Podcast!
We post new episodes every Thursday, with each episode being about 20 – 30 minutes long.
DESCRIPTION: Erin and Ryan discuss how to get the most out of your friendly local gaming convention, including tips for making it through the day and figuring out what to see. They also talk Pax East and what they've been playing lately.
GUEST: None
RECENTLY PLAYED GAMES:
Vault Wars by Floodgate Games
Five Fingered Severance by Minion Games
Vanished Planet by Vanished Planet Games
QUICK TOPICS:
LENGTHY TOPIC:
How to get the most from a convention

Going to cons is a huge part of gaming for many.
How can you decide what to do?
What's worth your time – and what isn't?
We offer some of our personal methods for navigating them.
We'd love to hear from you! You can send questions or feedback via email at podcast@cardboardrepublic.com. You can also reach us social media, including Twitter and BoardGameGeek.
Audio Credits: Intro music track is "Swing!" by Bargo!, used under Creative Commons license.