Episode 071
How long is long is long for you to commit to a game? Two hours? Six? Day-long Risk battles? How about playing in a D&D setting that's been around for a decade, or playing a CCG for even longer…
Length: 29:30
Show Links: RSS | iTunes | Download Episode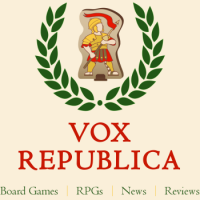 Welcome back to Vox Republica, the Cardboard Republic Podcast!
We post new episodes every Thursday, with each episode being about 20 – 30 minutes long.
DESCRIPTION: Erin and Ryan discuss the wonders (and pitfalls) of long-term gaming. Ryan's been playing Magic with roughly the same group for over 12 years. How does he stay focused? How does the group keep interest? They also discuss the differences between long-term CCGs and long-term RPGs. Also on the docket are a couple of recently-played games!
GUEST: None
RECENTLY PLAYED GAMES:
Fallen by Watchtower Games
The Great Heartland Hauling Co by Dice Hate Me Games
Magic: the Gathering – Fate Reforged
QUICK TOPICS:
There's Now A Transgender Magic Character
Ryan's Dwindling Love Affair With Star Realms
LENGTHY TOPIC:
How to stay focused on a game over the years

How does Ryan still enjoy Magic after 20 years?
How to keep a group invested
How are long-term RPGs different than long term CCGs?
We'd love to hear from you! You can send questions or feedback via email at podcast@cardboardrepublic.com. You can also reach us social media, including Twitter and BoardGameGeek.
Audio Credits: Intro music track is "Swing!" by Bargo!, used under Creative Commons license.