Episode 070
They say that change can do you good. Well, the Vox Republica is taking that idea to heart, undergoing some long-awaited changes to its layout, both inside and out.
Length: 29:07
Show Links: RSS | iTunes | Download Episode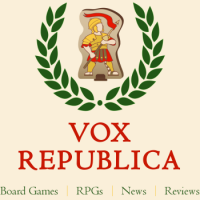 Welcome back to Vox Republica, the Cardboard Republic Podcast!
We post new episodes every Thursday, with each episode being about 20 – 30 minutes long.

DESCRIPTION: Erin talks about some changes to Vox, then she and Ryan dive into the latest gaming headlines, including the Cones of Dunshire Kickstarter campaign and the latest Dominion expansion. Plus, they delve into the anticipated fallout of Asmodee's recent acquisitions.
GUEST: None
RECENTLY PLAYED GAMES:
QUICK TOPICS:
Scoville is our January game of the month, and we're still running a contest (but not for much longer!)
Spate of semi-serious "Swag Games" on Kickstarter
A new Dominion Expansion titled Adventures was announced, due out in 2015
LENGTHY TOPIC:
Asmodee was thought to have bought two new game companies, but that info has since clarified. Still, what do such acquisitions mean for the hobby?
We'd love to hear from you! You can send questions or feedback via email at podcast@cardboardrepublic.com. You can also reach us social media, including Twitter and BoardGameGeek.
Audio Credits: Intro music track is "Swing!" by Bargo!, used under Creative Commons license.