Episode 069
Gaming may be a niche topic, but that doesn't mean it isn't being studied. Join us where we chat with bonafide gaming researcher Jason Tocci to look at the academic side of gaming.
Length: 29:11
Show Links: RSS | iTunes | Download Episode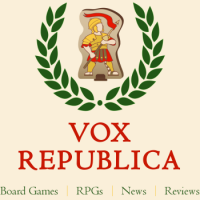 Welcome back to Vox Republica, the Cardboard Republic Podcast!
We post new episodes every Thursday, and each episode will be about 20 – 30 minutes long.
Geek, Nerd, or Gamer? Which do you identify yourself with? Does it even matter? What does it take to research gaming? We have on gaming researcher and former professor Jason Tocci who spent several years looking into these subgenres we love so much. From video games to Larping, he's come across it all, and he was gracious enough to share some of his insight with us this week.
We can at least promise you won't be quizzed on it.
For additional research into these topics some of the suggested reading from the episode includes:
We'd love to hear from you! You can send questions or feedback via email at podcast@cardboardrepublic.com. You can also reach us social media, including Twitter and BoardGameGeek.
Audio Credits: Intro music track is "8-Bit Brawl" by DJ Cutman featuring S&CO., used with permission.