Episode 059
Length: 29:24
Subscribe to Show Link: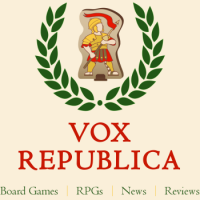 Welcome back to Vox Republica, the Cardboard Republic Podcast!
We post new episodes every Thursday, and each episode will be about 20 – 30 minutes long.
First up this week, we wanted to point out (like so many others) that this weekend is the annual Extra Life charity gaming marathon, and yes, we will be partaking in the events! Click here to find out more. If you'd like to help out our modest efforts this time around, then consider a donation. We'll be giving a couple small games away to those who do too, so it's win win all around.
Also, be sure to check out #StarDrive14 for Ryan's Star Realms themed donation challenge.
Then, we dive into a reader-inspired question about the different ways to enjoy the Fresco Big Box expansions. Which expansions are good for a family pacing? What about a more strategy gamer setting? So, we're offering up some suggestions.
We'd love to hear from you! You can send questions or feedback via email at podcast@cardboardrepublic.com. You can also reach us social media, including Twitter and BoardGameGeek.
Audio Credits: Intro music track is "8-Bit Brawl" by DJ Cutman featuring S&CO., used with permission.