Note: Podcast hosts Erin and Ryan are currently enjoying a holiday away. They offer one of their more popular episodes from the Vox Vaults, originally posted on 7/10/14.
Episode 048 [Repost]
Erin and guest Sean McNamara have drummed up lists of five video games every board gamer should try for one reason or another.
Length: 33:12
Show Links: RSS | iTunes | Download Episode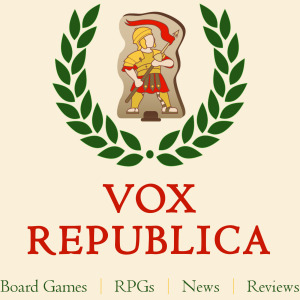 Welcome back to Vox Republica, the Cardboard Republic Podcast!
We post new episodes every Thursday, with each episode being about 20 – 30 minutes long.
DESCRIPTION: Sometimes the best ways to learn about the influence of board games is to approach it from the outside. After coming back from the Fourth of July break, Erin and Sean dive in to chat about ten different video games every analog gamer should try.
GUEST: Sean McNamara
RECENTLY PLAYED GAMES:
QUICK TOPICS:
LENGTHY TOPIC:
The nature of what video games can teach board gamers and why.
Sean's Five Video Game Suggestions:

Final Fantasy Tactics
Guns of Icarus Online
Orcs Must Die
Civilization 5
Hearthstone

Erin's Five Video Game Suggestions:

Plague, Inc.
The Guild series
The Tropico series
X-COM: Enemy Unknown
FTL
We'd love to hear from you! You can send questions or feedback via email at podcast@cardboardrepublic.com. You can also reach us social media, including Twitter and BoardGameGeek.
Audio Credits: Intro music track is "Swing!" by Bargo!, used under Creative Commons license.