Episode 045
Length: 34:48
Subscribe to Show Link: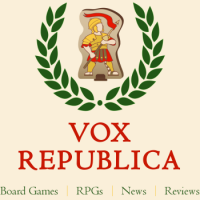 Welcome back to Vox Republica, the Cardboard Republic Podcast!
We're back at posting new episodes every Thursday, and each episode will be about 20 – 30 minutes long.
We promised we'd come back to it, and we stuck to it! This week, Dave returns to actually talk about AEG's Legend of the Five Rings tabletop RPG. We go over a lot of the basics about it here, but feel free to also read his review about it here as well.
Then, in the Historical Precedent segment, Erin goes over the poorly executed Astor Expedition and its many, many failures, as well as the one woman who pretty much kept the whole thing together.
This is an off-week for weekly gaming news bulletin. Check back next week for a full post-Origins recap!
We'd love to hear from you! Please leave feedback in our forums, or via email at podcast@cardboardrepublic.com. You can also reach me on Twitter or BoardGameGeek.
Audio Credits: Intro music track is "8-Bit Brawl" by DJ Cutman featuring S&CO., used with permission.