Episode 034
Length: 28:52
Subscribe to Show Link: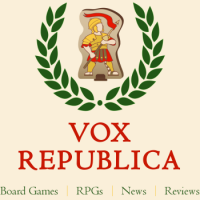 Welcome back to Vox Republica, the Cardboard Republic Podcast!
We're back at posting new episodes every Thursday, and each episode will be about 20 – 30 minutes long.
This week marks the official end of Season 1 of Vox Republica. The show will take a short break and return in a few weeks, hopefully better than ever!
Topic-wise Ryan is on to recap his day trip to TotalCon 2014 experience where it's explained the allure of this iconic New England convention, along with some of the new things he's seen.
Editor's Note: Ryan mentions the Dice Tower presence at Total Con was Ryan Metzler. He mixed Metzler and Eric Summerer mixed up. Although he feels bad, he has been put into the town stocks for a day as a result anyhow.
We'd love to hear from you! Please leave feedback in our forums, or via email at podcast@cardboardrepublic.com. You can also reach me on Twitter or BoardGameGeek.
Audio Credits: Intro music track is "8-Bit Brawl" by DJ Cutman featuring S&CO., used with permission.