Episode 027
Length: 20:17
Subscribe to Show Link: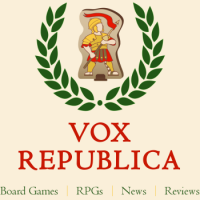 Welcome back to Vox Republica, the Cardboard Republic Podcast!
We're back at posting new episodes every Thursday, and each episode will be about 20 – 30 minutes long.
We start off this week talking briefly about our January Indie Spotlight game, Empires of Zidal, and what makes it so interesting.
Then, Erin provides a number of very handy common sense tricks and tips for when you're hosting game nights, ensuring that you and your guests will enjoy themselves even more!
And finally, we talk about some of this week's gaming-related news, including a couple big happenings in the world of Magic: the Gathering, and a couple Kickstarters that have been making some waves.
We'd love to hear from you! Please leave feedback in our forums, or via email at podcast@cardboardrepublic.com. You can also reach me on Twitter or BoardGameGeek.
Audio Credits: Intro music track is "8-Bit Brawl" by DJ Cutman featuring S&CO., used with permission.