Episode 025
Length: 1:48:05
Subscribe to Show Link: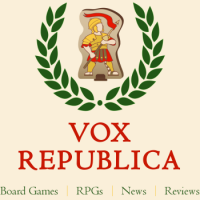 Welcome back to Vox Republica, the Cardboard Republic Podcast!
Also, we're doing a donation drive from now until January 9th to help fund the site. Every donation of $3 or more will be entered into a contest to win a copy of our December game Eons! You can read our post about keeping the lights on here.
Now, normally we posting new episodes every Thursday, and each episode is about 20 – 30 minutes long….except for this week.
Ryan and Dave join me this week to discuss everything noteworthy from the last year in gaming. This includes wonderful new games, of course, but also conventions, dice, designers, and more.
Given the amount of material, this show is longer than most. Don't worry – we'll be back to our half hour format next week.
Here's a summary of the Ryan's and Dave's topics:
Ryan:
10 – Increasing Number of Gamers in Pop Culture
9 – Increasing Diversity in Gaming
8 – Thanks for Supporting Us!
7 – What We've Learned From Convention Time
6 – Magic: the Gathering's 20th Anniversary
5 – Popular Game Mechanics
4 – Crowdfunding Failures
3 – Notable Major Gaming Successes – Mostly Kickstarters
2 – Top 10 Non-Crowdfunded Games
1 – Top 10 Crowdfunded Games
Dave:
10 – Miniatures Games
9 – Diceless Systems
8 – More Science Fiction RPGs
7 – Boston FIG
6 – Systemless Settings
5 – Fate Core
4 – Onyx Path
3 – D&D Next Open Playtest
2 – Pathfinder is Industry Leader
1 – Rise of Crowdfunding for RPGs
We'd love to hear from you! Please leave feedback in our forums, or via email at podcast@cardboardrepublic.com. You can also reach me on Twitter or BoardGameGeek.
Audio Credits: Intro music track is "8-Bit Brawl" by DJ Cutman featuring S&CO., used with permission.