Episode 024
Length: 36:33
Subscribe to Show Link: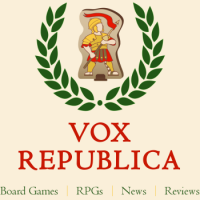 Welcome back to Vox Republica, the Cardboard Republic Podcast!
We'll be posting new episodes every Thursday, and each episode will be about 20 – 30 minutes long.
This week, Ryan takes over as a guest host, and he's brought company! He and regional tournament organizer Angela DiTillo sit down for a chat about The Legend of the Five Rings CCG, which this year celebrated its 18th anniversary. Having debuted in 1995, it's almost as old as Magic, though you may not have heard nearly as much about it. So let us all learn about the game known as L5R!
You can find out more about L5R and the upcoming new edition here.
Also be sure to check out Dead Gentlemen and The Gamers series of films, as well as the L5R-inspired homage game Romance of the Nine Empires that started off as a Gamers 3 Kickstarter stretch goal, and is now a legitimate game made by AEG – the same makers of L5R.
Also, we're doing a donation drive from now until January 9th to help fund the site. Every donation of $3 or more will be entered into a contest to win a copy of our December game Eons! You can read our post about keeping the lights on here.
We'd love to hear from you! Please leave feedback in our forums, or via email at podcast@cardboardrepublic.com. You can also reach me on Twitter or BoardGameGeek.
Audio Credits: Intro music track is "8-Bit Brawl" by DJ Cutman featuring S&CO., used with permission.