Episode 022
Length: 30:27
Subscribe to Show Link: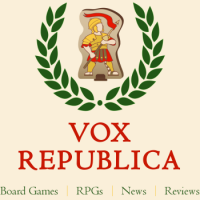 Welcome back to Vox Republica, the Cardboard Republic Podcast!
We'll be posting new episodes every Thursday, and each episode will be about 20 – 30 minutes long.
This week, Ryan stops by to go into detail on what makes pure Euro games so great, as well as where they can fall short. If you're wondering on the differences between Euro and Ameritrash, check out Episode 10 of the podcast.
Also, we're doing a donation drive from now until January 9th to help fund the site. Every donation of $3 or more will be entered into a contest to win a copy of our December game Eons! You can read our post about keeping the lights on here.
We'd love to hear from you! Please leave feedback in our forums, or via email at podcast@cardboardrepublic.com. You can also reach me on Twitter or BoardGameGeek.
Audio Credits: Intro music track is "8-Bit Brawl" by DJ Cutman featuring S&CO., used with permission.