Episode 017
Length: 14:34
Subscribe to Show Link: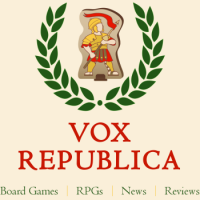 Welcome back to Vox Republica, the Cardboard Republic Podcast!
We'll be posting new episodes every Thursday, and each episode will be about 20 – 30 minutes long.
This week is a truncated version where we discuss our plans for EXTRA LIFE! Dave and Ryan are on to tell me their plans for the super-awesome charity event. We thought about doing another segment, but this one is important enough to make it our only story.
Dave talks about Demolished Ones and Fate Core.
Ryan talks about TI, Arkham, and the origins of Extra Life.
We encourage gamers of all kinds to pitch in. If your own gaming group isn't running an event, feel free to consider donating to our gaming group, The Friends of Galen. It's all going to a good cause!
We'd love to hear from you! Please leave feedback in our forums, or via email at podcast@cardboardrepublic.com. You can also reach me on Twitter or BoardGameGeek.
Audio Credits: Intro music track is "8-Bit Brawl" by DJ Cutman featuring S&CO., used with permission.